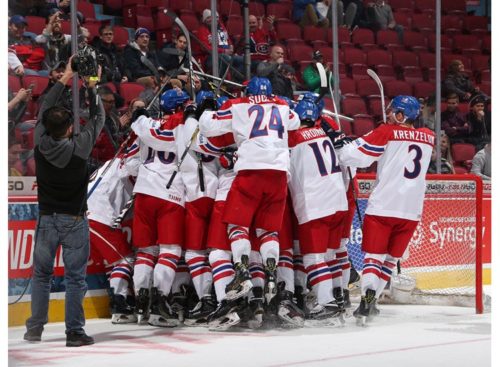 The Czech Republic surprised defending champion Finland 2-1 in their opener on Monday night. Michael Spacek scored the winner with 1:18 remaining.
"It was a good feeling," said Spacek. "This goal is special in my career."
Daniel Krenzelok had the other goal for the Czechs, who sang as they came off the ice. Joona Luoto replied for the Finns.
"Everybody was disappointed," said Finland's Eeli Tolvanen. "We wanted to win the first game and get more confidence. We just have to keep going."
The Czechs haven't won any U20 medals since 2005's bronze in Grand Forks, North Dakota. They finished fifth last year under coach Jakub Petr, who's returned for 2017.
Finland, which beat Russia in overtime in last year's final in Helsinki, is looking for its third gold medal in four years. Finland also topped host Sweden in overtime in the 2014 final in Malmo.
"We can still win this tournament," said Finnish captain Olli Juolevi, a tournament all-star last year with nine points. "We haven't lost anything, kind of. It's just one game, and we have to be ready to play tomorrow against Denmark."
The Czechs, whose average age is 19 to Finland's 18, outshot their opponents 30-23.
Named Finland's Player of the Game, Vehvilainen probably deserved a better fate. He is most noted for his superb 60-save performance in a 2-1 overtime loss to the United States in the final of the 2015 IIHF Ice Hockey U18 World Championship. The Jyvaskyla native was Finland's starter at the World Juniors, but was replaced by Kaapo Kahkonen in the quarter-final against Canada and never got the net back.
Last year, Finland edged the Czechs 5-4 in a strange run-and-gun affair. This game in Montreal was much tighter.