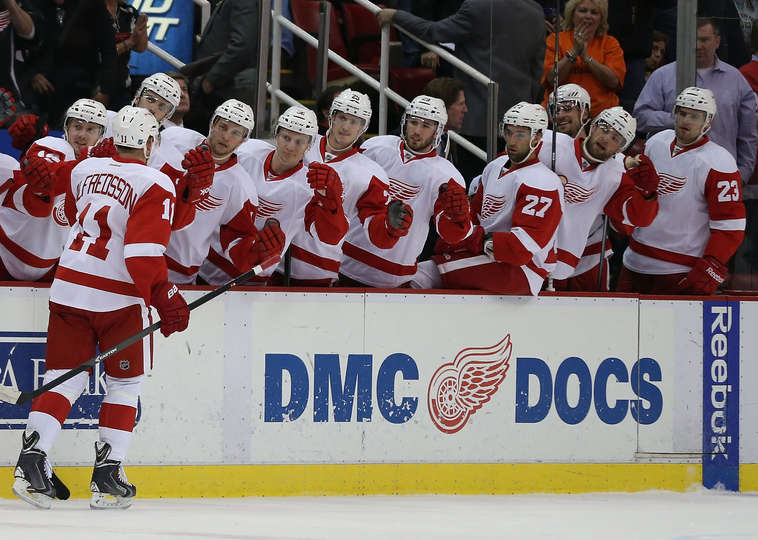 The Detroit Red Wings faced the Pittsburgh Penguins, led by Sidney Crosby and Evgeni Malkin, last night in what many thought would be a double-digit loss for Detroit. The Wings came into the night on the outside looking in on the playoff bubble. However, to even have a chance at making the post-season, they would need to find a way to hold their own against top-tier teams. They will have to face the likes of Minnesota (twice), Montreal (twice), Toronto, Boston, Pittsburgh, Tampa Bay, and St. Louis to be able to qualify.
With that in mind, Detroit's 5-4 win over the mighty Penguins will probably come as a surprise to most. Notably, the team had an active streak of six consecutive games with at least one injury. Not exactly the kind of streak a team would like to have.
At the end of one period, the Red Wings led 1-0 on a goal by Daniel Alfredsson. Alfredsson and Johan Franzen showed great chemistry from the get-go, as they generated a number of scoring chances throughout the game. This stopped Pittsburgh's momentum after they had displayed a shooting gallery on their first power play.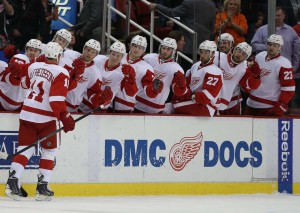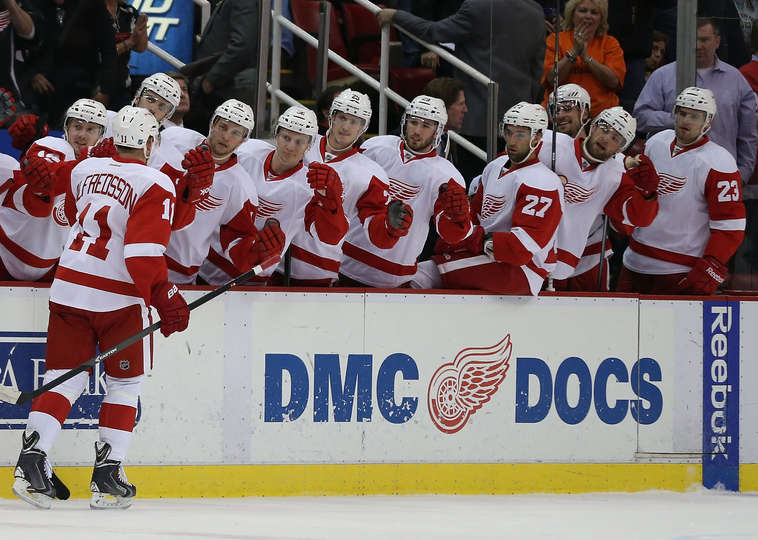 Gustav Nyquist would score his 20th goal of the season very early in the second stanza on the man-advantage to give his team a surprising 2-0 lead.
Unfortunately for Detroit, their two-goal lead would quickly vanish, as the Penguins would bounce back to score three consecutive goals in two minutes and 41 seconds. Lee Stempniak, who has found his place on the Crosby-Kunitz line, scored the first on a re-direct from a shot by Kunitz, while Malkin scored the next two (the second coming on a power play).
Detroit appeared to have developed an effective strategy in the locker room between periods, as Tomas Tatar tied the game at the midway point of the third, while Todd Bertuzzi pulled his team ahead 2:18 later, banking a shot off Pittsburgh defenseman Rob Scuderi that deflected past netminder Marc-Andre Fleury.
Pittsburgh being Pittsburgh, they weren't going to go down that easily. Center Brandon Sutter fed teammate Craig Adams a perfect pass from behind Jimmy Howard, and Adams one-timed it past the Red Wing goalie to knot things up at four apiece.
Before regulation ended, newly-acquired forward David Legwand was caught butt-ending Malkin in an area you don't want to be butt-ended in, and was ejected from the contest, giving the Penguins a five-minute power play. He would later be fined $5,000 for his actions.
Miraculously, Detroit managed to survive the onslaught of shots from their opponent's lethal special teams units. Since the penalty occurred with 3:46 left in the third period, the penalty carried over into 4-on-4 overtime, giving the Penguins an even bigger advantage. The Red Wings were successful, and the game appeared destined for a shootout. But, with seconds remaining on the clock, Alfredsson threw the puck toward the net. It caromed off, you guessed it, Scuderi, and in. With 0.4 seconds left, the win was confirmed, and the Wings improved to 32-24-13 (77 points) and are currently one point out of the eight spot (held by the New York Rangers, who have played one more game than Detroit).
"These are exciting games," said Alfredsson. "We know pretty much every game we play will go down to the wire. There's not going to be any easy wins; winning like this, two in a row, late in games will give us confidence."
Kronwall talked about the importance of Alfredsson's presence with the team. "[He's] been a huge part of our team since he signed. The leadership he brings, both on and off the ice; you've got to be [41] and play through a few different situations to keep that calm. Things like that rubs off on other guys."
He also commented on the playoff-like atmosphere in the building. "The crowd was really into it. It was a fun game to play. Sure you know (laughs), we'd like to not give up that many goals of course. Usually it's tough to win when you let four in. Tonight we found a way and that's all that matters."
With a number of tough matchups on the schedule, the home crowd will have to continually be a driving force to push Detroit into one of the two wild card spots. For a team with a better road than home record, that'll be a deciding factor down the stretch.
Follow me on Twitter @yungspork