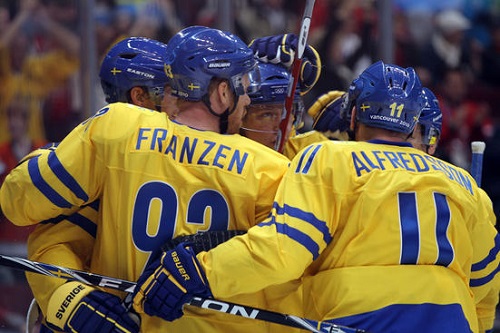 Daniel Alfredsson, the 40-year old right winger who has spent his entire career with the Ottawa Senators (the team who drafted him in 1994), has decided to sign with the Detroit Red Wings. This decision comes as a shock to many in Ottawa, who always thought 'Alfie' would finish his (arguably) Hall-of-Fame career in Kanata, Ontario.
He signed a one year deal, worth $5.5 million. $2 million of that $5.5 is in deferred bonuses. For those of you that don't know, the CBA defines deferred bonuses as: "Bonuses that are earned during the term of a [player's contract] during which the services attributable to those Bonuses are performed, but are not paid until after the expiration of such [contract]." It also states that deferred bonuses may not be paid until after said contract expires, meaning this year's contract will be close to the $3.5 million.
The Red Wings have a history of signing players to short-term deals, in hopes of them aiding a Cup run. Think back to Dominik Hasek, Brett Hull, Luc Robitaille, Dallas Drake etc…you get the point.
In likely losing Daniel Cleary (assuming he follows his best friend Shawn Horcoff to Jim Nill's Dallas Stars), Detroit would lose a right winger, so the position would have to be filled. He could easily play the wing with fellow countryman Henrik Zetterberg, which was one of the draws to play for the Red Wings.
The veteran is one Stanley Cup away from capping off a (for sure) Hockey Hall-of-Fame nomination. He thinks he can accomplish just that in Hockeytown next season.
In 1178 NHL games he has scored 426 goals and 682 assists for 1108 points. In 121 playoff games he has scored 51 goals and 49 assists for 100 points.
Just last year he scored 10 goals and 26 points in 47 games. In 10 playoff games he scored 10 points (including four goals).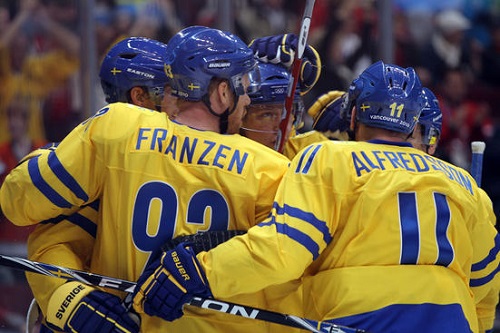 Right before the start of the Stanley Cup Finals, during the NHL Awards presentation, he was announced as this year's recipient of the Mark Messier Leadership Award, which recognizes a player as a "superior leader within the sport, and as a contributing member of society."
According to an NHL.com article, Alfredsson is a longtime supporter of the Boys and Girls Club of Ottawa (among other organizations and charities) and even buys tickets and suites for club members.
Last year he won a similar award, the King Clancy Memorial Trophy, which is given to the player "who best exemplifies leadership qualities on and off the ice and who has made a significant humanitarian contribution to his community."
He has been an on-ice leader as well. Ottawa fans have known him to be their captain since 1999, and before today, he was the current longest serving active captain in the league (that title now belongs to Phoenix's Shane Doan).
Before Nick Lidstrom became the first European-born captain to hoist the Cup (2008), Alfredsson became the first European-born captain to lead his team to the Stanley Cup Finals (2007).
He can also brag that he scored the first shootout goal in NHL history…and we all know how well Detroit does in shootouts.
I can understand people being upset by this decision (Detroit fans), but it's the right one. In looking at the roster this past year, one can see that too much youth is no better than too much age. In the end it takes a good balance of youth and age to be successful. Alfredsson is a proven leader that has more experience than anyone on Detroit's roster. He has had 14 years of captaincy in Ottawa (not counting the missed 04-05 season).
Looking back at 2002, can any honest Red Wings fan tell me that they don't miss the days of signing a proven veteran? I didn't think so.
Follow me on Twitter @yungspork