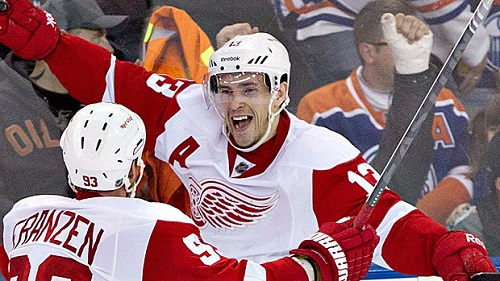 Pavel Datsyuk chose this morning to stay in Detroit for an additional three years (four, including his current contract's remaining year). It was welcome news for Red Wings fans all across the U.S. who have admired the shifty veteran's play over the past 12 years. His dekes and dangles have dazzled Detroit since 2001, and he shows no signs of slowing.
The 34 year-old (he turns 35 a month from now) was a point-per-game player once again (1.04) this season, scoring 15 goals and 49 points in 47 games. While playing for CSKA Moscow during the NHL lockout, he scored 11 goals and 36 points in 31 games.
He will earn $1 million more on average than he did under the current agreement ($6.7 million). The deal is front-loaded, with Datsyuk earning $10 million in the first year, $7.5 million in the second, and $5 million in the final year.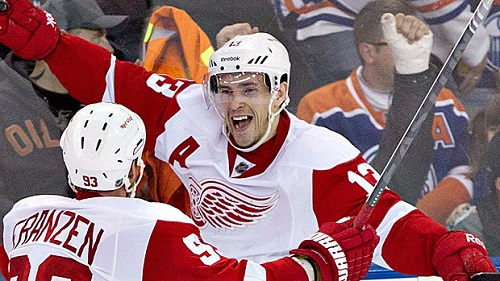 Detroit had to compete with the KHL in terms of money, where players are usually offered significantly greater amounts of money to play overseas. He had hinted (or so people thought) that he would return to Russia to finish his playing career once the final year of his contract was finished, but that was (for the most part) misconstrued. Pavel still does want to finish his career in Russia. However he's not finished in Detroit yet.
Datsyuk is a two-time Stanley Cup champion. He has won the Lady Byng four times (2006-09), the Selke Trophy three times (2008-09; has been nominated for six consecutive seasons), and the NHL Plus-Minus Award (2008). He is a four-time All-Star as well.
In 779 NHL games (all with Detroit) he has accumulated 767 points, including 255 goals.
On Twitter late this morning, Pavel tweeted: "Signed 3 yr. extension [in Detroit]. Glad to be here for 4 more yrs. Thanks to our fans, friends and Ilitch family."
In the next four years, one thing is guaranteed…That Red Wings fans will never grow tired of seeing Datsyuk on the highlight reel after each game.
*Contract cannot be officially finalized until July 5th when free agency begins, since Pavel is technically still in the second-to-last contract year currently.*
Follow me on Twitter @yungspork