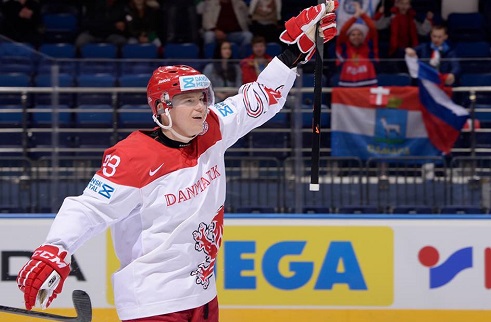 After upsetting France on a last minute goal, Italy would be brought right back down to earth by suffering a 4-1 loss to Denmark. Jesper Jensen, Jannik Hansen, Emil Kristiansen, and Kim Staal all lit the lamp for Denmark as the team cruised to their first win of the tournament in three tries.
Italy's stunning prior victory would be short lived in the spotlight but the team could still make a statement if they happen to win their next game. The two teams do have tough matchups coming up as Italy faces the Czechs on Wednesday, while tDenmark will battle Canada on Thursday.
Italy's lack of shots ultimately lead to their defeat as Denmark out-shot Italy 31-13 through the game. Despite only facing 13 shots, Denmark's netminder Simon Nielsen was strong through the game making 12 saves and getting a little luck with a few ringers off the post, especially early on. Italy's Daniel Bellissimo managed 27 saves but let up two quick goals in under a minute in the second that went to ultimately seal the fate of the game.
Although both teams have only one win and three points at that, Denmark's win over Italy and better goal differential puts them ahead in the standings.