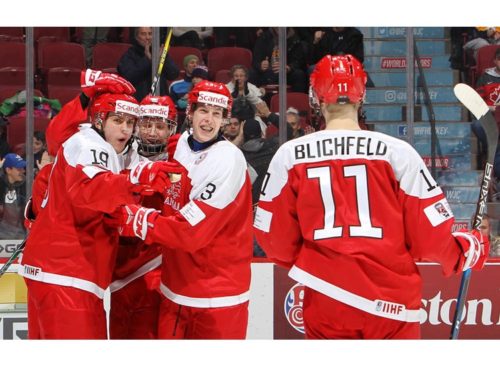 Mathias From scored the 3-2 overtime winner at 0:47 as Denmark beat the Czechs for the first time in World Junior history at the Bell Centre on Thursday.
From, who plays for Sweden's Rogle Angelholm, beat Czech goalie Daniel Vladar with a high backhander on a solo rush. The 19-year-old forward made a memorable 2017 World Junior debut after being sidelined with an injury since mid-December.
"I knew yesterday that I was going to play," said From. "It was hard to come into the game at first because I didn't play for some time. [My injury] happened on the first day of training camp."
"He brings a ton of speed and a lot of skill as well," said Danish captain Alexander True. "He's dangerous, as you could see when he scored that OT winner. It's really nice to have him back.
Joachim Blichfeld and Nikolaj Krag added a goal and an assist apiece for Denmark. Martin Necas and Filip Hronek scored for the Czechs.
The Danes are on a roll. They got bombed 6-1 in their opener versus Sweden, but then shocked Finland 3-2. They were outshot in that game, and again versus the Czechs, 34-22. Yet they're winning anyway.
"That's unbelievable," said Blichfeld. "We're a small country, so it's amazing."
Czech coach Jakub Petr's group has points in three straight games, but is still struggling with consistency. They opened with a 2-1 win over defending champion Finland but then lost 4-3 in overtime to Switzerland.