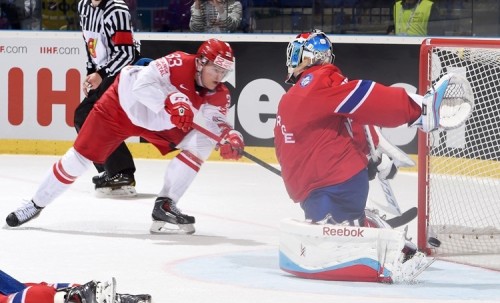 Denmark earned their first ever victory over Norway in top division World Championship play to take a giant step towards confirming its participation at this level for another year.
A 4-1 win in Ostrava was the Danes' first success in this Viking derby since a 4-3 success in Division I play back in 2002, and the first time the team had ever prevailed over its neighbor by more than a single goal.
Goals from Nicholas Jensen, Daniel Nielsen, Frederik Storm and Julian Jakobsen led Denmark to an important win that opened up a four-point cushion over eighth-placed Slovenia.
Denmark's captain Morten Green said: "We had them under control. They brought it to us for six or seven minutes in the second period but otherwise I think we had them under control, especially their talented first line.
"I think we were playing well throughout the tournament but today we cashed in."
While this was a big victory for Denmark it was also a huge defeat for the Norwegians. Back-to-back wins over Slovakia and Slovenia had given Roy Johansen's team a fighting chance of sneaking into the last eight, but that hope was extinguished here.