Featured
Denmark Upsets Finland 3-2 Despite Late Comeback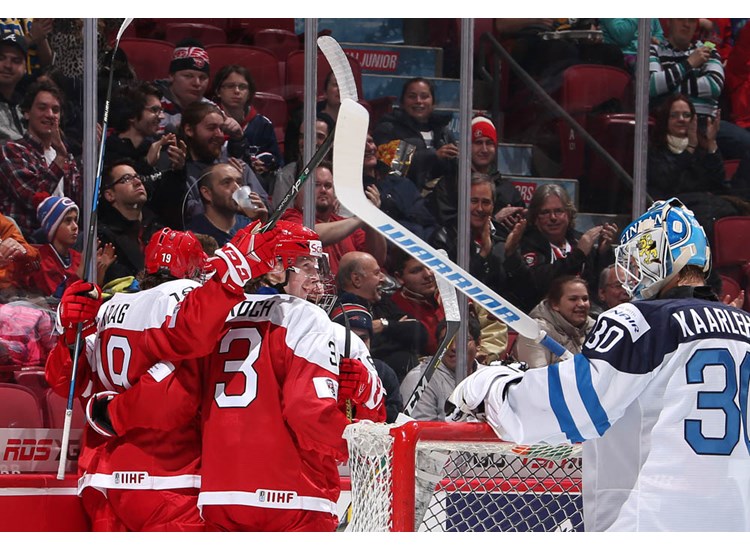 Team Denmark upset last year's champion Team Finland on Day 2 of the World Junior Championship. Finland hosted last year's tournament and won their fourth title, defeating runner-up Russia. Despite being outshot by a staggering 36-10 margin, the Danes made sure their shots counted. When Denmark made it 3-0, this was on a total of five shots. Yes, that means Finnish goalie Veini Vehvilainen had a .400 save-percentage at this point.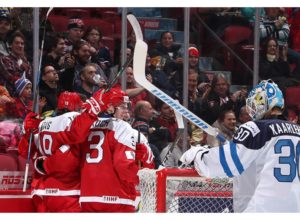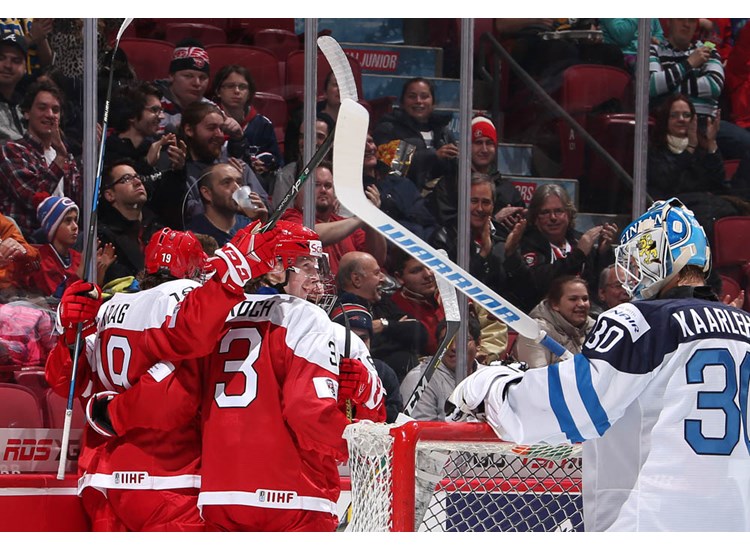 Recap
On an early first period power play, Danish defenseman Nicolai Weichel's point shot left a rebound sitting in the middle of the crease. Forward William Boysen happily poked in the puck for the game's first score. The team was ecstatic after this.
Later in the first, defenseman Morten Jensen stole the puck in the neutral zone and then proceeded to re-enter the offensive zone with a 3-on-2. He passed to forward David Madsen, who wristed a shot past Vehvilainen.
In the second period, the Danes again extended their lead. With 4:07 to play in the middle frame, Jonas Rondbjerg took a low-percentage shot from the goal line along the boards. It was tipped in by Joachim Blichfeld for the 3-0 lead on the team's fifth shot.
Team Finland would attempt to stage a comeback in the third period, however. Urho Vaakanainen wristed a shot past goalie Kasper Krog to give the Finns life. With 4:30 to play in regulation, Kasper Bjorkqvist snapped a shot past Krog to bring Finland within a goal. Fortunately for the underdog Danes,
Denmark was outshot 14-3 in both the first and third periods, contributing to a lopsided 36-10 shot differential. It was an unlikely victory for the underdogs.
Finland remains in last place in Group A with two regulation losses, while Denmark earned three points with the win.
Next games:
Thursday: Denmark v. Czech Republic (1:00 PM ET)
Friday: Switzerland v. Denmark (5:00)
Thursday: Finland v. Sweden (5:30)
Saturday: Finland v. Switzerland (5:30)
Stay tuned to HOHM for all your WJC coverage