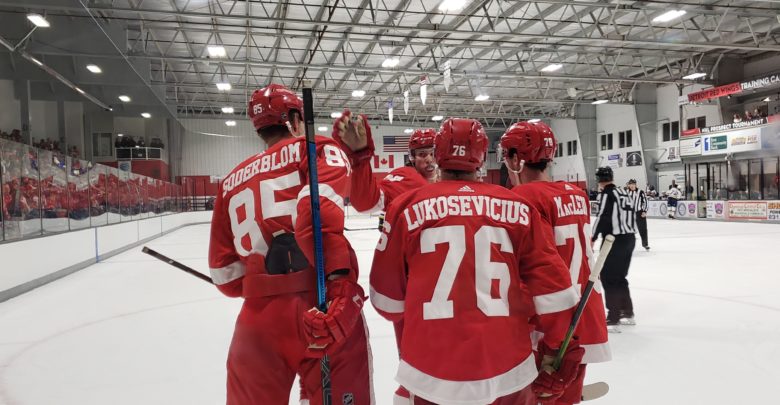 Joe Veleno and the Red Wings offense were on fire again during Saturday afternoon's Game 2 which saw them play the St. Louis Blues' prospects. He scored twice in a 7-3 showing, giving Detroit a 1-1 record going into Monday's Game 3.
—
Despite posting a high scoring result, Detroit had difficulty finding their footing early in the game. St. Louis held a 1-0 lead on a goal from Keean Washkurak, who drove hard to the net and scored a nice goal on Sean Romeo, a free agent invite netminder out of Ohio State.
The game was broken wide open in the second, with Ryan Kuffner leading the way, scoring on a one-timer from Moritz Seider.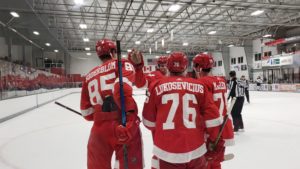 Seider also had a particularly nice shift where he carried the puck in on a rush, calmly returning to his post and rifling a pass diagonally to a teammate for a potentially lethal one-timer shot.
Defenseman Gustav Lindstrom poked home a goal in the crease a minute later following a scramble near goalie Colten Ellis. Filip Zadina assisted.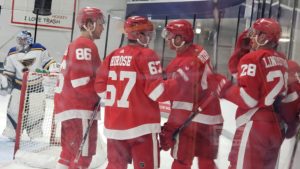 Givani Smith followed with another goal at the 11:20 mark, the team's third goal in the last four shots. Veteran prospect Chase Pearson had the primary assist, with Jarid Lukosevicius also assisting.
Austin Poganski of St. Louis stopped the bleeding momentarily and the scoring ended for the period.
Also of note in the second, Washkurak tried to take a run at Seider, who stood his ground, resulting in Washkurak taking the brunt of the hit, and Smith and Tyler Tucker squared off in a quick bout that lasted mere seconds.
In the third, Detroit had a lengthy 5-on-3 (1:51) which resulted in both Veleno goals. The first was a slap shot from the right circle, the spot that Zadina has been looking for (but hasn't yet found) for two games. Zadina did make the make the pass however. The second was a quick wrister in the slot with Zadina again with the primary assist.
"The power play was good," said Grand Rapids Griffins coach Ben Simon. "We've got a lot of skill on that first unit [and] we've got a lot of skill on the second unit. Any time you've got some skill and the players are creative, you get a little structure, a little bit of a mentality.
Back at even strength, Lukosevicius scored the Wings' third goal in 1:03, which made it 6-2. Ryan Kuffner contributed a lot to the effort and was nearly credited with the goal.
Robby Jackson made it 6-3 with 4:33 remaining in the game following a fantastic cross-crease pass by Nikita Alexandrov.
The game was capped with a shorthanded empty-netter as Givani Smith passed to Pearson rather than shoot in order to earn the Gordie Howe hat trick.
Detroit had a grand total of eight power plays in the game to St. Louis's four, which showed the Red Wings' patience and discipline throughout the night. These fast paced, competitive tournament games are often won or lost on special teams, especially if one team loses their composure early on.
"Sometimes when the game is kind of tight or something, and they want to go over to us and get some [power plays], you just I think have to handle it, and just keep it in your mind [to not take] stupid penalties and just play hockey and have fun," said Zadina after the game.
Zadina has been held goalless thus far, but his passing has been on point.
It's tough, because I want to be a goal scorer, but sometimes it doesn't go the way I want," he said. "At least I'm passing the puck well, and Joe took my part of the job and he's scoring the goals right now…I love to play with him."
"We were on the ice kind of often during the summer, so we know each other well, where we should be on the ice." he said of Veleno. "That's probably why Joe is scoring the goals, because in practice, I was more passing because he wanted to shoot the puck."
To Veleno's credit, that is something that he strove to work for in his own training. "It's something I've worked on a lot throughout this summer, just working on my shot, getting it off quicker. I have to give a lot of credit to the coaches who have been working with me and showing me some good techniques with that."
Not only is his shot accurate, but his booming one-timer tonight showcased its sheer velocity upon release. "I think I've always had a pretty good shot. I don't think it was something I was terrible at. I just never really shot the puck; I always looked for the pass. As I realized, you have to shoot the puck when you get to the next level [and] you're not always going to make those pretty plays…just put the puck on net and see what happens."
"Joe's a good player," said Simon. "There's a reason why he was drafted where he was. And there was a reason why he had exceptional status in the Q (QMJHL). And there's a reason why he's on the trajectory of becoming an elite player. He brings a little bit of everything. It's just good for him to have the confidence to play well here so he hopefully brings that into camp."
Follow me on Twitter @KevinSporkaHOHM
Love Reading About Hockey?

Subscribe to keep up-to-date with the latest and most interesting hockey news!
| | |
| --- | --- |
| | We hate spam just as much as you |