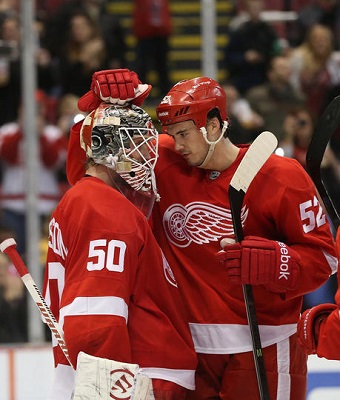 The Detroit Red Wings had one of their best games of the season last night, both offensively and defensively.
They were able to do what no other team has done this season, score more than four goals against Tuukka Rask and the Boston Bruins, the team that remains first in the league in goals against per game (2.0 goals per game).
Detroit scored six goals on the Bruins netminder, even without top line forwards Pavel Datsyuk and Todd Bertuzzi in the lineup. It was Boston's worse loss of the year.
On the defensive side of things, Detroit prevented their opponents from shooting the puck. The first two periods saw Boston have an uncharacteristically low shot total of 10. They would finish with just 17 shots for the game (tied for the lowest shot total of their season, tied with their 17 shot showing against the San Jose Sharks). Detroit accomplished this even without rookie defenseman Danny DeKeyser healthy.
Justin Abdelkader got things going in the first period, scoring the only goal in the first 20 minutes of the game. He came into the night with just two goals in 25 games.
The second period saw Detroit put up three points and extend their unexpected lead to 4-0 with goals from Tomas Tatar (assisted by Brian Lashoff and Joakim Andersson), Henrik Zetterberg (assisted by Gustav Nyquist and Niklas Kronwall), and Kronwall (assisted by Johan Franzen and Zetterberg).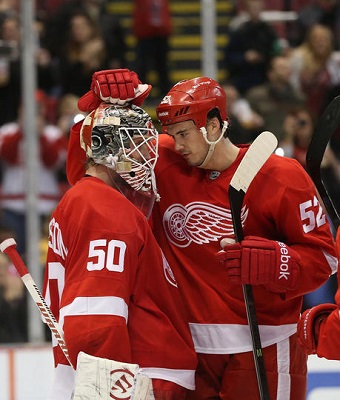 However, they were not quite finished. Drew Miller and Nyquist scored in the final period of play (assisted by Andersson/Tatar and Franzen/Ericsson respectively)
Jarome Iginla would end the shutout by scoring with less than three minutes to go.
Detroit only committed four penalties in the contest, compared to Boston's five. The penalty kill for the Red Wings was solid and had to kill off two key penalties very early (to Brendan Smith and Franzen). If Boston were to capitalize on their early man-advantage opportunities, it would have been a different game entirely.
Jonas Gustavsson was in net for the second straight game, and he improved to 6-0-1 for the year. His save-percentage now stands at .927 and his goals-against average is a mere 2.17. When asked how it felt to only face 17 shots from arguably the strongest Eastern Conference team, Gustavsson said "…You expect them to put a lot of pressure on the net. Usually when I've played them in the past, they like to shoot a lot. We didn't really let them do that today because we didn't give them the time and the space to do that. I actually think this is a career low for shots against for me (laughs) in my NHL career."
Sometimes it is hard for goalies to stay sharp in the crease when they face scarce shots. When asked if he needed to adjust his mindset during the game after anticipating an onslaught of shots from the Bruins, he responded: "The way I prepare myself before every game is the same way, it doesn't matter who we face. The only difference is that during a game, if I don't see a lot of shots or action, I try to move around more between the whistles. If I face a lot of rubber, maybe I'll try to get some rest."
"Gus played well back there," said Henrik Zetterberg. "He played with confidence."
This is Gustavsson's second win against the Bruins this season. On October 14th, he gave up two goals on 30 shots in a 3-2 victory.
The Red Wings had a team total of 16 takeaways, but perhaps the biggest takeaway from the game is that they found production from everyone. Nine players had at least one point. The top line combined for seven points. The third line combined for five points (two goals and three assists).
"All four lines were great for us today," said Tomas Tatar. "Obviously Pavel's a big loss for us, [but] I'm happy that all lines chipped in for a little bit, and I think we were the better team on the ice today."
Zetterberg explained how the team was able to solve the brick wall that is Rask. "I think we were trying to be in front of him (Rask) and tried to put pucks there. This is how the league is sometimes. One team has the legs and the jump and the other team doesn't."
Detroit will attempt to carry this momentum into Long Island tomorrow afternoon when they take on the New York Islanders.
Game time is 4:00 ET from New York
Follow me on Twitter @yungspork