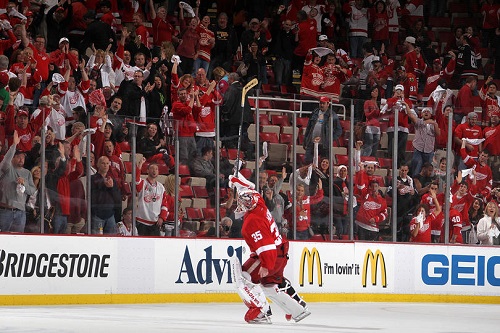 The Detroit Red Wings defeated the Chicago Blackhawks for the third straight time last night. It marked Chicago's first three-game losing streak of the entire season.
The Red Wings did exactly the things I mentioned in my game pre-game article. They blocked shots, won faceoffs, and dominated the neutral zone.
To beat the Blackhawks, you have to control the neutral zone, block their passing lanes, and intercept their passes. "They're waiting for stretch passes, and we've got to take away all the space we can," said Jonathan Ericsson. "We don't want to give them any space. We know that they're going to take off as soon as they get the puck."
Damien Brunner agreed. "[Clogging the neutral zone] frustrates any team. If you make it tight on someone, they have no room to make plays. They [then] obviously have to work even harder to get that room. We did a pretty good job [tonight]."
Mike Babcock did not give any forward more than 21 minutes of ice time Thursday night, and only Datsyuk played that long. Everyone else played 19 minutes or less. No defenseman played longer than 23 minutes (23:25) either. Joel Quenneville gave his top d-man Duncan Keith 30:02, an outrageous amount for a game that didn't go to overtime. His ice time also increased by 4:08 from Game 3.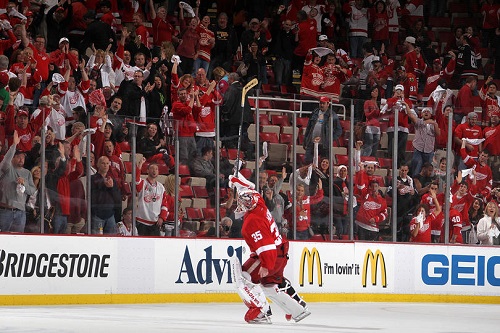 Even more questionable is the ice-time he gave to players like Brent Seabrook, Nick Leddy and Patrick Kane. Kane played 16:51 after playing 23:24 last game. Seabrook went from playing nearly 18 minutes in Game 3 to just 12 minutes in Game 4. Leddy went from 14:37 to 8:38. Over-working Keith and Hjalmarsson (23:15) seems like a desperation tactic by the Blackhawk bench boss.
Chicago was unable to produce any offense, although the chances were there. Red Wing netminder Jimmy Howard had to come up big on breakaways from players such as Marian Hossa. Detroit's first period wasn't a good one, and many turnovers were the result. Many of their 10 giveaways were from the first 20 minutes.
Blackhawk captain Jonathan Toews could be taught a lesson in discipline by Andrew Shaw, who in Game 3 was the recipient of three separate penalties and 14 minutes total. Not to be outdone in the following game, Toews took three straight penalties in the second period, including two for hi-sticking. Detroit's first goal came with just one second remaining in Toews' second penalty.
"The first two you could argue about that he didn't get a chance to get onto the bench," Hawks coach Quenneville said following the game.
Defenseman Jakub Kindl received a pass from his powerplay partner Carlo Colaiacovo and slapped a low shot that Corey Crawford could not even see. Forward Justin Abdelkader was doing his best Tomas Holmstrom impression (who by the way, was in attendance once again) and had successfully screened the netminder, allowing the puck to have a clear lane to the twine.
Toews was held goal-less by Detroit once again, and appeared visibly frustrated during and after the contest.
Daniel Cleary added an empty-netter goal to make it 2-0, and that was the final score.
The Wings' third line and penalty killers were the heroes of the night, even though they didn't record any points. Gustav Nyquist and Damien Brunner are showing a lot of chemistry and Joakim Andersson continues to impress in the faceoff circle, winning 5 of his 6 draws. That line has speed that Chicago hasn't been able to match. Nyquist is a student of the Pavel Datsyuk school of "Turning Opposing Players into Pylons." The Joe Louis crowd roars with delight as Nyquist weaved in and out of traffic effortlessly. You notice immediately when he steps on the ice, and you would never guess that he played just 10:26 last night, because he makes the most of his third line minutes.
"The young guys on the third line have played unbelievable for us, our fourth line too, chipping in as well," Howard said.
Jimmy Howard stopped all 28 shots he faced, and earned first star honors. "He's done it all season for us and now it's sick how he plays in the playoffs," Brunner said. "Every night he gives us a chance to win."
Regardless of the fact that Chicago was 4-0 in the season series, Detroit is now up 3-1 heading into Game 5 Saturday night at the United Center. "It was a tight [season] series all year long. All four were close except for that one game [7-0 rout on Easter Sunday]."
"We're going to go into Chicago and play exactly the same game."
Notes: Detroit outhit Chicago 30-22. Justin Abdelkader led the team with 5 hits. Patrick Eaves, Drew Miller, and Jonathan Ericsson each had 4 hits. They led the faceoff circle, winning 31 faceoffs and lost 29 (52/48%). They blocked 11 shots, and had 8 takeaways (compared to Chicago's 4). Pavel Datsyuk had 4 takeaways. Gustav Nyquist and Henrik Zetterberg had 2 each.
Follow me on Twitter @yungspork