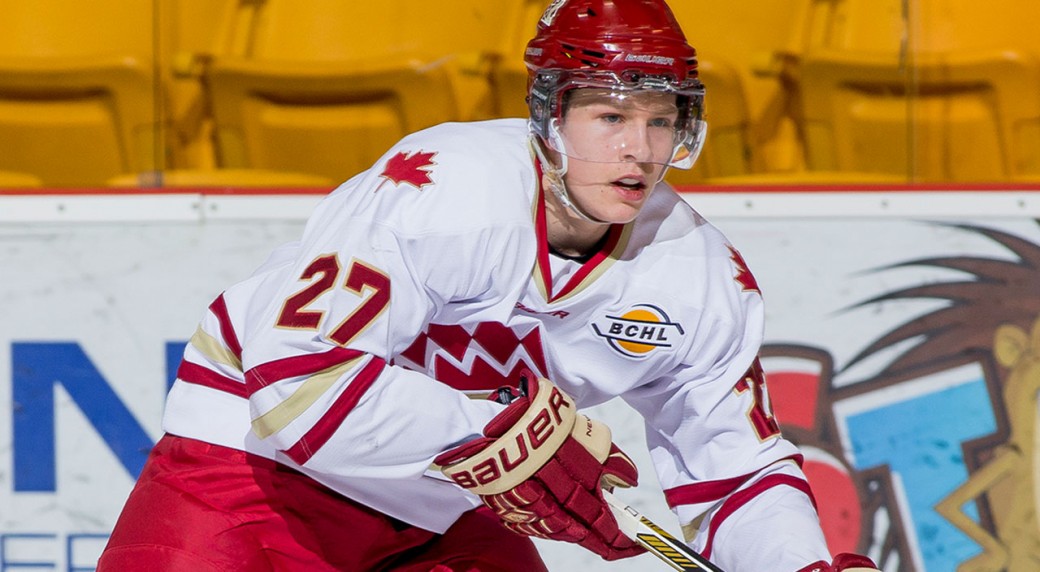 The Detroit Red Wings made an important move on Day 1 of the NHL Entry Draft. General manager Ken Holland was able to move Pavel Datsyuk's contract (with one year remaining) and the 16th overall pick to the Arizona Coyotes for forward Joe Vitale, the 20th overall selection and a third round pick.
Here's what that situation means for both teams. Arizona has significant cap space to take on the $7.5 million cap hit that comes with the career Red Wing's contract. The Coyotes' books will contain this amount, but none of it will actually be paid to Datsyuk. So for what can be considered a "budget team," this has no monetary impact.
Detroit, on the other hand, received forward Joe Vitale, who in all likelihood will be placed on long-term injured reserve (like Johan Franzen), meaning his $1.1 million contract value (in its last year) will have no impact on the cap. The money will be paid to Vitale, but the cap space will not be affected. Detroit paid $1.1 million to dispose of a $7.5 million contract. Not a lot for a team with a big wallet (owner Mike Ilitch).
Let's sum up the results of the draft:
Round 1
In swapping the 16th for the 20th selection, Detroit passed on two-way defenseman Jakob Chychrun (CHIK-rin), who then went to Arizona instead. If Detroit stays at 16 he may very well have been the choice. Four picks later, the Red Wings select Canadian blueliner Dennis Cholowski (Langley, B.C.) from the British Columbia League. The Hockey News projects Cholowski as an offensive defender, and after his 40 point campaign (50 games) with Chilliwack last season, it would appear to be very accurate. THN had him ranked 37th while Internal Scouting had him at 43rd. The NHL's Central Scouting department ranked him at 48th mid-season, but he improved greatly by season's end finishing at 23rd.
Ken Holland opted for a positional draft choice rather than best available (including highly ranked power forward from Rochester, MI Max Jones). And considering Detroit's defensive needs, it was a good move.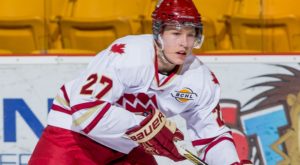 Last season: He scored 12 goals and 28 assists for 40 points in 50 games. He added another 15 points (four goals) in 20 post-season contests. Cholowski was the highest scoring d-man on his team. The Chiefs lost in the league finals to the West Kelowna Warriors.
Next season: Cholowski will attend St. Cloud State University where 2009 fifth-round defenseman Nick Jensen attended for three years.
Round 2
Part 1
The Wings had two picks in the second round, their own 36th and the 53rd from the Arizona Coyotes.
The first of those picks was Givani Smith 36th, a power forward (right-wing) from the Guelph Storm of the OHL. In 2014-15 he produced only four points in 31 games for the Barrie Colts, but was traded mid-season to Guelph where he collected 15 points in 30 games. This past season he scored 23 goals and 42 points in 65 games. Smith also collected 146 penalty minutes. Guelph did not make the playoffs this year, but in the prior season he scored five points in just nine games in the post-season.
He's got size at 6-1, 196 and is a type of player Detroit has not drafted since the likes of Johan Franzen (2004) and Keith Primeau (1990). Smith can bring the grit and tenacity that Red Wings teams of recent past have drastically lacked.
Smith was ranked 54th by Central Scouting (63rd at mid-season) and 101st by International Scouting. THN had him 51st , the NHL Network 55th, and TSN 70th.
Part 2
For the second second round selection, they selected right-handed Czech defenseman Filip Hronek at pick number 53.
Hronek (pronounced Roenick) played 40 games in the Czech men's league at 18 and all five of the World Junior Championship games (scoring two points).
He ranked 8th among European skaters by Central Scouting (10th mid-season), 86th by International Scouting, 49th by TSN, and 76th by THN.
The NHL Network described his game as: good skating, puck-moving, great with puck on stick, smart, runs power plays, and offensively minded. They did say he also needs to work on gaining some size, as he currently stands at 163 pounds.
Round 4
In the fourth round, Detroit selected 6-2, 190 lb Swedish defenseman Alfons Malmstrom at pick 107. He currently plays in the J20 SuperElit, the Swedish junior league.
Round 5
Defenseman Jordan Sambrook (6-2, 187) was selected 137th from the Erie Otters (producers of Connor McDavid and Dylan Strome). Teammates Alex DeBrincat and Taylor Raddysh were also selected in the draft.
The Hockey News describes him as a "mobile kid with nice frame" that "has been underrate on a hot team." Underrated is right with the offensive power house roster that the Otters currently have.
Like Hronek, Sambrook is also a right-handed shot, something the Detroit system has desperately needed.
He was ranked 64th by THN, 96th by Central Scouting among North American skaters, and 120th by International Scouting.
Round 6
A goalie was selected at pick 167. Sweden's Filip Larsson was chosen from the Swedish junior league.
Last season he played with Djurgarden Jr., seeing 19 games and finishing with a 3.86 GAA (37th out of 39 in the league) and .872 save-percentage (36th in the league)
He ranked fifth in the mid-season rankings from Central Scouting, but dropped to 10th in the final ranking.
He stands six-foot-two and 180 pounds.
Round 7
For the final selection, Detroit chose forward Mattias Elfstrom 197th overall.
He played 43 games for the J20 SuperElit in Sweden last season, accumulating 11 goals and 31 points. He even earned the chance to play five SHL games with the parent club Malmo Redhawks.
In three playoff games with the under-20 team, he scored four points.
Follow me on Twitter @KevinSporkaHOHM