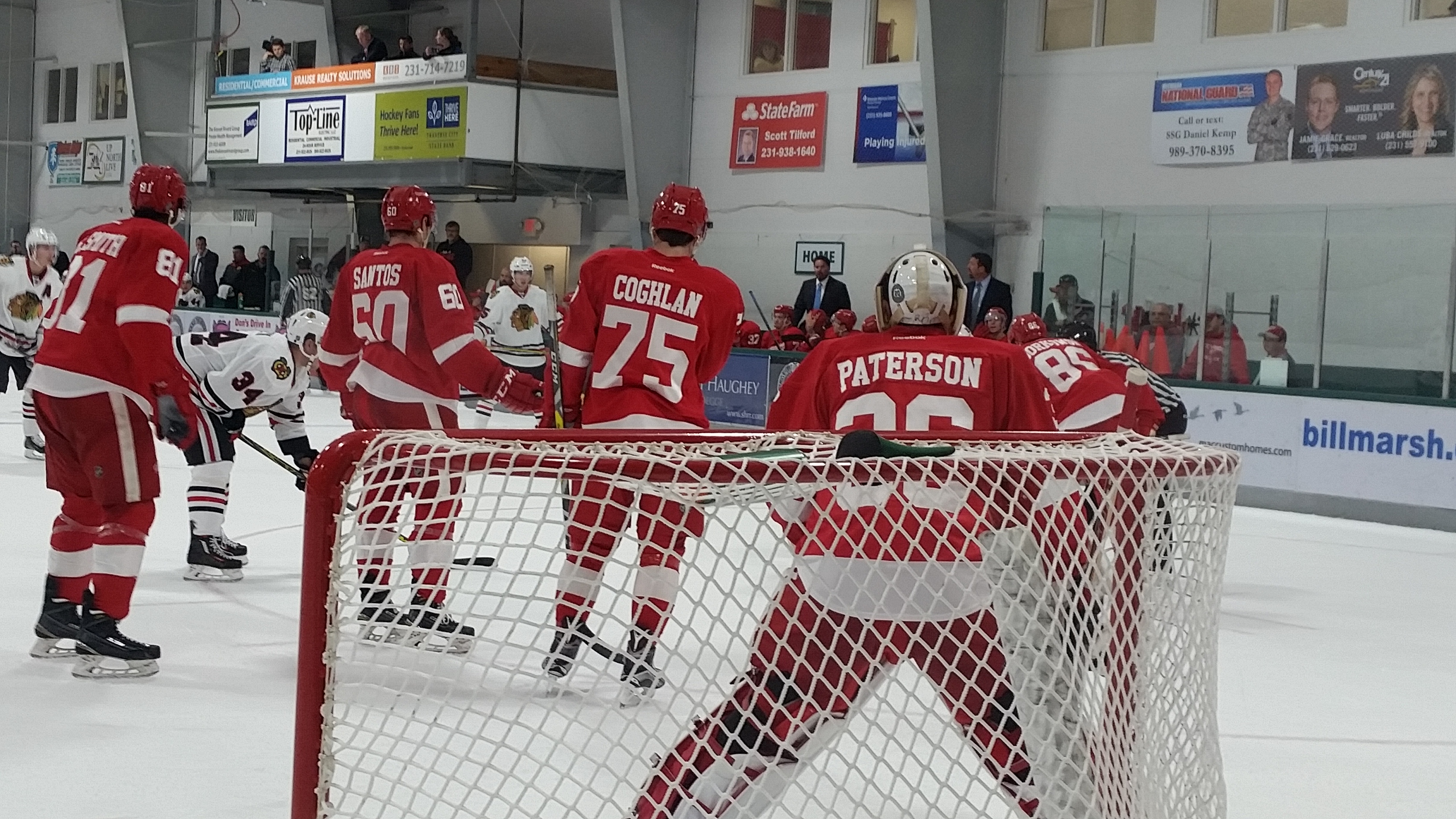 Riding high from a 6-4 victory over the reigning back-to-back champions Columbus Blue Jackets Friday night, the Detroit Red Wings prospects took to the ice not even 24 hours later in a match against the Chicago Blackhawks.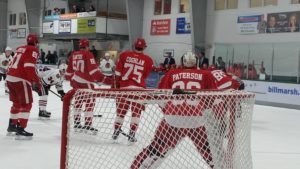 The Blackhawks had lost their first game of the tournament after their opponent the St. Louis Blues surged in the third period to win 3-2 in Game 1.
Despite outshooting the Hawks 29-24, the Wings could not solve free agent invite goalie Brent Moran (Flint Firebirds). Goaltending has been stellar for the Hawks through two games, with Moran and Michigan State netminder Jake Hildebrand leading the tournament with a combined .938 save-percentage.
The Hawks came out ready to play and controlled the puck for much of the first period. Free agent Alexandre Fortin scored twice unassisted in the opening period, with the second of the pair being a result of a Red Wings turnover. Detroit's Dylan Coghlan lost control of the puck near the crease, which Fortin quickly pounced on for the two-goal lead. Coghlan seemed determined to make up for his mistake throughout the game's remainder. And he did just that with sound, smart defensive play and big hits.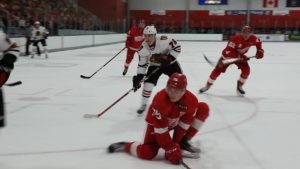 Early in the period, Detroit's Givani Smith made his presence known, sparking a net-front scuffle of pushing and shoving. Smith's physicality was a welcomed sight against this strong Chicago squad.
Defenseman Robbie Russo said that morale "wasn't bad [after first period]. We were down 2-0. We knew we made some mistakes and we could probably come back from that, but we never really got going until it was too late."
The team went into the first intermission down a pair, and the second period would not begin well either. Defenseman Gustav Forsling (Swedish Hockey League) demonstrated his powerful slap shot only 31 seconds in, on only his team's 12th shot.
At the 6:09 mark, Forsling again registered a point, having his point shot deflected by fourth-line center Nathan Noel. Chicago was now up by four. The early deficits seemed to bury the Red Wings' confidence in the second period, as scoring chances were sparse. One chance of note came when top-line center Kyle Criscuolo split the defense and nearly had an open shot on Moran. However, the play was broken up before he could get a shot off.
The final stanza would fare no better for the host team, as Chicago added a fifth and final goal, scored by Erie Otters star and 2016 second rounder Alex Debrincat. He one-timed an Ivan Nikolishin pass past Jake Paterson.
Chicago played a much more complete game than did Columbus. Columbus was fast and physical. Chicago was even faster. They were stifling defensively and error-free offensively. The Red Wings had scoring chances, but none of their 29 shots made it past Brent Moran, who secured the shutout.
"They obviously had more jump than us and they took it to us pretty good," said Russo. "But, we're just going to try to forget about that, take a day off tomorrow, come back and re energize."
Paterson again had to make numerous saves late in the third period, as was the case on Friday.
"We have to do a better job in front of him, but then again every once in a while if we could get a key save, and he made some big saves in the third tonight," said coach Todd Nelson. "At a certain point in the game I think it would maybe sway our team and lift up our team, but that wasn't the case. The second goal was a bad break and that goal came late in the first period. It kind of hurts your hockey club. And they score early in the second period, so right there, that's pretty much the game in itself."

Jake Paterson tracks the puck during Game 2's matchup against Chicago. (Photo by Author)
Coach Nelson thought that fatigue may have played a factor in the loss.
"You got to give them credit," he said. "They played at a high pace. I think they were quicker than what we saw last night. It took us three-quarters of the first period to get up to their tempo. It was a game where it's a 1-0 game, then all of a sudden we get a bad break on the second goal, those things do happen. And then we really didn't recover after that. Their goaltender played really well. We had our chances to score some goals, but he was there for 'em, and there's games that happen like that. I thought our guys looked a bit fatigued, but that's not an excuse because Chicago went through the same situation."
He made the decision to opt out of the optional morning skate on Sunday, which he hopes will help to re energize his team for the very important Game 3 on Monday.
"I think having the day off tomorrow will certainly help," he noted. "You know, they can get away from the rink and collect their thoughts, and have some fun. It's four games in five nights. It's a lot of hockey, especially when you haven't played [that frequently] all year. We don't play four games in five nights in the American League and the National Hockey League doesn't do so either."
Following the loss, all four Gordie Howe Division teams (Chicago, Columbus, Detroit, St. Louis) are tied at one win apiece, with Monday deciding which team plays in which game on Tuesday.
"In this tournament that's a must-win, we have to have other teams help us out to have an opportunity," said Nelson. "I'm not sure what the tie-breaker is, but we got to put ourselves in that position [to win]. Basically, for the guys to have a day off tomorrow to clear their heads, they can get rested up, it's more or less just getting them physically ready for Monday."
Dylan Sadowy has played the first two games with tournament veterans Dominic Turgeon (center) and Zach Nastasiuk (right wing) and he believes that the trio works well together, but that there's even more room for improvement come Monday.
"Me and Turge and Nasty, we had a practice there on Thursday and played together again last night," he said. "We gelled a little bit last night and we're still coming together, and hopefully Monday we'll be clicking at full speed."
Sadowy is enjoying his first prospect tournament in TC, noting its differences from what he was used to.
"It's a lot different than what I'm used to," he said. "It's high tempo, it's physical. It's everything I could have asked for."
High-tempo and physical is Sadowy's game, and he has fit right into this roster.
Detroit takes to the ice next on Monday at 7:00 PM ET to take on the St. Louis Blues.
Notes:
Jake Paterson demonstrated good hockey IQ in his ability to anticipate pucks. He often ended a scoring chance by skating forward and sending the puck around the net just before the oncoming forward arrived.
All four teams in the Gordie Howe Division (Chicago, Columbus, Detroit, St. Louis) are now tied after two games following a reversal of Game 1's fortunes for each team, the Red Wings included.
Forward Alex Globke drew into the lineup after being a Game 1 scratch. He tied for the team-lead in shots with four (along with Tyler Bertuzzi)
Chicago defenseman Jeff King was the only player on his team to be present on the ice for all five goals scored.