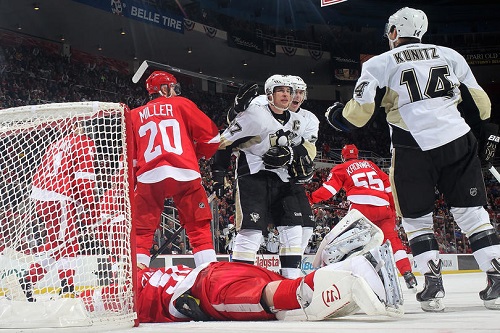 The Detroit Red Wings suffered their fourth straight loss Saturday night in Detroit. They sit fourth in the Atlantic Division, but should be thankful that they are not still in the West. Their 39 points would place them 5th and 6th in the Central and Pacific Divisions respectively.
The loss came at the hands of the top team in the Eastern Conference, the ever-dangerous Pittsburgh Penguins, led by Sidney Crosby and Evgeni Malkin (Ranked 1st and 3rd in total points league-wide). No team in the East has a better goals for-goals against differential than +31, and only Boston (70) has allowed fewer goals than the Penguins (74).
The loss also came at a cost for Detroit. Forward Justin Abdelkader was forced to leave the game after a vicious hit to the head by Penguins defenseman Deryk Engelland. He would not return to the contest, and Engelland was given a match penalty for his actions.
Bob McKenzie of TSN would later tweet that Engelland will face a possible suspension by league disciplinarian Brendan Shanahan at an in-person hearing on Wednesday. He mentioned that he believes that there is a possibility of a 6+ game suspension, especially after Shanahan recently dished out a 15 game suspension to Bruins forward Shawn Thornton.
Engelland would describe the play from his perspective. "There's a loose puck in the neutral zone. I try to go stick on puck. [Abdelkader] dumps it in, I try to finish my check. Obviously I'm not trying to hit him in the head or anything like that. I think I catch his chin a little bit before his body. Hopefully he's alright. No intentions there to hurt anyone. It's a quick play. That's part of my game, playing physical. Like I said I'm not trying to target anyone's head."
In the other locker room, there were different thoughts. Detroit defenseman Niklas Kronwall, who is well-known for his dangerous open-ice hits, said he did not see it happen, but that he did see part of the replay. "I saw the replay, I kind of caught the tail end of it. To me, just what I saw, it looked like a pretty clear hit to the head."
Coach Mike Babcock would not give a clear opinion on the matter. "Obviously it's something the league will have to look at. We got a lot of guys out. We didn't need to lose Abby. He's a big heavy body for us. That hurt us for sure."
The hit came toward the end of the first period, when Detroit had already relinquished an early lead.
Kronwall scored the first goal of the game (and the only goal his team would score) on a point shot that caromed off Crosby's stick, bouncing awkwardly right through the legs of Pittsburgh goalie (and Detroit native) Jeff Zatkoff.
Pittsburgh would respond with four unanswered goals by Crosby, Malkin, Maatta, and Crosby again. Crosby was on the ice for all five goals.
The first two goals the Penguins scored were the result of two unnecessary hooking penalties to Todd Bertuzzi and Kronwall. Pittsburgh leads the league in power play percentage at 26.7%, and they showed Detroit that that was not a typo.
Detroit had a prime chance to come back at the end of the first and the beginning of the second, while Chuck Kobasew was serving Engelland's five minute match penalty. However, they failed to generate any offense on the attack. Brendan Smith, who was one of the players that HBO was filming for the next episode of 24/7 Red Wings/Maple Leafs talked about the extended power play.
"Obviously it's frustrating when you do get a five minute [power play] and you don't get a goal out of it. I think the biggest thing with having those five minutes and you don't come out with a goal is a lot of people are cold, because they haven't been skating for five minutes. If you're not on the power play, you don't even have a chance to get out there."
Goalie Jonas Gustavsson was saddled with the loss for his first "bad" start of the season. His record remains impressive at 8-2-2 with a 2.09 GAA and .926 SP. These numbers are far and away better than any numbers he has posted in the past.
A disturbing trend that is beginning to worry fans in Detroit, is their team's performance at Joe Louis Arena. Their home record stands at 5-7-6. Only one team (Buffalo) in the entire league has fewer wins on home ice. However, they have managed to go 10-3-3 on the road. No team in the Eastern Conference has won more games on the road than Detroit so far. It's an unexplainable phenomenon.
"We got to play better," said Babcock. "You got to win at home. We've been fine on the road, but the bottom line is we got to win in our house right here. Coming into tonight's game I think we were 5-6-6. We talked about getting it looked after. We didn't do that tonight. We'll get a new opportunity tomorrow. You got to work harder and compete better than we did tonight."
Smith also talked about how important it will be for his team to regain their form soon. "That's the most frustrating thing out of everything I've been talking about. I mean, this is our home. This is our barn. We want to play well in front of our fans. It should be the opposite. For some reason it's not going our way. That's something we need to figure out soon because down the road is where we want to be playing our best at home."
Detroit will look to buck this trend this afternoon/night at 5:00 ET. They will take on the Tampa Bay Lightning for the second time in the last three games. Last Thursday saw the Lightning defeat the Red Wings 2-1 after Detroit's 11th straight shootout loss.
Follow me on Twitter @yungspork