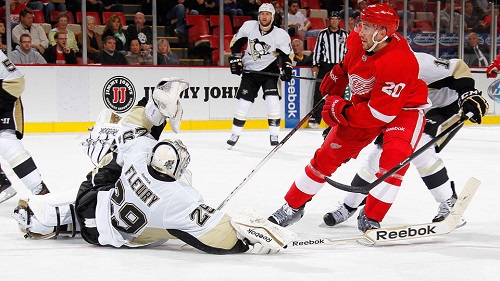 Wednesday night the Red Wings faced off against the Pittsburgh Penguins, one of the most skilled opponents Detroit will have to see more often now. In the first 20 minutes, the Wings failed to set up in the offensive zone. They finished the first period with just five shots, while the Penguins recorded 12.
The line of Kunitz-Crosby-Dupuis skated circles around Detroit's defense and Detroit netminder Petr Mrazek was left alone to do much of the heavy lifting.
Jussi Jokinen, who just last Saturday recorded all of his team's three goals in a loss to the Columbus Blue Jackets, added to his dominant pre-season performance by scoring his fourth goal 15:06 into the first.
The Crosby line also struck in the first period with Dupuis taking a pass from Crosby and Kunitz to make it 2-0.
Early in the second stanza, Evgeni Malkin, after just exiting the sin bin fired a blast from the point. Craig Adams was able to redirect it past Mrazek to make it 3-0.
Midway through the period, Marc-Andre Fleury charged out of his net to stop a Drew Miller breakaway that was set up by a long pass from Mikael Samuelsson. It was very similar to Dominik Hasek's famous "Gaborik flip" incident, except in this case, the puck ended up in the net.
However that would be the only goal Detroit would be able to score all game.
Chris Kunitz would make it 4-1 and later 5-1 (on the powerplay). That would be the final score of the game.
Pittsburgh dominated the faceoff circle in the first period, winning 65% of the 20 draws. Detroit somehow managed to pull even in that category for a 60-minute total of 26 wins and 26 losses. Forward Joakim Andersson won 10 of 14 draws for a percentage of 71%.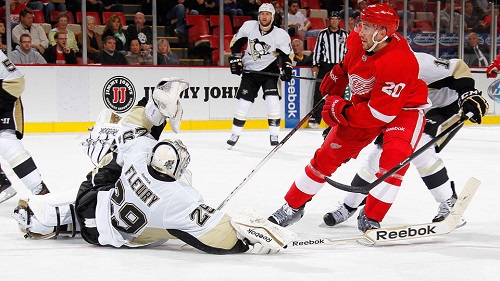 Detroit was out-hit 23-18 and out-shot 37-17.
Petr Mrazek played very well despite the score, and came up huge a number of times. He seemingly never gave up even though the game was a lost cause almost from the get-go. Three of the Penguins' goals came with zero defensive help and were direct results of defensive lapses on Detroit's back end.
Also, Detroit did not play star players Pavel Datsyuk, Henrik Zetterberg or Daniel Alfredsson (or defensemen Niklas Kronwall, Jonathan Ericsson, and Jakub Kindl) in the game.
The pre-season is all about trying different things, mixing up line combinations, and seeing what works.
Injury Report
Forward Justin Abdelkader received a cut on one of his fingers after fighting Rob Bortuzzo Wednesday night (not a typo, it wasn't Todd Bertuzzi that fought him). He needed a few stitches, but it doesn't appear to be too serious.
Daniel Alfredsson has been battling a groin injury during this pre-season and is practicing again.
According to Mlive.com, Jakub Kindl (hip flexor) will be back tonight, Jonathan Ericsson (groin) skated yesterday, Brendan Smith (leg) had to leave practice early yesterday but might play tonight, and Danny DeKeyser's knee injury doesn't appear too serious to Mike Babcock.
Darren Helm is not likely to be in the opening night lineup next week, as he is still fighting his nagging back injury. In July he said he was feeling much better, but apparently he has not reached full recovery just yet.
The Red Wings will face off tonight against Toronto in the first of back-to-back games against the Leafs (Saturday night in Toronto as well).
Follow me on Twitter @yungspork
Love Reading About Hockey?

Subscribe to keep up-to-date with the latest and most interesting hockey news!
| | |
| --- | --- |
| | We hate spam just as much as you |