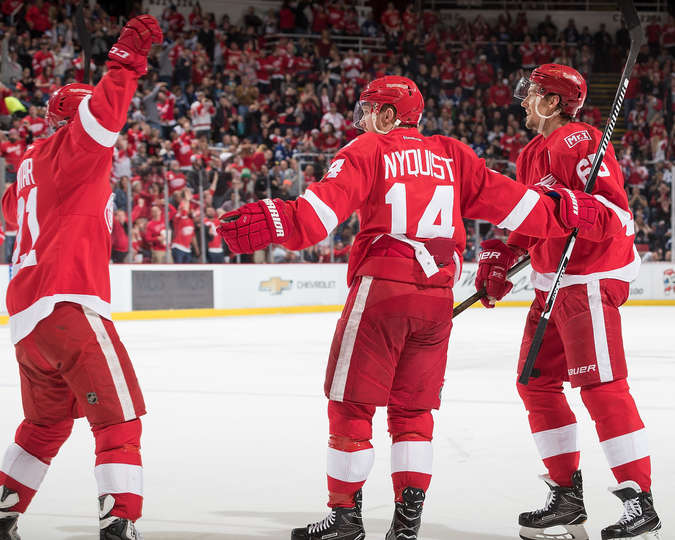 The Detroit Red Wings lost to the Toronto Maple Leafs yet again this season as the Leafs swept the season series (four games). Beginning January 1st at BMO Field, the results were 5-4 OT, 4-0, 3-2, and 5-4 (Saturday). Despite outshooting their opponent 42-27, the Wings were unable to win.
Gustav Nyquist scored first for Detroit at 14:50 of the 1st, following a drop pass by Frans Nielsen. At this point, the Red Wings led in shots 14-8.
"The energy and atmosphere I thought were great," said coach Jeff Blashill. "It was a great crowd. I thought both teams played hard. Very disappointed to come out without a result given how hard we played."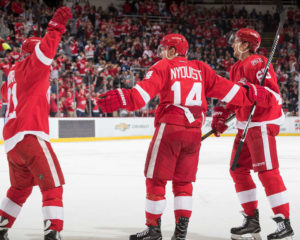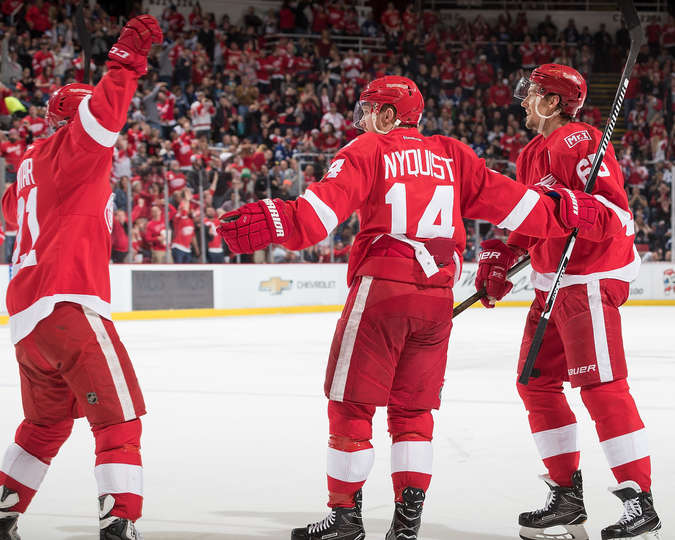 Early in the second, Toronto rookie Auston Matthews wristed a shot past goalie Jimmy Howard with very little net available.
Another star rookie, Mitch Marner, gave Toronto the lead. Using his speed, he was able to lift the puck over the shoulder of Howard as defenseman Mike Green pursued swiftly but unsuccessfully.
Just prior to the goal by Marner, Andreas Athanasiou was injured after a follow-through stick motion by Connor Carrick struck his face. He would go for repairs, and this incident allowed Toronto's Carrick to set up the goal.
Soon after, a third Leafs rookie would score. This time it was William Nylander, who scored his 22nd of the season. Nylander patiently waited for the right shot before beating Howard with a quick wrister.
It wouldn't be all bad for Detroit in the middle frame, as young defenseman Nick Jensen brought the Wings to within one goal. He took the initial shot and retrieved and potted his own rebound. Henrik Zetterberg assisted. Toronto coach Mike Babcock would challenge the play, but the goal would stand.
The third period also featured four goals.
Niklas Kronwall scored his second goal of the season after an impressive pass by Zetterberg as the captain skated around the net of Frederik Andersen.
However, Toronto stormed back for two goals. James van Riemsdyk scored with 2:26 to play as he spun around and backhanded the puck into the net.
Matthews scored his second of the game with 1:09 remaining. His first attempt was saved, but he wasted no time scoring on the rebound.
24 seconds later, Green scored to make it a 5-4 game with the empty net. That would be the game's final score.
"You can't give them easy chances," said Blashill. "They obviously have some guys that are unique finishers. We had the one bad line change that can't happen. You just can't give them easy chances. They're going to create enough of them on their own. But I will say, I'm real proud of their competitive level. The effort of our guys I thought was outstanding."
Additional Notes
Former Detroit defenseman Alexey Marchenko was scratched on Saturday. He has played in only 11 of his team's 18 games since being acquired by the Maple Leafs. He has produced one goal and one assist and has averaged just over 11 minutes of ice time over his last five games. With Detroit, he scored six assists in 30 games this season.
Detroit has only three games remaining at Joe Louis Arena:
Monday vs. Ottawa (7:00 ET)
Away: Tuesday @ Ottawa (7:30 ET)
Saturday vs. Montreal (7:00 ET)
Sunday vs. New Jersey (5:00 ET)
Follow me on Twitter @KevinSporkaHOHM