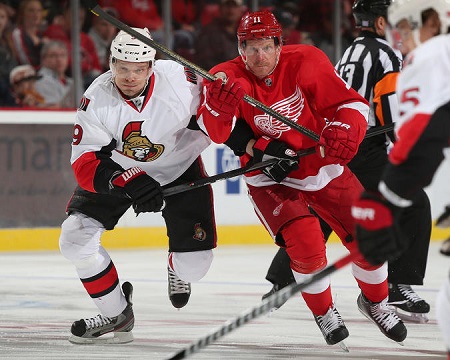 Detroit suffered their third straight loss Wednesday night at Joe Louis Arena. After losing 1-0 in a shootout to the best team in hockey on Monday, and the young defense corps possibly playing their best game that night, even without the top two defenseman (Kronwall and Ericsson), the Red Wings completely fell apart against the Ottawa Senators.
In Daniel Alfredsson's first game against the only team he knew for the first 17 years of his career, the play of his team was less than spectacular.
Jimmy Howard allowed three goals on the first eight shots and was pulled after 15 minutes in favor of last week's NHL First Star of the Week Jonas Gustavsson. However "The Monster" would allow three goals of his own in a 6-1 loss.
Todd Bertuzzi stopped the bleeding briefly in the first period as he completely fooled Ottawa netminder Craig Anderson with a power play wraparound goal, one of Bert's specialties.
Three of the first four combined power play opportunities resulted in goals.
New captain Jason Spezza scored a pair of goals (including one on the man-advantage). New Senator Bobby Ryan also scored a pair of goals (including one on the man-advantage).
Ottawa coach Paul MacLean had nothing but good things to say about Spezza. "I think Jason's done a fine job," MacLean told me following the game. "Tonight was probably his best game as captain. I thought he was outstanding for the full 60 minutes."
What went wrong?
"We obviously didn't get off to the start we would have liked," said Alfredsson. "They made the most of two power plays and us turning the puck over. I think that's what really dug us a big hole today. When you're up by three or four goals, like Ottawa was, they sit back in the neutral zone and force us to make things happen. We didn't do a good job at managing the puck in the neutral zone and in turn we looked slow I believe."
He could not have said anything more accurate, because that's exactly what the Red Wings did wrong. They were outskated and outworked, and could not carry the puck past the neutral zone on a consistent basis.
"I thought we were going to have a good night," said Mike Babcock. "But their team came prepared to play and skated us into the ground. We didn't play at all. We didn't skate good and turned tons of pucks over, and in the end, we didn't look like a very good team here tonight."
"I didn't see [the lopsided loss] coming. I was surprised to say the least, disappointed for Alfie that we couldn't do a better job tonight. I don't think you forget this very easily, and you shouldn't forget it either. That's embarrassing to play like we did."
From the other end, here's what the Senators did right.
"We did a good job at trying to take away their speed," said Spezza. "It was a complete effort. I think we were more calm with the lead than we've been in previous games. The focus was there tonight and the guys did a good job and we tried to get pucks on net."
"We knew that this was a big game. It's a tough rink to win in, and we're going to playing here a lot in the coming years so we have to not be intimidated and come in here, try to win some hockey games."
The Red Wings will be sure to mark December 1st on their calendars, because that night will feature Alfie's first trip back to Ottawa. In the newly branded Canadian Tire Centre, Detroit will have to have all their wheels turning if they expect to avenge this loss for their embarrassed teammate. They will definitely require a team effort, which they did not get this time.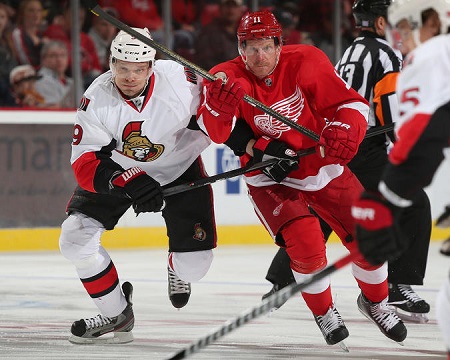 Talking About Alfie
Spezza on seeing his long-time friend in a red and white uniform: "It's different seeing him [in a different jersey]. He's a good friend. It was nice to catch up with him in the morning. Once the game starts it doesn't really come into play because we're so focused on the game."
MacLean on Alfredsson: "It's different, but Daniel made that decision, and we've moved on. It is different, but I think that's just the way the NHL is now, with the cap and all that, that's just the way it's going to be."
Recent Trend
In the last three games combined, Detroit has only scored four goals, and have allowed 10 goals (not including Wednesday's shootout winner) by skaters and one goal by a goaltender. It all started when Detroit lost its 2-0 lead in Phoenix last week. That 2-0 lead disintegrated into a 5-2 blowout.
Coach Mike Babcock seemed to have found a perfect line combination last Thursday in Colorado. Henrik Zetterberg and Pavel Datsyuk played alongside Todd Bertuzzi. Johan Franzen and Stephen Weiss played with Justin Abdelkader. And it worked. In that game, both Datsyuk and Franzen scored a pair of goals in a 4-2 win over a previously undefeated Avalanche squad.
Two days later the lines were completely different and the effect was a complete reversal of fortune. Instead of winning 4-2, they allowed four goals (not including Mike Smith's empty-netter). This game saw Zetterberg and Datsyuk playing with Alfredsson, Franzen and Weiss playing with Abdelkader, andw Cleary and Andersson playing with Bertuzzi.
In the three games since the win in Colorado, the lines have mixed multiple times, and none have seen the successful line combos from the Phoenix game.
Brendan Smith is playing in place of the injured Jonathan Ericsson, and is not making the most of his playing time. He was scratched for a handful games recently in favor of Brian Lashoff taking his place. He has continued to play poorly defensively and get caught deep in the offensive zone on rushes. We'll see what happens when Ericsson returns in an estimated 2-3 weeks (shoulder subluxation). Xavier Ouellet was re-assigned to Grand Rapids, so Smith will continue to play in "Big E's" absence.
Detroit will look to snap this three game skid with a game against the struggling New York Rangers this Saturday night who may or may not be starting the "King." Henrik Lundqvist has been bothered by a "minor undisclosed injury" and had to miss Thursday's game against the Philadelphia Flyers.
Game time is set for 7:00 ET from Joe Louis Arena.
Follow me on Twitter @yungspork