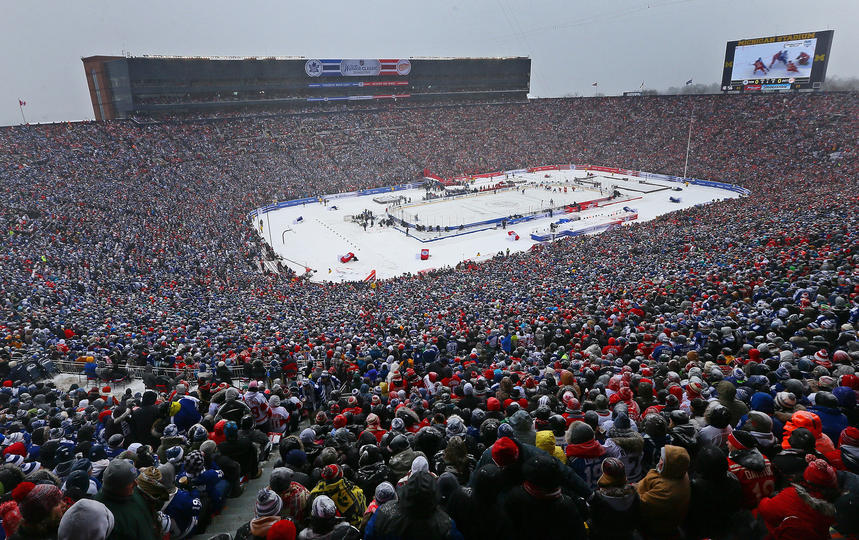 The Detroit Red Wings might have set a world record yesterday afternoon when they filled Michigan Stadium with 100,000+ fans for the 2014 Winter Classic.
"The Big House," as the stadium belonging to the University of Michigan's football team is commonly referred to, already owns the record for highest attendance at a hockey game. That was set back in 2010 when the Michigan Wolverines defeated the Michigan State Spartans by a score of 5-0 in "The Big Chill in the Big House". 104,173 fans were in attendance that day.
The largest audience outside North America belongs to Veltins-Arena in Gelsenkirchen, Germany. 77,803 fans watched as Team Germany defeated Team USA 2-1 in the 2010 IIHF World Championship.
One thing is for sure. It will be an NHL record for attendance, edging out the previous record set at Ralph Wilson Stadium in Buffalo during the 2008 Winter Classic.
It was announced during the game yesterday that 105,491 tickets were sold, but Guinness World Records, who sent out a representative to witness the potential record and confirm its legitimacy, stated that the official number can only include fans actually in attendance, media members covering the game, and some team officials.
The reason they are leery to confirm the attendance right away is due in large part to the winter storm that accompanied fans' travels to the game. Some fans may have stayed home to avoid the slippery roads and constant snow that consistently fell throughout the entire morning and afternoon.
In "The Big Chill" it was announced that 113,411 tickets had been sold. However, Guinness would later confirm that only 104,173 of those ticketholders actually showed up to the game that day. So in all likelihood, the number may be fewer than the announced 105,491. It will be very close.
"We know we sold 105,000+ tickets," said NHL Commissioner Gary Bettman after the game. "And we also suspect there were some no-shows because we heard stories of people taking more than two and a half hours to get here from Downtown Detroit because of the road conditions. It was at least during the second period thirteen degrees with a wind chill of minus one, so I don't know if we set the official Guinness attendance record. Since people were still arriving in the second period, it's hard to know."
It will likely take up to a week to know for sure if the record was indeed broken yesterday.
The Game
Fans came in droves to witness a historic matchup in an unfamiliar setting on New Year's Day. The Detroit Red Wings and Toronto Maple Leafs squared off at 1:00 ET as snow fell and accumulated on the ice surface.
The ice crew had to periodically bring out the shovels to clear off the excess snow. The weather conditions factored into the flow of the game significantly. Players had to put more effort into passing the puck with snow covering the ice, which made it more difficult for either side to produce any offense.
Neither team scored in the first twenty minutes. It was not until HBO 24/7 star and former inter-provincial rival Daniel Alfredsson broke the silence at 13:14 of the second period.
It appeared as though Detroit would be able to head to the dressing room up 1-0, but James van Riemsdyk had other ideas. With just 37 seconds remaining, he knotted the game up at one with some help from Phil Kessel and Dion Phaneuf.
In the third period, Toronto's Tyler Bozak pulled his team ahead early, leaving Detroit to play catchup hockey in the waning minutes of regulation.
Forward Justin Abdelkader would come to the rescue and tie the game at two.
After a scoreless overtime, the game would have to be decided in a shootout, much to the dismay of every Red Wings fan in the stands.
Jimmy Howard had a losing streak of eight shootout losses stemming from last season.
He would stop the first attempt from van Riemsdyk, with Pavel Datsyuk giving him a prime opportunity to win in the second round. However, Joffrey Lupul and Tyler Bozak would beat Howard with two quick wrist shots,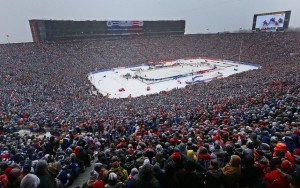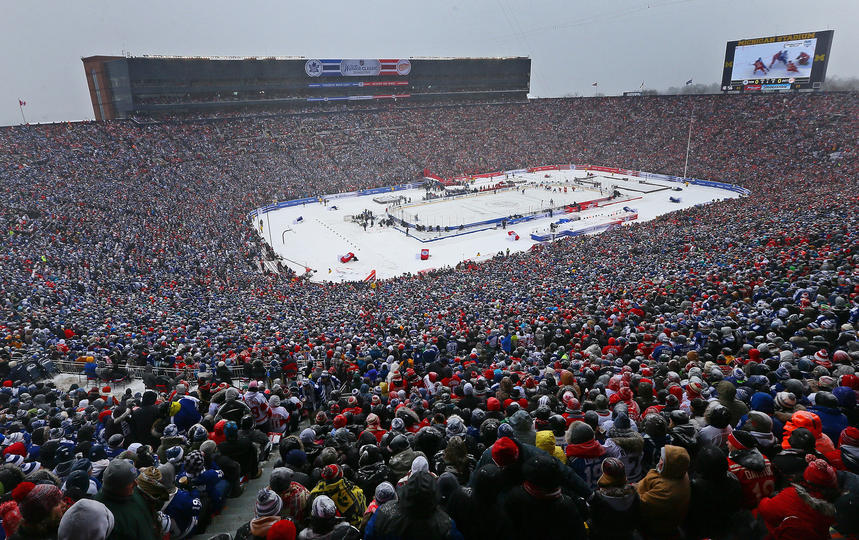 sealing Detroit's fate in the game. Make that nine straight shootout losses for Jimmy.
The visiting team had won four of the five Winter Classic games coming into yesterday's game, and this one was no different.
Joffrey Lupul received a penalty in the first period for cross-checking Detroit forward Patrick Eaves, and he received notice of a phone hearing with Brendan Shanahan, who coincidentally was just in Detroit for the Alumni Showdown on New Year's Eve. The hearing will take place on Friday afternoon.
The replay showed that Lupul cross-checked Eaves directly to the head with full force.
He does has some history of suspensions. Last season he received a two game suspension for a head shot on Tampa Bay's Victor Hedman.
Eaves did not return to the game, and Lupul was assessed a two-minute minor penalty.
He will likely receive around a two or three game suspension, depending on the severity of Eaves' injury.
Jimmy Howard Selected by Team USA
Following the game, the roster for Team USA's men's Olympic hockey team was announced. There were numerous surprises and snubs that were noted by many fans and media. One of those surprises came when Jimmy Howard was selected to join Jonathan Quick and Ryan Miller as one of the three goalies Team USA would be taking to Sochi.
"This is really surreal," said Howard after the announcement. "The last 24 hours, with participating here in the Winter Classic and being named to Team USA, have been very memorable for my family and myself as well."
"Any time you get to wear the USA sweater, it's such a tremendous honor. November wasn't very kind to me, and then going down with a knee injury in early December, and really not playing. [My trainers] did a tremendous job of getting me back"
Howard was injured for a number of games this season, and just recently returned from IR. His stats are not impressive (2.72 GAA, .907 SP) thus far. He has gone 6-9-8 in the first half of the season, and if his save-percentage stays stagnant for the remainder of the season, it will be the lowest of his career.
Ben Bishop (1.89, .935) seemed to be the obvious choice, with Cory Schneider (2.13, .914) right behind him.
In the end, Team USA GM David Poile believed that Howard's 42 post-season games and experience playing for the Americans at the World Championship in 2012 was a deciding factor.
Alumni Showdown
The Red Wings and Maple Leafs Alumni teams squared off in an afternoon double-header at Comerica Park on Tuesday.
It was split into two games because of how many alumni members agreed to play in the game.
The second game featured the marquee players, and also a lot of memorable moments that will last a lifetime.
Gordie Howe and Ted Lindsay were helped down the red carpet to drop the ceremonial first puck.
The Russian Five (Sergei Federov, Igor Larionov, Slava Kozlov, Slava Fetisov, Vladimir Konstantinov) were reunited on the ice, with Vladdy posing for a picture with the other four and tapping his stick to each of them. It was a special moment that likely brought tears to many fans.
Federov, who had seemingly left Detroit on bad terms after leaving Detroit for Anaheim after an 83-point performance in 2002-03, was met with cheers instead of boos.
Doug Brown, Chris Chelios, Fedorov, Brendan Shanahan, and Nick Lidstrom all scored to give Detroit a 5-1 lead over Toronto.
As good as Chelios's goal was, his celebration was even better.
Following Shanahan's goal, the Irish Jig was played, just like old times.
And who didn't enjoy seeing an All-Star defense corps of Chelios, Mark Howe, Larry Murphy, Fetisov, Paul Coffey, Brian Rafalski, and Lidstrom.
Other participants in Game 2 for Detroit included Hall-of-Famer Dino Ciccarelli, Kris Draper, Darren McCarty, Kirk Maltby, Joe Kocur, Tomas Holmstrom, and Mickey Redmond.
After the Leafs alumni rallied to tie the game at five, a shootout commenced to decide the outcome
Coach Scotty Bowman sent out Tomas Holmstrom (an odd choice, but likely his way of making it up to Holmstrom after his famous "You should wear #98, because that's the year you'll be going home" comment) to shoot first. Homer pulled off a move that shocked everyone, and ended up being the game-winner.
The Detroit Red Wings are set to take on the Dallas Stars in Dallas this Saturday night at 8:00 ET
Follow me on Twitter @yungspork