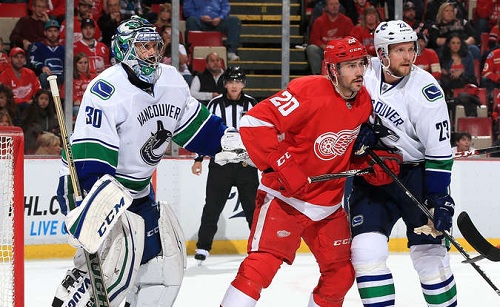 The Detroit Red Wings pulled to within one point of first place in the NHL on Sunday night. Currently nine teams have either 33 or 34 points. The win was also their fourth in a row, and seventh in their last ten.
For the team that has struggled offensively this season, they finished the month of November with eight wins. Each of those wins saw Detroit score at least four goals. In fact, the last time the Wings score fewer than four goals in a win was October 18th against the Toronto Maple Leafs, a 1-0 overtime victory.
They will now begin the month of December, a time in which ten of their fourteen games will be played at Joe Louis Arena.
Sunday night was a peculiar one at JLA. The game was halted by an arena power outage that saw a section of overhead lights go out on one side of the rink. The game was subsequently delayed for nearly forty minutes after only 29 seconds had been played.
"Kind of strange game, when the power went out there, a choppy game, said captain Henrik Zetterberg. "It was tough to get any momentum I think for both teams. But in the end we got two points. That's what mattered. We played a good team here today. It was nice to see that we can get some goals."
When the contest finally began, it did not take long for the home team to get on the board. Defenseman Niklas Kronwall fired a wrister over the blocker of Canucks goalie Ryan Miller to give his team the early 1-0 lead. Later in the period, Gustav Nyquist would score his eleventh goal of the season on a great feed by captain Henrik Zetterberg. The goal came just ten seconds into their second power play.
Nyquist is now tied for seventh in the NHL in goals, and only Pittsburgh Penguins forward Evgeni Malkin has as many power play goals (7).
Both teams would add another goal in the second period. Vancouver's Linden Vey made it 2-1 on an early power play, while Pavel Datsyuk scored a power play goal twelve minutes later to restore the two-goal lead.
Shawn Matthias scored at 12:26 of the third, again pulling the Canucks to within one, but Detroit's Danny DeKeyser scored only 50 seconds later to make 4-2.
When it appeared that Detroit had this game in the bag, Vancouver coach Willie Desjardins pulled Miller with four and a half minutes remaining. The Canucks caused a lot of chaos as they scrambled to get back in the game. It didn't take long for Vey to score his second of the game to make it 4-3.
"I don't think we were near as good as we can be," said coach Mike Babcock. "I thought we turned over some pucks. I thought we backed in a little bit. But we did enough good things to win and found a way to win the game. I hate to give up the empty-net goal when their goaltender's out because we didn't execute like we should. If they shoot it in the net and we're all in our right spots, I don't have any issue with that. When you don't do it right though, we got to fix that. But, you know, it's a big win for us."
"We were up two goals. They came back and scored one, and we scored again," said Zetterberg. "Then they scored again. It was back and forth all the time."
Vancouver would continue to put pressure on the Red Wings, but Datsyuk was able to score a lengthy empty-net goal that had just enough gas to make it to the net. Detroit would win it 5-3.
There are three more games this week for Detroit. Tuesday versus Florida, Thursday versus Dallas, and Saturday versus New York Rangers. The first two start at 7:30 ET while Saturday's game begins at 7:00 ET. December should not be a difficult month for the Wings, with only two games being played against teams in third place or better in their respective divisions, those being the Rangers and New York Islanders.
Follow me on Twitter @yungspork
Love Reading About Hockey?

Subscribe to keep up-to-date with the latest and most interesting hockey news!
| | |
| --- | --- |
| | We hate spam just as much as you |