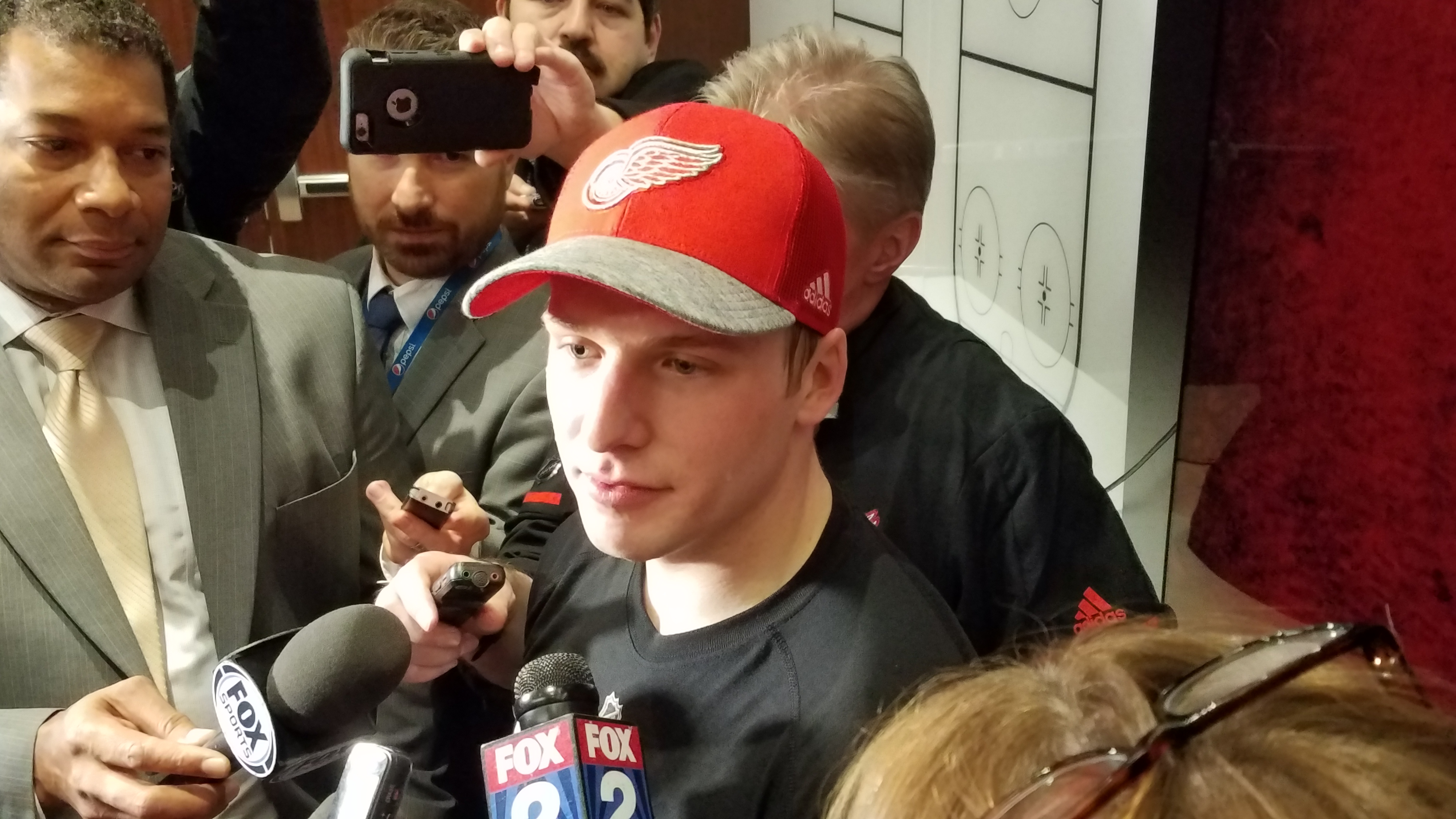 Joe Hicketts impressed in his short stay in Detroit. The small defenseman plays much bigger than he is, and is never afraid to play the body on his opponent. He demonstrated his booming slap shot and sound positioning.
Having played the rest of the year with the Grand Rapids Griffins of the American League, he adjusted seemingly with ease to the much faster pace and higher skill of the big league. He has impressed at every level he has played.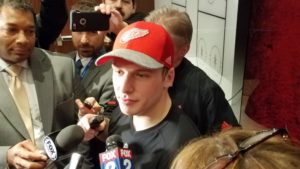 He first entered the Wings' organization on a free agent invite to Detroit's annual summer Prospect Development Camp. After being passed over in the NHL Draft, he did not let that deter him from pursuing his passion. He parlayed that success into the Prospect Tournament two months later and the subsequent Training Camp, from which he earned a contract with the organization. Free agents rarely impress enough to earn contracts. In fact, most drafted prospects never see the AHL level, let alone the NHL.
After that accomplishment, he went back to Victoria of the CHL's Western Hockey League. His third and fourth seasons with the Royals saw him notch over a point-per-game. Additionally, he has played in 35 Junior tournament games in various events.
2016-17 was his first season playing professionally with the Griffins. He played nearly all of the games, including 19 playoff games en route to the team's Calder Cup championship.
He is well-respected by his coaches and teammates for his hard work.
"Yeah. I didn't watch the whole games, but bits and pieces of the games," said Griffins coach Todd Nelson. "He's getting a great opportunity up there. It's up for him to showcase what he's able to do, so it'll put him in a good spot for training camp next year."
Getting called up is every player's goal.
"Oh yeah, I was really happy for him," said Griffins teammate Vili Saarijarvi. "He's doing very well there. I hope he keeps playing the same way he's doing. He definitely deserved it. I'm just happy for him. When you see a good friend of yours, goes up and plays in the NHL I think it's great to see."
Joe and Vili became friends through their time in Traverse City over the last few years. Vili is also a bit small in terms of height, and he said that Joe's success in Detroit brought him more confidence that an NHL career can be earned by players of smaller statures.
"Yeah for sure," said Saairjarvi. "Especially, both me and him are a little bit undersized defensemen, so it shows that it's not that you're too small for NHL or even here. Joe has proven that in the first few games he's been playing there that it doesn't matter if he's a little bit undersized. I think, definitely it shows me that I can be there too."
In five games with the Wings, he scored three points (all assists) while earning a plus-five rating.
Now back with the Griffins, Hicketts will bolster the blueline in another playoff run. The Griffins begin their post-season by facing the Manitoba Moose in Round 1. The first game of the series is Saturday, April 21 in Manitoba.
Follow me on Twitter @KevinSporkaHOHM