The Detroit Red Wings prospects are advancing to the championship game of the Traverse City Prospect Tournament after defeating the St. Louis Blues in a close 2-1 victory. With all four teams tied at one win apiece coming into Monday night, the Wings needed a Columbus win to give them a chance to advance, having defeated the Jackets in Game 1, the tournament tie-breaker. Columbus came from behind to defeat the Chicago Blackhawks in their matinee matchup earlier in the day.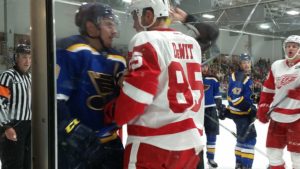 Defenseman Joe Hicketts did not notice any nerves among the first-time participants during the game.
"I don't think so," he said. "You always want a chance to play in the final game, and obviously Columbus needed to do some work for us to get a chance to play in that. You know, we found out before, they were on the same ice, we found out that if we do our job then we're going to the championship. I think guys took a lot of pride in that."
All the scoring was done in the first period, as Czech defenseman Filip Hronek scored the game's first goal on a shorthanded break. His defense partner Dan Renouf assisted. It was the team's first shot, coming just over the two minute mark of the 1st period.
"Yeah that was a big goal for us," said coach Todd Nelson. "We were on the penalty kill, and not very often you see on a penalty kill a 2-on-1 with two of our defenseman leading the rush (laughs). It was a good play. Reno just tried to saucer it over to Hronek and he just wacked it out of the air. It was a big goal, gave our bench a lift. And then, they scored, and we got going the rest of the period."
This had to be a confidence boost for a team that was shut out just a game prior. St. Louis would storm back six minutes later, as 2014 2nd rounder Ivan Barbashev tied the game at one on a rebound following a shot from linemate Samuel Blais (2014 6th rounder).
However, this resilient Detroit squad bounced back in the period's final minute. Tyler Bertuzzi, who played his most complete game of the tournament, notched a power play marker with 35 seconds to play. It was a great play by Hicketts that led to an impressive shot from Bertuzzi. Rather than go into the first intermission deflated with a tie, the team entered the dressing room uplifted after the successful man-advantage.
"I thought we played really well, and then we got a big power play goal from Bert, just at the end of the period," said Nelson. And it stayed that way all the way through, but I thought our guys played solid for sixty minutes. I thought our compete level was there. I thought we executed a lot better. I thought we played our system better. It was just an all-around better game than the other night."

Detroit's Tyler Bertuzzi faces off with St. Louis forward Adam Musil during Monday night's Game 3. September 19, 2016. (Photo by Author)
In the second period, Detroit defenseman Robbie Russo proved why he earned a contract last August. He showcased his accurate breakout pass and his ability to lead a rush. Not only is he sound defensively, but he has many offensive tendencies, a role that the Red Wings have been trying to find for a long time. The 23-year old produced 39 points in 71 games during his first professional season with the Grand Rapids Griffins last season as well as five points in nine playoff games. Given his success and his calm consistency on the ice, Russo could very well earn time in the NHL this season.
"That's up to Robbie," Nelson said about that possibility. "That'll be dictated through training camp, and if he does end up with us in Grand Rapids, that'll be up to him, with his play to earn a call-up. But, he's always been solid. We'll get an indication of where he's at. He's going to get exhibition games and we'll just go from there."
He has performed well with his defense partner Hicketts. Both players are ultra-competitive, and it shows every shift they take.
"It's been great," said Hicketts of the pairing's chemistry. "I think we've played well together. We complemented each other, and it's really fun playing with a player that caliber."
2016 2nd round pick Givani Smith also impressed, showing his grit and puck skills in the second.
"I thought this was his best game tonight," said Nelson. "I thought he was moving his feet better. He was finishing checks. He was hanging onto the puck more. It was all-around a better game for him. And you got to remember, he's a young kid, it's his first rookie tournament, so it's normal for a player to get better as you go along because you start feeling more comfortable out there on the ice."

Givani Smith skates to the bench following a shift with linemate Matthew Santos. September 19, 2016. (Photo by Author)
Todd Nelson agrees that a successful prospect tournament can carry positive momentum into training camp, which takes places three days after the tournament concludes on Tuesday.
"I think so. I think you'll see these young guys, the first couple days of camp, really be fired up. It's usually how it works. You get the NHLers that come in, and they're just starting, so their intensity level will rise as it gets closer to the opening game of the season. But, a lot of guys are gaining confidence through this competition and they certainly are going to benefit going into training camp, because we're teaching the same system, so it won't be so foreign to them, and so they should be able to pick it up when Jeff Blashill starts the camp."
Goalie Jake Paterson faced few shots in the first two frames. By this time, he had seen only 12 shots, compared to Detroit's 25. Goalies want to see consistent shots their way to keep them in the game. Fortunately, the veteran netminder showed his experience in the third period, turning aside six more shots, which came on higher quality scoring chances from the opposition. This secured the 2-1 victory.
"Jake was solid tonight," said Nelson. "He was really solid. It was kind of a tough game because we carried a lot of the play during the whole game, so going into the third, he didn't get a whole lot of work, [we] kept the shots down, but when they started to surge on us the last ten minutes, I thought a few times we got hemmed in, Jake was there to make the save, so he had a great game for us tonight, and we couldn't have done it without him."

"Yeah, he was the backbone of our team," said Hicketts. "I think, obviously coming off a 5-0 loss, a couple guys might have been defeated, but he held us in there. He was very strong out of the net, playing the puck, which helps the d-men. So, a lot of our breakouts are a credit to Patty. You're stopping pucks. You're getting pucks moving, and when you have a goalie that can do that, it makes breakouts and getting out of your zone in transition a lot easier."
In addition to Paterson's stellar saves, the game also featured great two-way play from top to bottom, including noticeable extra hustle from the top forwards Bertuzzi and Evgeny Svechnikov, both of whom played outstanding in the contest. It was a group effort, which also saw many blocked shots throughout.
"That was a team win, guys were sacrificing [their bodies]," said Hicketts. "We talked about it early, in our morning skate, we really wanted to focus on creating a team mentality, and getting a couple more blocks than we had in the other games."

"When it gets down to a one-goal game and we had to win outright in regulation to get to the finals, so the players all knew that, so they're sacrificing their bodies," said Nelson. "And it was really good to see. You know, these guys paid the price tonight and we got the win."
Defense was airtight on the night, and this defensive mentality was a decider in the win.
"Yeah, I thought we did a really good job," said Hicketts. We emphasized that team defense, and obviously Patty's played well. You know, he played outstanding tonight. He held us in it when there was a couple breaks in our system, but I think overall, whether it was our top guys or guys here in free agent tryouts. They all bought into the system and played very well as a team.
He thinks the gameplan will remain the same for the championship game tonight (7:30 PM ET).
"I think so," he said. "You know, obviously you want shots. You want guys blocking shots. You want guys tracking back. And at the end of the day, you want to be on the right side of the score at the final buzzer. I know if we play the way we did today, we're going to give ourselves an opportunity to win the championship."
Hicketts did not see much difference between the three opposing teams they faced.
"I think they were close to the same [as Columbus and Chicago]. Every team comes in here and they want to prove themselves, like any other free agent or drafted player, so I think everyone's been very diligent about being fast, being physical. I think the system is a little bit team-to-team, but you see the same pace out of everyone."
However, the Red Wings will now take on the undefeated Carolina Hurricanes, a team that has scored 14 goals and allowed only eight. Five players on their roster have scored twice in the tournament, while 16 have registered at least a point.
Follow me on Twitter @KevinSporkaHOHM