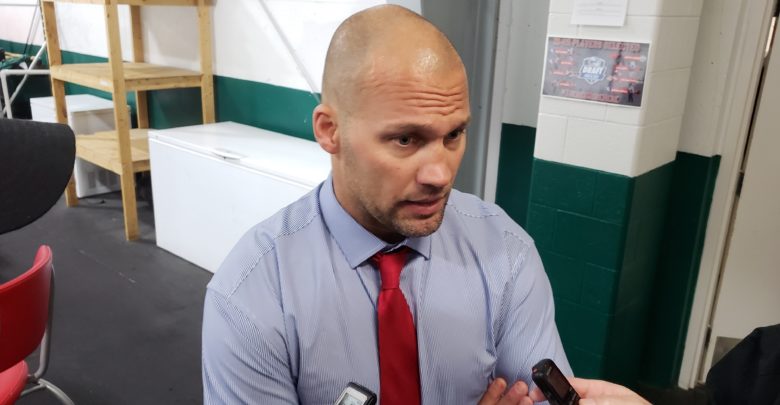 The Red Wings bounced back on Saturday night after dropping Game 1 of the Traverse City Prospect Tournament 4-2. They faced a Dallas Stars team that won their first game by a score of 7-5, including a comeback where they scored four unanswered goals and were 5-for-5 on the power play (this time they were 0-for-4). Detroit was better defensively and was able to shut down this offensively skilled squad.
—
Kaden Fulcher got the nod in net, after Czech netminder Patrik Rybar started Game 1. He didn't face much action in the first two periods, but was excellent when called upon.
"I think he did very well," said coach Ben Simon. "He's got confidence coming from the season he just had. I thought we did a better job defensively and allowed him to see shots. At times he had to fight through a lot of screens. I thought he did a good job controlling his rebounds. There wasn't a lot of second chances. I thought he stepped in and played very well."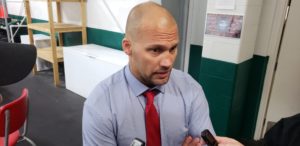 The lines were shifted a little bit, as the Game 1 scratched players made their way into the lineup. Forwards Pavel Gogolev and Maxim Golod, along with defensemen Cole Fraser and Alec Regula were replaced with Nicolas Guay, Trevor Yates, Reilly Webb, and Marcus Crawford. Givani Smith was moved to the second line and Joe Valeno was moved to the top line with Michael Rasmussen and Filip Zadina.
"I thought Reilly settled in nicely," said Simon about Webb's tournament debut. "It's disheartening to a certain extent when you're not in that first game. I thought he stayed positive, was ready to go, and we put him in today, and I thought he answered the bell. Vili went out for a little bit again, and he had to go down to five 'D,' and I thought at the end of the game he stepped up and played well."
Vili Saarijarvi, who did not finish Game 1 due to cramping issues, was in the starting lineup, and proceeded to play great whenever he was on the ice.
"I would say it's the first game," said Saarijarvi as to the difference in results from Game 1. "The game against Minnesota…it was messy. We didn't play how we wanted to play. It's the first game of the year for everyone. Everyone is so excited, and that's probably why I got those cramps too, getting into being super hyped, and maybe thinking a little too much. I think we were way more relaxed today. It's way easier to play when you don't think too much and you just go out there and go with the flow. You've got to have fun out there."
Detroit took the lead late in the opening period as he jumped to avoid a shot by Dennis Cholowski before slapping in a rebound immediately after. Valeno also assisted on the power play goal.
In the second, Cholowski scored a power-play goal on a wrist shot in the high slot. It was a nice, clean shot set up Zadina and Rasmussen.
It took over 15 minutes for the high-powered Stars to register a shot on goal in the middle frame (they finished the period with two). Detroit's defense was tightened up and showed vast improvements from their first showing.
"They've got some guys that can really skate," said Simon. "I talked to the guys this morning about d-zone coverage and protecting the middle of the ice a little bit more, and I thought we did a heck of a job learning from our mistakes last night and kind of applying what we learned this morning. It was exemplified today in the d-zone when you talk about the lack of shots that they had."
Dallas struck early in the third, as Tony Calderone made it 2-1 (assists to Nick Caamano and Ty Dellandrea).
However, Rasmussen later potted the empty-net tally for the 3-1 win. Webb assisted.
This was a far less physical affair.
Michael Rasmussen
The star first round draft pick will look to impress the Red Wings management come Training Camp next weekend. But in the meantime, he is already impressing at the tournament. He is one of three players to be wearing an 'A' on his jersey.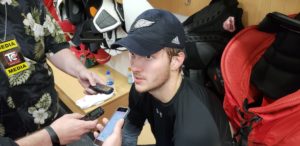 "It's obviously an honor to wear an 'A,' and there's a lot of good guys on here that could wear it as well. We all feel pressure for sure, to perform and do well. The biggest pressure for me is on myself. I just kind of focus on that and doing my best."
It was noted after the first game that players were nervous or anxious going into the weekend, but he noticed some lessening of nerves after this game.
"We were a little bit looser and just played our game more. The coach has done a good job of keeping us calm and keeping us loose, just telling us to have fun and go play hockey. I think we did a good job today playing in our structure and playing good hockey."
Rasmussen liked the pace of this game and he feels confident about his work through the off-season.
"I definitely feel good about my game. I worked extremely hard this summer on my off-ice and my on-ice. The fact that I put in a lot of hours in the gym and on the ice really helps me in my confidence."
Griffins coach Ben Simon had this to say about him following the game:
"He's got such a big frame and such a big reach and that's going to be one of his attributes that he's going to have to use to his advantage, is protecting the puck and not allowing guys to get inside. Once he gets that puck, it's tough to get inside that wingspan; he's going to be hard to knock off the puck."
Vili Saarijarvi
"We played more of the right way today," he said. "Like last night it was the first game and everyone was super excited…We played a solid game, both offensively and defensively we were strong. We didn't give them too much opportunity; I don't think they had that many shots on net either. They're a very fast team. They play a good transition game. I think we kind of knew that so we were ready for it."
A veteran of many prospect events in Traverse City now, Vili now wears an 'A' as well, and he is now tasked with leading the new players coming in. He turned pro last year with the Griffins, playing in 42 games.
"Well obviously it's a huge honor for being in this organization, and then given the trust tobe a leader and have the 'A' on my jersey. It's huge for me and I'm trying to lead the way on the ice and off the ice too. I'm more like a quiet leader, [I] don't talk too much in the locker room, but on the ice I'll try to show the way with the younger guys, talk to them in the locker room, just be a leader, show the way. This is my third tournament now, so I kind of know what it is like to play here. I remember how I felt when I was in the first year being here, and the guys made it a lot easier for me. I'm trying to do the same for the new young guys. It helps so much when you come in and you're comfortable with all the guys. It's a huge honor. I'm thankful that people trust me here."
Despite leaving Game 1 early, he said he felt better tonight and was happy to be able to finish the game.
When asked what the key to shutting down the Stars was:
"Their top guys are really fast; they can make plays. We kind of were ready for it. We knew what they were capable of doing. We just have to bear down defensively. I don't think there was anything specific, but I think we just followed our game plan. When we got chances we were able to put a couple of pucks behind their goalie."
Vili said he gets something out of every camp and tournament and enjoys the experience he gains from each year.
"I think experience, that's probably the biggest thing. You can tell the difference when you come in for the first camp and then when you're here for the fourth camp, so it's a huge difference. You become older, you get to be the youngest guy and then every year you kind of build up and go from there, and now I'm one of the oldest guys. I think experience has to be one of the biggest things."
Coach Simon says the organization, despite having a backlog of defenseman in the depth charts, is constantly keeping track of his career, even when he was in Toledo last year.
"We all know what Vili can do. When he was down in Toledo, we keep tabs on guys, and he's not forgotten. It's tough when you have such good depth in an organization to stay in the lineup. It's going to be important for him to build his confidence and to go into camp and then really make a statement to stick around in Grand Rapids. I think he's off to a good start. You noticed today, he's progressively getting better and getting stronger."
Dennis Cholowski
Cholowski is not a flashy player, but he does everything well. Not to compare him to Nick Lidstrom (by any means), but the foundation of consistency seems to be reflected in his game. He makes decisions quickly and calmly, without making many noticeable errors. He may not always stand out for making highlight reel plays, but he also won't stand out for making blunders in the defensive end (which is more important). He continues to show improvements year after year.
"I thought he played, again, another solid game," said coach Simon. "He's playing a lot of minutes. I think he's playing to his strengths. He's moving his feet, he's skating, he's seeing the ice very well right now, and he's not making a lot of mistakes. He's making a statement here that he worked hard over the summer and he's ready for camp."
I am looking forward to seeing how these results translate to training camp and practicing with NHL players.
Game Notes / Observations
Detroit has now had 15 power plays through two games.
Givani Smith had another good showing. He drove to the net hard in the second period deking nicely past a Stars defenseman before just losing control as he tried to cross the crease. His experience shows on the ice. He should have a good training camp.
David Pope had another good scoring chance similar to the one he had in Game 1. His quick release and hard shot nearly found the five-hole, but the Stars netminder was able to drop down for the save.
Rasmussen is a strong skater and drove to the net a few times. He tends to sometimes miss the net in close, but he has a hard snap shot.
Jordan Topping had another really solid game. He's physical but also skilled. He had a great chance to score as a power play expired in the third period.
Trevor Yates had a good scoring chance in the second period as he almost one-timed a goal.
Sunday
There are no games scheduled for today, but Vili noted the team will still be spending some time together.
"I think we're going to come in and do a little light workout and then we have some team thing, and we get to be together for a couple of hours during the day," said Saarijarvi. "I think it'll be good for us. It's a short tournament, so we've got to build the team chemistry pretty quickly here. Every game is important, so we have to be a close team if we want to win. I believe 100% in this team.
Minnesota vs. New York Rangers
This was an important game happening concurrently with Detroit's game. Detroit did not want Minnesota to take a 2-0 record in this tournament. It was an ultra-competitive contest between two very evenly matched games. The Rangers took a 3-0 lead in the first half before Minnesota responded with two goals. The duo of Greenway and Fitzgerald continued to be dominant. It took an empty net goal to seal the victory for the Rangers 4-2.
Watch
You can continue to watch the Prospect Tournament action on Monday and Tuesday on the Fox Sports Go app (or website) as well as detroitredwings.com and the sites of the other seven participating teams.
Follow me on Twitter @KevinSporkaHOHM