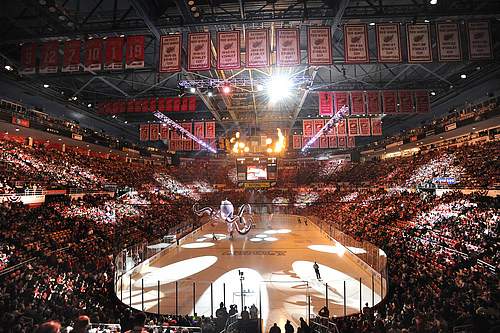 The Red Wings begin their regular season this Friday night at Joe Louis Arena, when they will take on their rivals, the Mike Babcock-led Toronto Maple Leafs.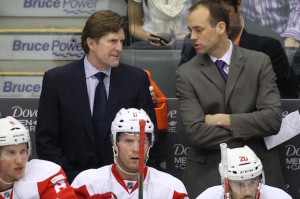 With Babcock gone, Detroit turned to Grand Rapids Griffins coach Jeff Blashill, who was also an assistant for one season under Babcock. Blashill found much success coaching and developing Detroit's prospects in the American Hockey League. Of the current roster, he has previously coached Dylan Larkin, Tomas Tatar, Gustav Nyquist, Riley Sheahan, Teemu Pulkkinen, Luke Glendening, Landon Ferraro, Danny DeKeyser, and Alexey Marchenko. The coaching transition will be a smooth one for the Wings.
Forward Lines
Recently, it was announced that 2014 first round pick, forward Dylan Larkin has made the opening night roster, which does not mean he is guaranteed a spot for the season. However, currently he will begin on the team's top line alongside captain Henrik Zetterberg. He will also likely receive power play time. Detroit does not believe in having young players with few NHL games experience play on the fourth line, and they will make sure Larkin is getting valuable minutes throughout each game. Justin Abdelkader finishes the top line.
Tomas Tatar and Brad Richards, who began training camp on the second line with Darren Helm, will remain together to start the season. Richards, a veteran two-way center with good passing skills, complements the play of Tatar, a pure-goal scorer with a sniper's touch. With the promotion of Larkin, Gustav Nyquist is demoted (if you can call it that) to the second line. That will be an exciting line to watch. It will be interesting to see if Richards can keep up with the high rate of speed that his two wingers play.
Johan Franzen lands on the third line, although he took Helm's place on the second line in camp, alongside center Riley Sheahan and winger Teemu Pulkkinen. Pulkkinen surpassed 30 goals each of the last two seasons in the AHL (31 in 71 games and 34 in 46 games). After being called up to the parent club after nearly 50 games, he struggled to translate his success to the NHL, managing 5 goals in 31 games. The difference maker for him is Jeff Blashill, who knows what it takes for the Finnish forward to succeed. He has acknowledged that Teemu needs to shoot faster, having less room to work than the American League. Franzen is returning to action after his last contest on January 6th, in which he received yet another concussion in his unfortunately painful career. However, being fully cleared to play, he had a very successful training camp in which his spirits were sky-high. He is the X-factor for this team.
Drew Miller, Luke Glendening and Landon Ferraro round out the 12 forwards. No surprise here. Ferraro re-signed over the off-season (one-year, two-way contract). However, if he fails to secure a spot on the team long-term, he will need to clear waivers. He is a great skater and will be a valuable asset on the penalty kill.
Tomas Jurco and Joakim Andersson will be healthy scratches. Daniel Cleary cleared waivers and was assigned to Grand Rapids.
Darren Helm, who sustained a concussion and a separated shoulder during the first drill of training camp after he and QMJHL invitee Jerome Verrier collided hard, may return next week.
Defense Pairings
The first pairing will once again be the consistent duo of Jonathan Ericsson and Niklas Kronwall. New addition Mike Green, a power play expert and offensively minded blueliner, will be paired with Kyle Quincey. Green brings a lot to the table, something the Wings have not had since fellow right-handed defenseman Brian Rafalski finished his NHL career in 2011. Green has scored 113 goals over 575 regular season games. Lastly, the third pairing will consist of Brendan Smith and Jakub Kindl.
Danny DeKeyser (foot, 3-4 weeks) begins the season injured, as does Alexey Marchenko (groin). Xavier Ouellet is on the 23-man roster as well.
Goalies
Detroit does not currently have a starting netminder. Coach Jeff Blashill will platoon Jimmy Howard and Petr Mrazek to begin the season. Howard had a terrific pre-season and may very well rebound from the poor second half of last season. In 2014-15, he earned his way into the NHL All-Star Game before his injury. Mrazek proceeded to take over for the latter half and playoffs. Howard will get the start for opening night, while Mrazek will start Saturday.
Depth Chart
Forwards
Next-in-line to make the jump to the NHL will be (in no particular order) Anthony Mantha, Andreas Athanasiou, Tomas Nosek, and Tyler Bertuzzi. Mantha slipped down the prospect depth chart a bit after Larkin passed him in development. Athanasiou has shown the Wings everything he has to offer, and it's impressive. He scored four goals in the pre-season as he begins his second full season in the American League. His development is all but complete. You'll see him in Detroit before you know it. Nosek had a great first season in North America and he has only gotten better in the off-season. The 23-year old Czech center will have a much bigger role with the Griffins. Besides Larkin, no prospect had a better year-to-year improvement than Bertuzzi. Even Jeff Blashill admitted that he was much better than he thought he would be. He has developed a much better overall game this summer and is progressing at a rapid pace. I doubt you'll see him with Detroit this season however, since he currently has played only two regular season games at this level.
Defensemen
Unlike the forward depth chart, the blueliner depth chart is much more crowded. Ouellet and Marchenko have earned the trust of the Wings and will be playing with the parent club. Next-in-line are Nick Jensen, Ryan Sproul, and Robbie Russo. Jensen plays a complete game. He has great hockey sense and positioning as well as a good shot. Sproul has a high ceiling, but was passed in development by Ouellet, Marchenko, and presumably Jensen.
Goalies
This is a position that Detroit does not have to worry about. Having too many skilled goalies is never a bad thing. Tom McCollum, Detroit's first round selection in the 2008 draft has had an epic resurgence the past two seasons. He goes into the season as the Griffins starter once again. Jared Coreau also had a major resurgence in his game. After struggling in both the AHL and the ECHL with GAA above 4.00 and SP below .900, he rebounded last season with the Griffins, earning a 2.20 GAA and .927 SP going 16-8-1 in 25 games.
Games to Look Forward To
Let's take a look at Detroit's schedule to see which games you should be anticipating, besides Friday's rivalry opener.
Saturday, October 17: Detroit takes on old rivals Montreal on the road.
Wednesday, October 21: The Wings will have their first look at Connor McDavid in Game #6 in Edmonton. Also the first time they'll see former assistant coach Todd McLellan.
Tuesday, November 3: No matter which team wins Friday, this will be a chance for the losing team to redeem itself. This time, it's in Toronto.
Tuesday, December 1: In the middle of a six-game home-stand, Detroit will face Jack Eichel and the Sabres.
Thursday, December 10: The Wings and Habs rematch, this time at Joe Louis Arena.
Thursday, December 31: Detroit and Pittsburgh faceoff on New Year's Eve. This time, the Penguins are offensively charged, with Phil Kessel joining Crosby and Kunitz on the first line.
Friday, February 12: Colorado vs. Detroit, a preview of the Stadium Series contest later in the month.
Saturday, February 27: Detroit vs. Colorado at Coors Field. Included in the festivities is the alumni game, with many former rivals will be playing, including Claude Lemieux.
Wednesday, March 2: Chicago vs. Detroit on NBC's rivalry night.
March 22, 24, 26, 29: As the season nears its conclusion, these games will be difficult points for Detroit. Steve Yzerman's Lightning on the 22nd, the Habs on the 24th and 29th, and the Penguins on the 26th.
Saturday, April 2: Detroit vs. Toronto one final time in the regular season.
Standings Predictions
Atlantic Division
Montreal
Tampa Bay
Detroit
Florida
Boston
Ottawa
Toronto
Buffalo
Detroit will have no problem making the playoffs. 41 games (exactly half the season) are against opponents who failed to make the playoffs in 2014-15.
Love Reading About Hockey?

Subscribe to keep up-to-date with the latest and most interesting hockey news!
| | |
| --- | --- |
| | We hate spam just as much as you |