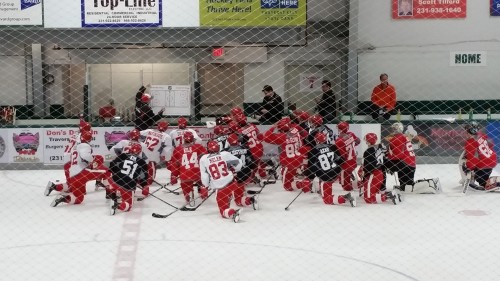 The Detroit Red Wings annual Prospect Development Camp in Traverse City kicked off this morning at 9:00, with the large group of players divided into either Team Howe or Team Lindsay.
Here are the given combinations and pairings:
Team Lindsay
96 Axel Holmstrom 25 Dylan Larkin 22 Evgeny Svechnikov
73 Tyson Spink 45 Alex Globke 70 Jerome Verrier
58 Mike McKee 92 Christoffer Ehn 54 Nick Betz
17 Chase Pearson 84 Jin-Hui Ahn 63 Adam Marsh
85 Adam Lidstrom
89 Travis Walsh 53 Joe Hicketts
46 David Nemecek 79 Pat Holway
86 Grant Gabriele 97 Jalen Chatfield
95 Jarett Meyer
36 Jake Paterson
31 Joren Van Pottelberghe
Team Howe
59 Tyler Bertuzzi 72 Andreas Athanasiou 39 Anthony Mantha
62 Zach Nastasiuk 78 Dominic Turgeon 83 Hampus Melen
44 Alex Kile 67 Juliuis Vahatalo 49 Bryce Gervais
82 Evan Polei 80 Connor McGlynn 37 Anthony Greco
75 James DeHaas 71 Vili Saarijarvi
74 Marc McNulty 51 Won-Jun Kim
87 Nick Azar 94 Kevin Lough
64 Kevin Lidstrom
50 Chase Perry
68 Tomas Kral
Day 1 Observations:
The players that stood out the most were: Turgeon, Vahatalo, McNulty, Bertuzzi, and Nastasiuk.
The latter two had outstanding junior seasons this past year. Nastasiuk scored 35 goals and 77 points in 64 games for the Owen Sound Attack, while Bertuzzi scored 43 goals and 98 points for the Guelph Storm. Both had opportunities to earn valuable playoff experience at the professional level with the Grand Rapids Griffins in their playoff run.
Marc McNulty has been a work-in-progress for quite some time. He is a very tall, lanky defenseman that seemed out of place in past camps. However, this time, his skating has dramatically improved, and his ability to move the puck was very impressive. It is his third development camp, and he is off to a great start.
Julius Vahatalo has a really good wrist shot, and he shows it off every opportunity he can get.
Dominic Turgeon handles the puck really well, sort of like Henrik Zetterberg in the way he controls it. One of his noticeable strengths is his ability to receive a pass on the backhand with one hand on the stick without losing control.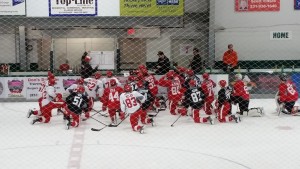 Hampus Melen is a very skillful forward. He's a great puck handler and controls the puck deftly.
Camp invite Evan Polei was a standout all morning long. He has a sniper's shot and he has the ability to find gaps in a goalie's form. He scored on nearly all of his opportunities. He picked the top corners, went bar down a few times, one-timed a goal on 3-on-3. He was very impressive.
Goalie Chase Perry was outstanding. His glove hand was on point all morning, robbing shooters left and right. Some of those saves he had no business making. He came to the rink prepared and it showed.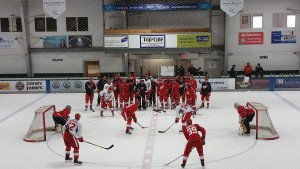 Vili Saarijarvi (pronounced Sigh-yarvi) was just signed to a three-year contract by the Red Wings this morning. It's a three-year deal worth $925,000 in average annual value. He was recently selected by the Flint Firebirds of the OHL (formerly the Plymouth Whalers) in the first round, 9th overall.
Detroit's first round selection in the draft last weekend, Russian-born Evgeny Svechnikov of the QMJHL took to the ice for the first time. However, in the skills portion of the practice, led by Jiri Fischer, he struggled mightily in most of the drills. But that can be attributed to nerves, which is to be expected from a first-time camp-attendee. As always you cannot make an accurate judgment out of one day.
Andreas Athanasiou, who was full-time with the Griffins this year, was not on the ice due to some sort of finger injury. It is not clear whether he will be able to participate in tomorrow's scrimmage.
Adam Lidstrom (forward) and Kevin Lidstrom (defenseman), sons of Nick, were invited to the camp as well. It was difficult to get a fair assessment of either's play after one practice, but neither did poorly.
Korean invites Won-Jun Kim (defenseman) and Jin-Hui Ahn (forward), were both scouted by former Griffins assistant Jim Paek, a South Korea native. After serving as assistant coach for nine seasons (the most of any Griffins coach in franchise history), he accepted a position as director of hockey for the Korea Ice Hockey Association. Additionally, he is the head coach of the South Korean national team, of which both Kim and Ahn play. Ahn played for the Anyang Halla of the Asia League, scoring 30 goals in 39 games, while adding an additional two goals in four games in the World Championship. Kim also played for the Anyang Halla, scoring 17 goals in 48 games, while adding five points in five World Championship games. Neither looked out of place in the practice.
Upcoming Schedule
Saturday: Simultaneous practice 10:00 – 10:45; Scrimmage 4:00 – 5:30
Sunday: Team Lindsay practice 9:00 – 10:45; Team Howe practice 10:00 – 11:45
Monday: Team Howe practice 9:00 – 10:45; Team Lindsay practice 10:00 – 11:45
Tuesday: Scrimmage 11:00 – 12:30
Many more updates to come as the Development Camp continues, including exclusive features and interviews with the camp attendees
Follow me on Twitter @KevinSporkaHOHM