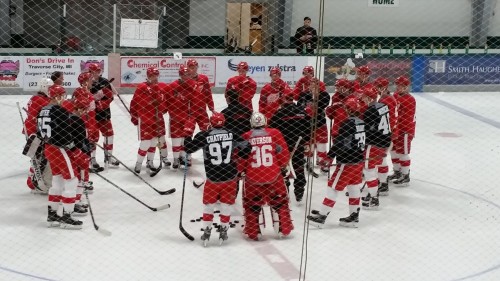 Day 2 of the Prospect Development Camp began this morning at 10:00. Both teams practiced simultaneously across both rinks for 45 minutes. At 4:00, Team Lindsay and Team Howe engaged in a scrimmage and shootout.
Morning practice:
Before the practice began, all four goaltenders worked with Jim Bedard (Red Wings goalie coach), Jeff Salajko (Grand Rapids Griffins goalie coach) and Dan Watson (Assistant coach for the Toledo Walleye). Each goalie took turns working on all aspects of their game, while the three coaches tested them with a variety of shots.
Tomas Kral, a 22-year old Czech, is Chris Osgood size. He has quick feet and is rather good, but occasionally allows a really soft goal.
Jake Paterson, in his fourth consecutive development camp with Detroit, needs work on his glove-side angles. Most of the shots that got past him came from that side.
Newest Red Wings goalie prospect Joren Van Pottelberge (JVP) has not been great in the first two days of camp, but he also has never played in North America prior. He's got good size at 6-2, 201 and was ranked fifth among European netminders according to NHL's Central Scouting. He put up stellar numbers with Linkoping of the Allsvenskan (second-tier league in Sweden).
Lastly, Chase Perry, the tallest of the four at 6-3, is in his first camp, despite being drafted last summer. He had a rough season with Colorado College of the NCAA (3.97, .876, 15 games), but he has looked pretty good thus far. He says he is not a strictly-butterfly style goalie, and he likes to make saves standing up if possible.
I observed Team Lindsay first, for about 30 minutes.
In one of the main drills, in which a forward passed to a defenseman, received a return pass, and proceeded to shoot, here were the players that did well (best at the top). *Note, the more frequently a player did something good, the more imaginary points I gave them*
Very good / great = 2 points
Good = 1 point
Decent / average / poor = 0 points
Christoffer Ehn – 5 points
Chase Pearson, Jin-Hui Ahn, Jalen Chatfield – 3 points
Dylan Larkin, Joe Hicketts, Adam Lidstrom – 2 points
Mike McKee, Adam Marsh, Pat Holway, Travis Walsh, Axel Holmstrom = 1 point
The next drill was 2-on-1's. Players that did well included: Ahn, Holmstrom, Ehn, Larkin, Globke, Chatfield, and Tyson Spink.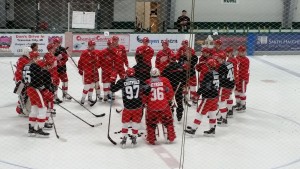 Following that, the team worked on their breakouts.
Christoffer Ehn – 4 points
Adam Marsh, Chase Pearson, Jin-Hui Ahn, Axel Holmstrom, Adam Lidstrom – 2 points
Larkin and Ehn had the best chemistry of the groups, a great combination of skill and hustle.
At this time I switched over to the other rink to watch Team Howe's practice (about 20 minutes).
At one end, the defenseman worked on their point shots, while one forward (camp invite Evan Polei attempted to deflect pucks into the open net). Polei did a really good job at tip-ins.
In the middle of the rink, a handful of players worked on their faceoffs, with Dominic Turgeon doing an excellent job at winning draws.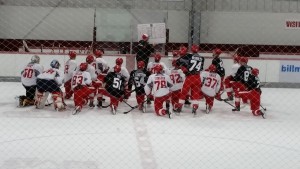 At the other end, forwards worked on their slap shots, wrist shots and snap shots.
Alex Kile has a really accurate and impressive wrist shot. Anthony Greco and Kim each showed really good slap shots.
---
Fast forward a few hours to the scrimmage. The game was divided into two thirty minute halves, with the format as follows: first ten minutes even strength, next ten minutes divided into two five-minute power plays, one for each team, and concluding with even strength play). Jake Paterson (Lindsay) and Chase Perry (Howe) played the first half.
Here were my ratings for the first half:
Tyler Bertuzzi +4
Dylan Larkin, Connor McGlynn, Jin-Hui Ahn +2
Christoffer Ehn, Chase Perry, Shelon Dries, Won-Jun Kim, , Nick Azar, Bryce Gervais, Pat Holway, Jerome Verrier +1
Anthony Mantha, Anthony Greco 0
Kevin Lidstrom, Kevin Lough, Hampus Melen, Evgeny Svechnikov -1
Mike McKee -2
Team Lindsay led 3-1 after thirty minutes. Adam Marsh was the first to find the scoresheet. Shelon Dries tied it at one. Then, Alex Globke and Jerome Verrier made it 2-1 and 3-1 respectively. Verrier's marker was a deflection from a Pat Holway wrist shot.
When the second half began, the pace made the first half seem slow. Tomas Kral (Howe) and JVP (Lindsay) played the next thirty minutes.
Anthony Mantha quickly made up for the few mistakes he had in the first half. He struck first, bringing his team within one. Bertuzzi and Turgeon had the assists. Mantha's original shot missed the net wide, but when the puck reached his tape again soon after, he would make no mistake finding the top corner, far-side, past the blocker of JVP.
Marsh would strike again (from Hicketts and Holway) and Ehn would further widen Team Lindsay's lead to 5-2. Marsh's goal was a mid-level wrist shot that beat Kral blocker-side, whereas Ehn's was a cannon of a slap shot that rocketed to the back of the net.
However, Team Howe, led by the heroic work ethic put forth by Bertuzzi, stormed back with three unanswered goal. Bertuzzi led by example, scoring his team's third goal, with some help by Mantha. The goal was the same as Mantha's, except it was the other corner this time.
Connor McGlynn scored the fourth, assisted by James DeHaas, and Turgeon scored the tying notch from Evan Polei and Marc McNulty. It was a great individual effort from McGlynn, as he carried a lot of speed into the offensive zone before roofing a wrister.
With 26 seconds remaining in the game, a timeout was called, and Kral was pulled.
Despite the great effort from Team Howe, Team Lindsay would win the game on the back of Verrier, who potted his second goal for the game-winner, assisted by Chase Pearson.
Here were my evaluations for the second half:
Anthony Mantha, Tyler Bertuzzi +4
Adam Marsh, Jerome Verrier +3
Alex Kile, Zach Nastasiuk, Connor McGlynn, Christoffer Ehn +2
Alex Globke, Nick Betz, James DeHaas, Shelon Dries, Jin-Hui Ahn, Kevin Lough +1
Won-Jun Kim 0
Michael Babcock -1
A ten-minute shootout commenced following the scrimmage, with each player taking one shot.
Here were the results:
Team Lindsay:
MISS Paterson stopped an unsuspecting Team Lindsay shooter with a good pokecheck. 0/1
GOAL Bertuzzi, amazing forehand-backhand, in-tight, top-shelf. Very good goal. 1/2
MISS Mantha, a little stick work, saved by JVP. 1/3
MISS Turgeon, failed to get a shot off. 1/4
GOAL Vahatalo, five-hole goal past Paterson. 2/5
GOAL Nastasiuk, forehand-backhand, stop, then backhanded top-shelf on Paterson. 3/6
MISS Melen, almost forehand-backhand, Forsberg-style, but great toe save by JVP. 3/7
MISS Gervais shot saved by JVP. 3/8
MISS Dries, shot saved by Paterson. 3/9
MISS Greco shot saved by JVP. 3/10
Team Howe:
GOAL Holmstrom, stutter-step, forehand goal past Kral. 1/1
MISS Larkin misses low shot. 1/2
GOAL Svechnikov with an absolute beauty, outstanding display of dekes, lands on forehand and completely fools Kral. 2/3
MISS Hicketts, whiffed on shot. 2/4
MISS Holway, a lot of moves, backhand saved. 2/5
MISS Spink shot misses. 2/6
GOAL Globke pops the water bottle, top-shelf on Chase Perry. 3/7
GOAL Verrier scores on Perry, high glove-side. 4/8
MISS Walsh with a fancy spin-o-rama, saved by Perry. 4/9
MISS Adam Lidstrom shot saved by Perry. 4/10
It was certainly an entertaining afternoon of hockey, probably the best scrimmage of the past three summers (at least the second half).
Follow me on Twitter @KevinSporkaHOHM