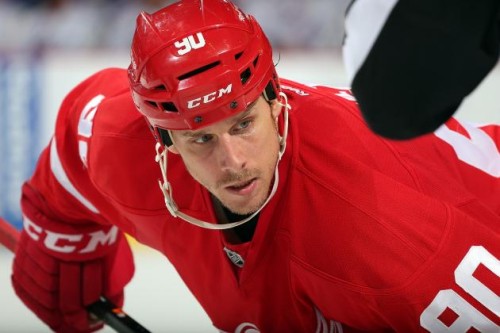 The Detroit Red Wings Tuesday bought out veteran center Stephen Weiss, opting to take a cap hit for each of the next six years. However, this frees up some very valuable cap space going into free agency. It gives Detroit an extra $3.8 million for the next two seasons, and $2.3 million the season after.
Weiss played in 78 regular season games and two playoff games for the Wings over the last two seasons, missing much time due to injury. He contributed only 11 goals and 18 assists in that time. Certainly not the 50+ point contributions that were expected of him coming in.
The cap hit will be $1 million for first two years, $2.5 million the third, and $1.67 million the last three seasons.
This allows for a pursuit of right-handed offensive blueliner Mike Green, who will command a decent paycheck for his services. Detroit briefly filled the right-handed defenseman slot last season with the acquisition of Marek Zidlicky from the New Jersey Devils, but now they need a long-term solution, and Green can very well be that guy.
Only 29 years of age, Green has plenty of hockey ahead of him. A veteran of 575 NHL games, he has scored 113 goals and 360 points. Although he has not matched his 30 goals of 2008-09 or his 57 assists of 2009-10, the value is definitely still there.
The team now has $14 million in cap space with a few players left to re-sign.
Smith Re-Signs
Also on Tuesday, defenseman Brendan Smith re-upped for two years at $2.75 million per season.
Smith has nearly 200 NHL games under his belt, not including his 24 games of post-season experience. He has not fully developed into the player that Detroit wanted but he has still proved his worth in three pro seasons.
At the University of Wisconsin, Smith was an offensive defenseman, but that has failed to translate at the NHL level. He has subsequently been relegated to a depth role with time on the shorthanded units.
The former first round selection in the 2007 draft (27th overall), he still has youth on his side at only 26.
McCollum and Miele Re-Sign
Tom McCollum has really grown into his game, albeit much later than expected. His first four seasons in the American Hockey League cannot be considered a success by any measure, with the young netminder spending some time in the ECHL as a result.
However, he has been outstanding the last two seasons, going 43-23-10 in a combined 83 regular season games. His goals-against average (2.30, 2.40) and save-percentage (.922, .916) have dramatically improved, and he has fallen into favor with the Red Wings front office.
He was also afforded the opportunity to earn his first NHL win last season, stopping 24 of 25 shots in his lone start.
Andy Miele, a Michigan native of Grosse Pointe Woods, scored 70 points in 71 games, not including his 14 points in 16 playoff games.
The 27-year old all but matched his 2013-14 totals with the Portland Pirates (70-27-45-72) with his outstanding campaign with the Grand Rapids Griffins (71-26-44-70). Talk about consistency.
Who Needs a Contract?
Forwards Gustav Nyquist, Tomas Jurco and Teemu Pulkkinen, all restricted free agents, are all in need of new contracts this off-season, as well as Griffins goalie Jared Coreau, defenseman Nick Jensen, and forwards Mitch Callahan and Louis-Marc Aubry. Additionally, forward Landon Ferraro's contract also expired, and presumably the Red Wings will want to bring him back.
Follow me on Twitter @KevinSporkaHOHM
Love Reading About Hockey?

Subscribe to keep up-to-date with the latest and most interesting hockey news!
| | |
| --- | --- |
| | We hate spam just as much as you |