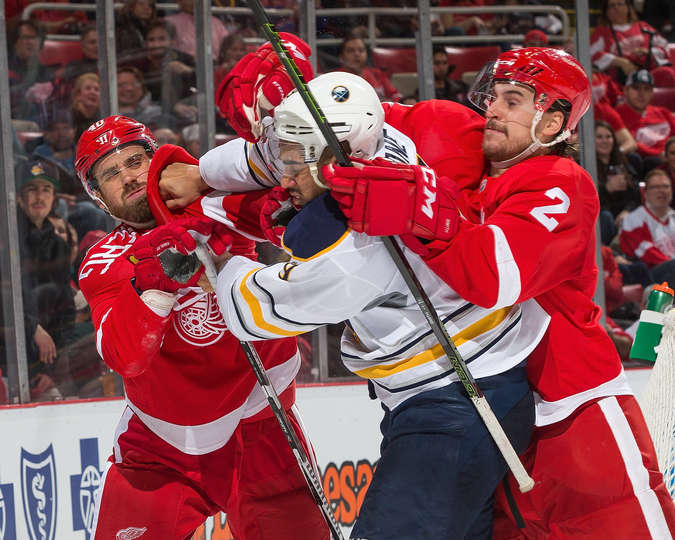 The Red Wings couldn't hold off the dreaded shootout any longer, as 3-on-3 overtime was unable to decide a result against the Buffalo Sabres, although it has had a 90% success rate in avoiding shootouts for the team.
"We've been helping the statistics support the fact that they don't go to shootouts," joked Jeff Blashill.
Detroit had a great start from the drop of the puck. Tomas Tatar potted a backhander on goaltender Linus Ullmark.
Just past the midway point of the period, a Jonathan Ericsson shot deflected off the logo on Abdelkader's chest and past Ullmark.
But the Sabres stormed right back. Evander Kane, who has missed much of this season due to injury and has thus been limited on the scoresheet, let loose a high wrist shot that beat Mrazek clean on the glove side.
An unusually high 16-13 shot total in favor of Buffalo occurred in the first, which definitely set the tone for the game's remainder.
Early in the second, Wings forward Drew Miller finally found the back of the net, for the first time all season (25th game). Abdelkader retrieved the puck and passed to Miller from behind the goal line, who then wristed a well-placed shot top corner on the far side.
"Abby got the puck behind the net and I was just trying to find a spot in the slot there and get a shot off quick, so it's nice to get the first one out of the way finally, been waiting for a while on that one," said Miller. "It feels great to finally contribute offensively for the team and get that goal."
As the period neared its end, there was a confrontation between Kane and Red Wings captain Henrik Zetterberg. Defenseman Brendan Smith stepped in to defend Zetterberg, and all three were penalized (Smith for being the third man in) giving the Sabres a power play.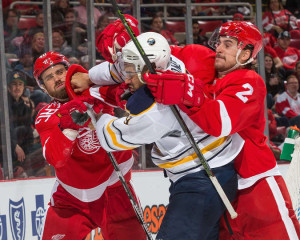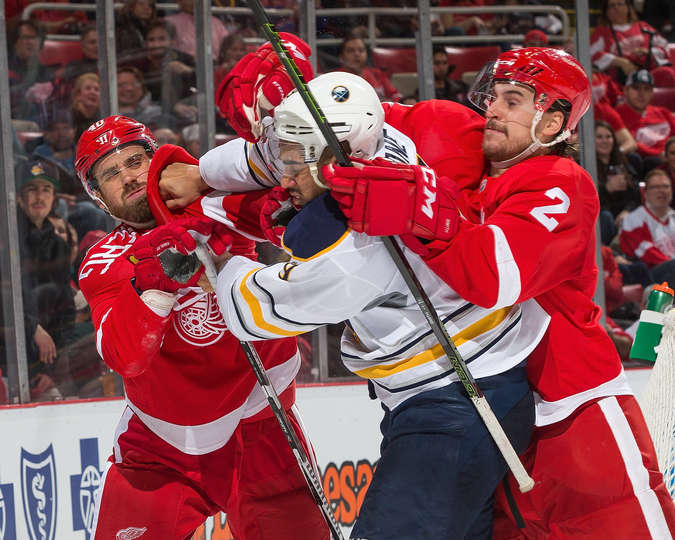 Buffalo would need all of five seconds to make good use of their man-advantage with a Rasmus Ristolainen shot which would be tipped by Zemgus Girgensons between the five-hole of Mrazek.
In the period's final minute, tensions would reach a boiling point, and Abdelkader would complete the Gordie Howe hat trick as he dropped the gloves with defenseman Josh Gorges. Abdelkader would ultimately lose the tussle but finished with a strong takedown.
This period's shot total belonged to Detroit as they fired an amazing 20 shots on Ullmark in comparison to Buffalo's nine. Detroit also led 13-12 in scoring chances after two.
In addition to a fighting major, Abdelkader also received an additional minor, which was served by Teemu Pulkkinen. On the ensuing power play, which carried over to the third period, Buffalo scored with only 12 seconds left. Kane would corral his own rebound and slap a shot over the glove of Mrazek.
Not even three minutes later, Detroit would relinquish the lead as defenseman Zach Bogosian pulled the Sabres ahead for the first time of the night. He snapped a quick low shot that somehow found the five-hole of Mrazek, while Detroit's Jonathan Ericsson and Buffalo's Jamie McGinn stood in front of the net.
"When you're up 3-1 here you think you're gonna get it to the end," said Tatar. "You can't let it happen, let the teams come back every time. You just have to play a little smarter. But I think overall we did a pretty good job. We showed lots of character and we won a game."
Abdelkader would continue his impressive game with the tying goal on the power play on a wrist shot set up by Gustav Nyquist.
Detroit had gone to 3-on-3 overtime four consecutive games coming into Tuesday's contest, and this would be no exception.
Kane looked to end the game with a wrist shot that rung the post. But overtime would end the same way it began, and the shootout would commence.
Nyquist led off the shootout with an attempt on his patented backhand-thru-five-hole maneuver, but Ullmark stopped it.
After Buffalo forwards Ryan O'Reilly and Matt Moulson, and Detroit's Pavel Datsyuk were also unsuccessful, Jeff Blashill sent out an unusual participant, veteran Brad Richards. It was an odd decision considering that players such as Tatar, Larkin, Pulkkinen, and Zetterberg were not chosen. But the choice paid off as Richards ended the game in a 5-4 win for Detroit.
"He's (Richards) had lots of chances and just hasn't scored," said Blashill. "I get worried about players when they don't get chances and players worry about it when they don't get chances, but certainly scoring helps confidence."
On a night featuring two of the game's best rookies in Dylan Larkin and Jack Eichel, the latter would be a non-factor in this contest. He had the final shot in the skills competition and his attempt would go wide on Mrazek. Eichel also had a poor night in the faceoff circle, winning just 33% of his draws (6 of 18).
Detroit moved into second place with 30 points, passing the Ottawa Senators, who were defeated at home by the Flyers.
Follow me on Twitter @KevinSporkaHOHM