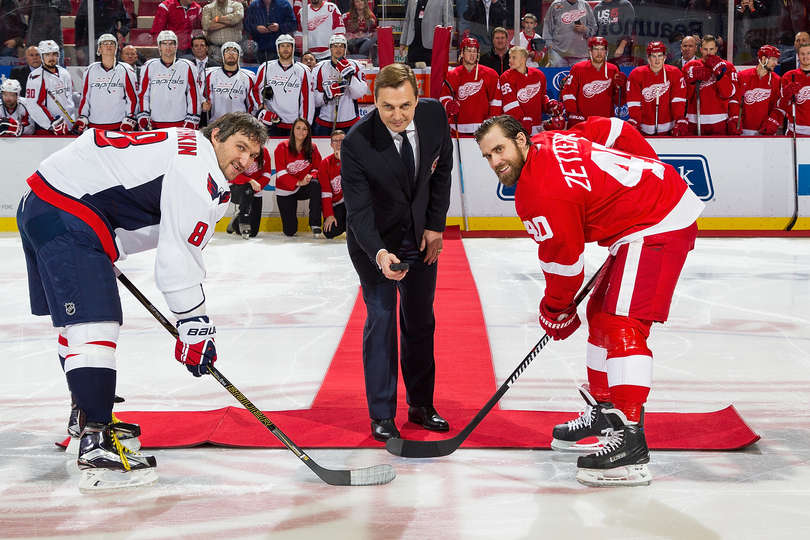 On a night in which Alex Ovechkin was set to pass Sergei Federov on the all-time goal list for Russian-born players, the night belonged to 21-year old Andreas Athanasiou, playing in just his second NHL game.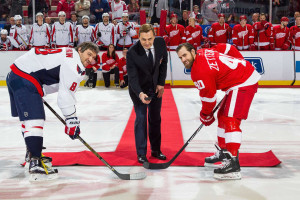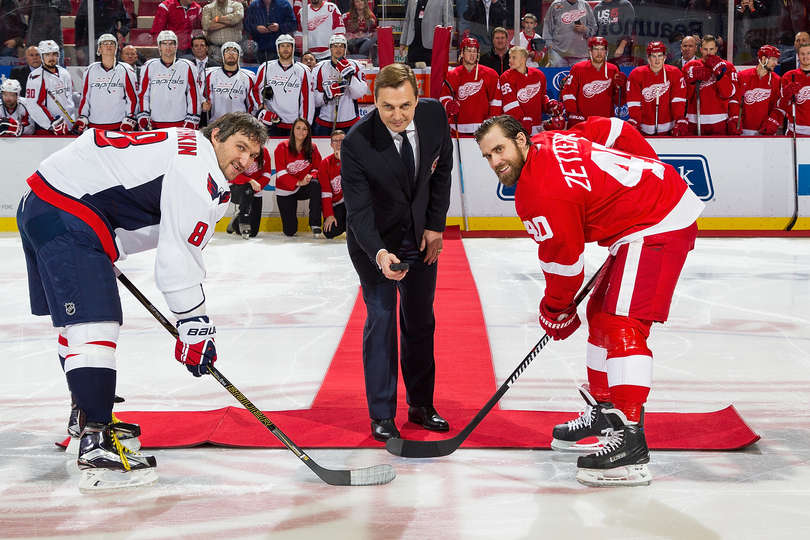 In a scoreless game, of course the lone goal would be scored in a fluke manner, and that is just what happened on Tuesday night. Athanasiou brought the puck the length of the ice, but ran out of room to skate to the net. Knowing that he didn't have a good shot, he still threw the puck at the net along the goal line and it somehow found room as Washington Capitals goalie Braden Holtby did not have his post covered completely. And that would stand as the game-winner in this tightly contested matchup.
"Yeah, I picked up the puck in our own end and I was at the end of my shift so I was just trying to get it deep," said Athanasiou. "I had some speed and I thought I could take the D wide.  You know, I lost it there, but I threw it on net and I was lucky enough to have it squeak through."
—
With Red Wings great Sergei Fedorov in the building, the pressure was on Ovie to break the record with his idol in attendance. He and Fedorov were teammates during Sergei's last two seasons in the NHL. He collected 46 points in 70 games with the Caps.
Just 5:56 into the game, there was a long stoppage of play, for which the referees were studying a possible Red Wings goal. The goal in question took place at the 2:13 mark. Teemu Pulkkinen took a quick shot in tight on Holtby, and Holtby appeared to swipe something out of the net with his glove. The overhead camera view appeared inconclusive, but a side-angle view looked as if the puck was across the line, but very difficult to see.
It is assumed that the puck more-than-likely was under the glove of Holtby when he swiped his glove outward, but assumption is not proof of a goal, and since the review must be conclusive, there was no goal on the play, to the dismay of the Red Wings.
Ovechkin would record six shots in the opening stanza, while his team led 14-9 in the category.
The second period was as even as they get. No penalties were called, shots nearly equal (Detroit had 9-7 edge) and there were no clear scoring chances.
However, the third period was where it got interesting. Ovechkin shifted into overdrive, finishing the game with an outstanding 15 shots, the highest number of shots without scoring in his career (his second time reaching 15 shots). He also missed three shots, which would have brought his total to 18, one fewer than the record holder, offensive defenseman Ray Bourque, who accomplished the feat in 1991.
Coach Jeff Blashill joked "We had a little plan to tire him out. We thought if he got 15 we could…he's got ice bags on his arm right now so, we're going to try to come up with a different plan."
Petr Mrazek was up to the task though, as he stopped all 15 of his attempts, for a total of 38 team shots.
"Yeah I knew he was gonna shoot from everywhere," said Mrazek. "You could see it from the beginning of the game. He had, I think, seven shots in the first period. I was trying to be focused and to be out of the crease every shot he had."
Sportsnet's stats twitter account noted that the impressive performance marked the most saves in a Red Wings home shutout since Roger Crozier made 39 on January 16, 1966.
If Ovechkin fails to score against either the Philadelphia Flyers (Thursday) or the Calgary Flames (Friday), his next opportunity would be against, you guessed it, the Detroit Red Wings, in a rematch next Wednesday night.
Follow me on Twitter @KevinSporkaHOHM
Love Reading About Hockey?

Subscribe to keep up-to-date with the latest and most interesting hockey news!
| | |
| --- | --- |
| | We hate spam just as much as you |