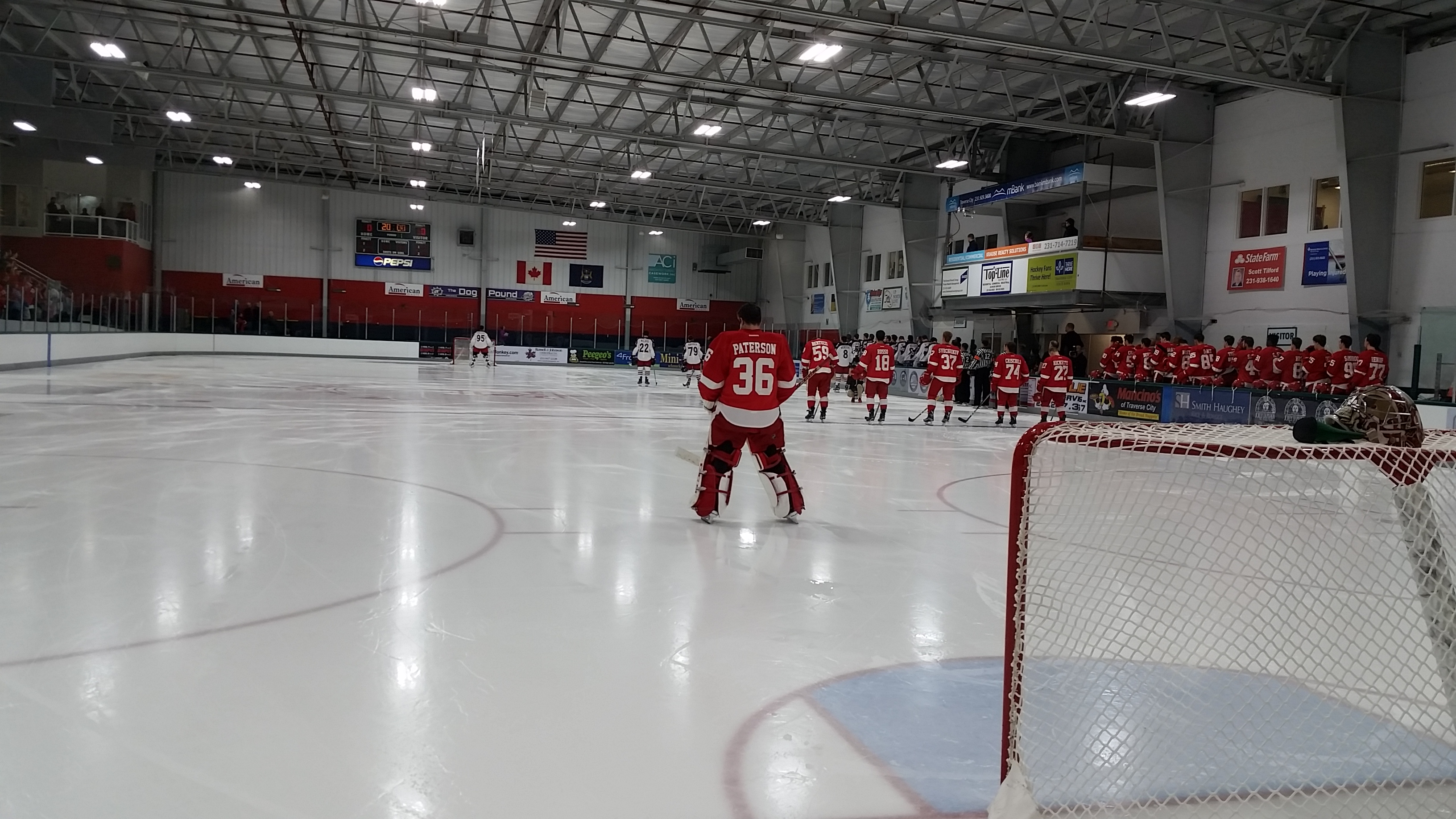 Lineup:
Forwards
Tyler Bertuzzi / Kyle Criscuolo / Evgeny Svechnikov
Dylan Sadowy / Dominic Turgeon / Zach Nastasiuk
Givani Smith / Mike Borkowski / Matthew Santos
Luke Coleman / Jeff De Wit / Justin Brazeau
Defensemen
Joe Hicketts / Robbie Russo
Dan Renouf / Filip Hronek
Dylan Coghlan / Jordan Sambrook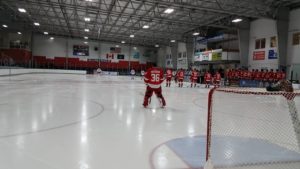 It was fast and furious from the opening faceoff as the host Detroit Red Wings defeated the reigning champions (2014, 2015) Columbus Blue Jackets in the opening match of the four-game Prospect Tournament held annually in Traverse City, Michigan.
Tournament veteran Jake Paterson manned the net for the Red Wings' prospect squad and was tested early and often.
"As a goalie you definitely want to get shots early, you know, just kind of get yourself into the game," said Paterson. "Obviously you haven't played in a long time. Whenever you get shots early is obviously nice, and yeah, happy with the way it all turned out in the end."
Three goals were scored in just over a minute as a six-goal first period set the pace of the game. The first came 42 seconds in as Detroit's Tyler Bertuzzi opened the scoring. 19 seconds later, Columbus free agent signee Kole Sherwood stormed back on the ensuing rush. The latter came on the team's first shot. 12 seconds later, free agent invite Mike Borkowski restored the lead for the Wings.
The lightning-fast start can likely be attributed to some nerves among the first-time participants. Scouts from around the league attend the events to gather information about the prospects and free agents of the eight teams.
"The first 90 seconds was exciting," said coach Todd Nelson. "It was a 2-1 score after 90 seconds. I thought both teams were, just like any first game at this tournament, a bit rusty, and a lot of the stuff that we taught over the last couple practices, a lot of system work, it's a lot for the guys to retain. But I thought our guys did a pretty good job with it. After we got through the first period, the score was tied, we settled in and we started doing a lot of good things. There was a lot of good things in the first, but it was sporadic. But in the second and third we played our system a lot better. We made some adjustments, and the guys responded."
As the period wore on, it evolved into chippy, physical play. While the speed decreased in the subsequent periods, the physicality did not.
Columbus star Sonny Milano scored the game's first power play marker with a swift snap shot. Justin Scott would put the Jackets in the lead temporarily when his snap shot trickled through the five-hole of Paterson.
Detroit's Matthew Santos evened the score with 3:39 to play, the combined sixth goal on a combined 15 shots.
Adjustments were made in the second stanza, as play was visibly more refined. Mistakes were fewer as the teams settled in.
The top power play unit of Tyler Bertuzzi (LW), Kyle Criscuolo (C), and Evgeny Svechnikov (RW) led to the next goal. Svechnikov passed the puck to Criscuolo near the crease and proceeded to pot the rebound that deflected his way on the ensuing shot. It was the only goal scored of the period.
"Crisco's line was playing so well tonight," said Borkowski. "Power play, Bert, Crisco, Geno (Svechnikov) was moving it along with [Robbie Russo] and [Joe Hickets] and they did really well. They started us off, I think getting the first one was huge. We gave it back pretty quick, but every time they came back and tied it up, we followed it up with a good shift, and I think that's a good sign for a young team that's been together for 48 hours. We were tested a little bit tonight and I think we're ready to go for tomorrow (4:00 ET start)."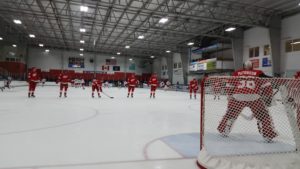 Newly acquired forward Dylan Sadowy, who impressed in the summer's development camp, continued his strong play with a power play goal to start the third. This would be the game's deciding goal with the score of 5-3.
Bertuzzi increased the margin to three goals with a booming slap shot from the faceoff circle to the left of the Columbus netminder Lucas Peressini.
Fourth-line center Jordan Maletta added a goal for Columbus with 16 seconds remaining to reach the final score of 6-4.
Paterson was spectacular, making a flurry of saves in the game's final minutes.
It was an upset of sorts, given the Jackets' recent domination in prospect tournaments, but a significant confidence boost to Detroit.
"I think, coming into tonight's game, we knew they were going to be a good team, being back-to-back champs the last two years so we knew they were going to be a good squad," said Paterson. "It was good for us to get a couple goals early. Once we got up there in the second, we held onto it, and played really well in the third. Thought all-in-all it was pretty good to see the way that we were playing out there."
Mike Borkowski believed that the win was a confidence boost for the team.
"I think so. I mean, this is my first time with the organization and the guys that have been here before, got us acclimated to a bit of the rivalry that's been going on with Columbus and it felt great to get the first one out of the way, especially beating those guys"
The team has only been together for 48 hours, but seemed to have good chemistry as the nice went on.
"When you get together and you have one practice, you never know what can happen, but I think, the guys were sponges, they retained all the information pretty quickly, and that allowed us to get a system that we were comfortable with and play fast, transition hockey," he said.
Forward Dominic Turgeon was unable to participate at the summer's development camp, but has since healed from his shoulder surgery, playing in Game 1.
"Yeah, I liked him tonight," said Nelson. "I liked a lot of our guys tonight. There weren't too many guys that didn't play well. I thought it was a good team effort. But Dominic, I noticed him in the practice yesterday and also this morning, it looks like he's got his legs going. And he's more mature. He's been in this tournament a couple times already, so he knows what to expect. I liked him tonight, he did a good job on the penalty kill and he got some power play time. He's a reliable two-way centerman, and I liked his game."
A look ahead:
In this tournament, each team plays three games leading up to the placement game. The point totals of each team will decide if said team will play in the seventh, fifth, third, or first place game.
Friday's scores:
Dallas Stars 3 / Minnesota Wild 1
New York Rangers 3 / Carolina Hurricanes 4 OT
Chicago Blackhawks 2 / St. Louis Blues 3
Saturday: Game 2
New York Rangers vs. Dallas Stars
Detroit Red Wings vs. Chicago Blackhawks
Carolina Hurricanes vs. Minnesota Wild
St. Louis Blues vs. Columbus Blue Jackets
Follow me on Twitter @KevinSporkaHOHM