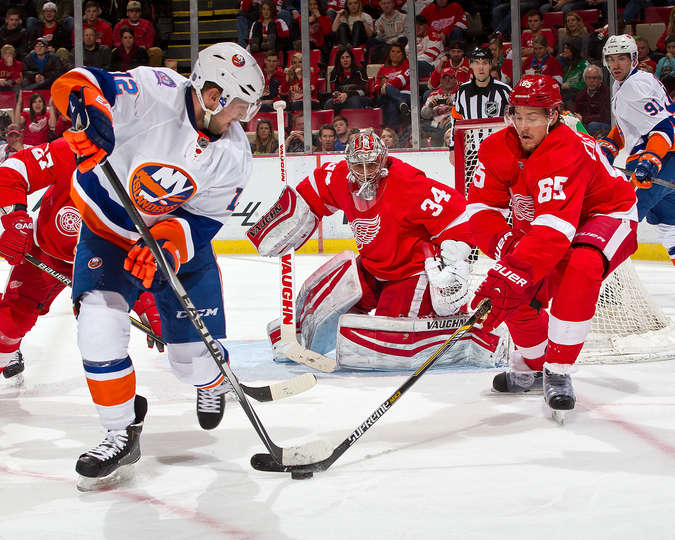 The Red Wings took on the New York Islanders in a Saturday matinee. Coming into the contest, both teams had 65 points in their respective divisions.
Defensive prospect Alexey Marchenko was set to play in his second career game after being swapped for Xavier Ouellet, who was returned to Grand Rapids (AHL) temporarily.
GM Ken Holland needed to see how Marchenko could perform in the big leagues, so he can assess his team's need for a right-shooting defenseman before the trade deadline. It was an audition for the 23-year old Russian blueliner.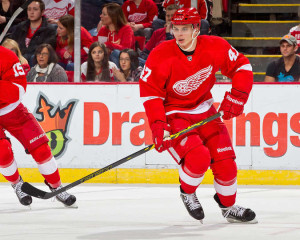 Detroit goalie Petr Mrazek started his eight game in a row with starter Jimmy Howard still sidelined. He looked to rebound from a string of not-so-good performances.
His previous four games he allowed 16 goals, including a game that saw him get pulled early in the first period.
The Isles started backup Chad Johnson after Jaroslav Halak struggled against the Boston Bruins Thursday, giving up four goals on thirty-two shots.
Tomas Tatar kicked off the scoring on the power play just five and a half minutes into the afternoon, lifting a rising wrister to the top corner only twelve seconds into the man advantage. The goal increased his team-leading total to 22, good for 10th in the NHL.
Neither goalie would see frequent action as it was a low shooting affair.
In the second period, Brendan Smith would slap one past Johnson in the final minute to add some cushion to the Wings' precarious lead.
In the third period, Islanders defenseman Lubomir Visnovsky, playing in his first game since January 4th due to injury, scored at nearly the same time (5:24) as Tatar did in the first stanza (5:29). His marker came just ten seconds after Brendan Smith was called for interference.
"They were fast for sure, like all four lines skated really good," Marchenko noted. "You have to be ready for this for sure. It's a different level than AHL, skating faster, pucks move faster. You have to think faster."
Near the midway point of the third, Jonathan Ericsson fired a seeing-eye shot that took a deflection off Isles defenseman Thomas Hickey and into the back of the net.
Gustav Nyquist would also score on the power play shortly after with his 20th goal of the year, which ranks him 12th in the league.
Mrazek would finish the game saving 22 of 23 shots, helping Detroit to the 4-1 victory. It was his first one-goal game since January 13th.
"That's a young, mature kid there," said Brendan Smith of Mrazek's bounce-back performance. "I think you see his, I think people have called it moxie, or his charisma that he's had. I mean, that helps him. Guys that can forget quickly, they're the best players. If you dwell on it, you start creating your own snowball. It's good to see him bounce back, and we knew he would because he's that kind of person. He's gonna be a helluva goalie."
Montreal and Tampa Bay would win as well, moving the Lightning to 68 points and the Habs to 67. However, the Wings have a game-in-hand on the Bolts, while the Canadiens have three games-in-hand.
Detroit has now won seven of their last eight and eight of their last ten. They will play nine of their next eleven games on the road, which will be a difficult stretch for the team as they head west to play nine different Western Conference teams.
Detroit's next game is Thursday in Colorado, when they'll take on the Avalanche
Follow me on Twitter @KevinSporkaHOHM
Love Reading About Hockey?

Subscribe to keep up-to-date with the latest and most interesting hockey news!
| | |
| --- | --- |
| | We hate spam just as much as you |