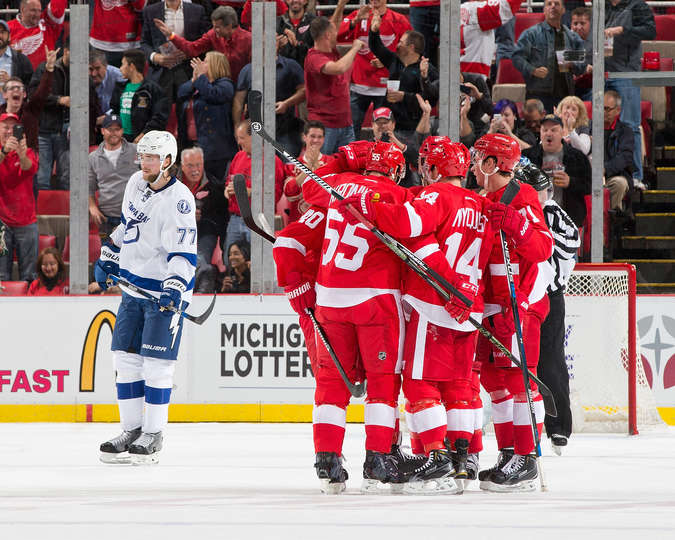 The Detroit Red Wings continued their strong start Tuesday night against the Tampa Bay Lightning. After defeating Toronto and Carolina last week, they carried the winning momentum into the game, winning by a score of 3-1.
"It's definitely an early measurement for us against a good team, an undefeated team, a team that's got off to a great start, and is picked as one of the favorites," said Justin Abdelkader.
The game's first half was an evenly matched defensive battle. Both teams clogged their opponent's passing lanes and there were very few breaks for either side. Odd-man rushes were limited as neither team seemed to make a mistake.
It would remain scoreless until late in the second period, when the Red Wings were able to capitalize on their second power play of the game. Following a great feet from defenseman Niklas Kronwall, Gustav Nyquist picked the top corner on goalie Ben Bishop, glove-side. Justin Abdelkader effectively screened Bishop on the play. Credit for the goal was then given to Abdelkader, but soon after it was re-awarded to Nyquist.
"I thought Nykie's played really hard and I think to get rewarded with a goal was important for him," said coach Jeff Blashill. "I think when you're an offensive player, no matter how much, you know, we can preach process and not worrying about just looking at the numbers, that numbers matter, and looking at them certainly matters, and so that's why I thought it was good for Nykie to score."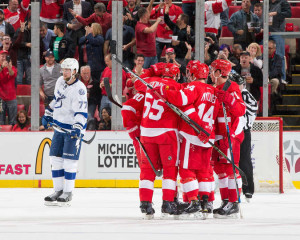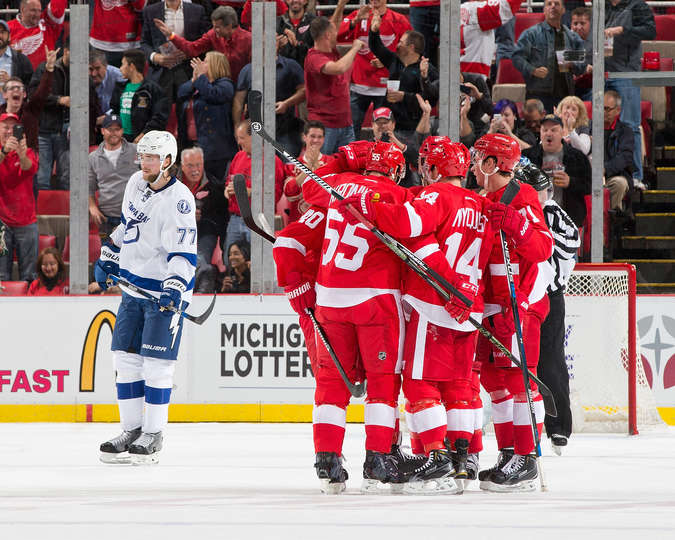 In the third period, Detroit's top line succeeded again, with rookie Dylan Larkin setting up Henrik Zetterberg in the slot. Zetterberg's shot, much like Nyquist's, featured skillful puck placement as it just fit under the crossbar. Larkin's point brought him to four in three games. He is tied with Chicago's Artemi Panarin and New York Rangers' Oscar Lindberg. Additionally, his plus-six rating is tied for the league lead with six other players.
"We know what to expect out of him each and every night and he's gonna be a guy that's on the puck, has a good skillset," said Abdelkader of the 19-year old Michigan native. Obviously playing with Z, Z's gonna find him a lot of times. He's a good addition for us. Management staff did a great job finding him, even in the later part of the first round. He's a big part of this team."
Zetterberg now leads the NHL with five assists and seven points.
Midway through the third period, Jimmy Howard's shutout streak of 111.03 minutes was ended. Jonathan Drouin found Ryan Callahan, who ripped a hard slap shot over the glove of Howard. After managing only four shots in the second, Tampa recorded ten in the final stanza as they pushed to tie the game.
Immediately following the goal, the Bolts continue pressing, nearly putting another past the Red Wings netminder. However, Detroit's consistent defensive play stifled their efforts. With 1:48 left in the third, defenseman Kyle Quincey lifted the puck the length of the ice as Jason Garrison attempted to divert it away from the empty net.
Detroit earned redemption after losing to the Lightning in seven games this most recent post-season.
"In a game like this we're playing a good opponent," said Nyquist. "We played against them a lot last year obviously. It's important to get that first goal for sure. I thought we played a pretty good game overall and managed to score there on the power play, that was nice. Then Z made it 2-0, which helped a lot too, so overall pretty good game. I think Howard played great in net as well."
"Obviously we have a little history here like from playoffs last year so, not as intense as it was in April, but I think it was a well-played game," said Zetterberg. "Two good goalies going at it. Howie was good to the end today. Bishop played well. Obviously we got one on the power play. Our PK was good so overall it was a good game."
"Well, I think the name of the game tonight was playing with possession. I think we did that, you know, for the better part of the game, and you know, you can stifle them by doing that," said Howard.
Next Game: Friday, October 16 vs. Carolina Hurricanes.
Notes
Forward Johan Franzen was a late scratch for this contest, as he was not feeling well before the game. It is unknown whether this is attributable to lingering concussion symptoms or now.
Tomas Jurco drew back into the lineup in place of Landon Ferraro, but with Franzen's absence, Ferraro was back in.
Howard has earned a 0.50 goals-against average and .977 save-percentage, both of which are second only to Sharks netminder Martin Jones.
Detroit out-hit Tampa Bay 26-11. Abdelkader led the way with six hits.
Love Reading About Hockey?

Subscribe to keep up-to-date with the latest and most interesting hockey news!
| | |
| --- | --- |
| | We hate spam just as much as you |