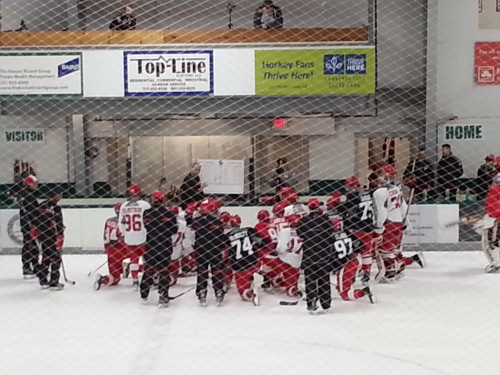 The Detroit Red Wings annual prospect development camp kicked off this morning at Centre Ice Arena in Traverse City.
Goalies Jared Coreau (Northern Michigan, signed) and Andrew D'Agostini (invited to the camp for the second straight year) were the first ones on the ice (insert picture) to work with Red Wings goalie coach.
When the on-ice drills began, Grand Rapids Griffins coach Jeff Blashill wasted no time working the players hard.
Team Yzerman, the first group on the ice, included forwards Anthony Mantha, Dylan Larkin, Axel Holmstrom, Julius Vahatalo, and defenseman Marc McNulty.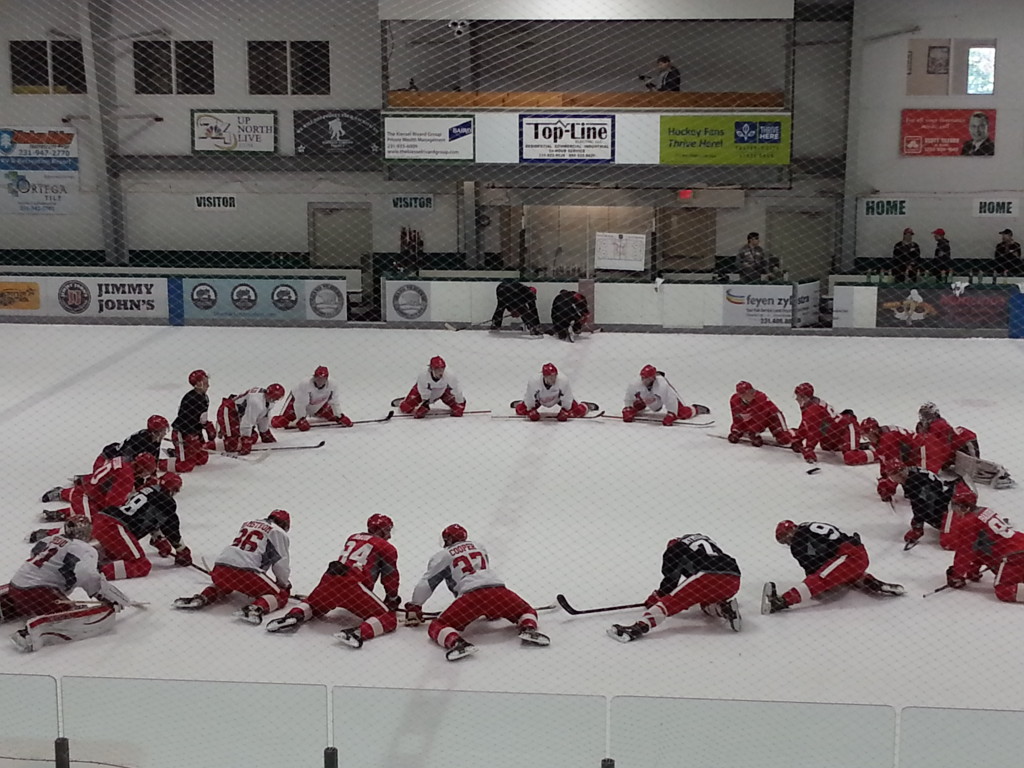 The drills lasted from 10:00 to 11:00 AM.
Here are my observations of Team Yzerman (taken from my notes)
Axel Holmstrom was noticeable early on, if not only for the fact that he was wearing #96. Although not related to the four Stanley Cup-winner Tomas Holmstrom, he easily stood out from the rest of the group because of his number. My first impression of new Holmstrom is that he needs a lot of work on his skating (sound familiar?). He's got a pretty good shot and works hard, but he stumbled a few times while turning on the speed. All that can be attributed to being nervous about his first development camp, so I'll have to observe more in the next couple days.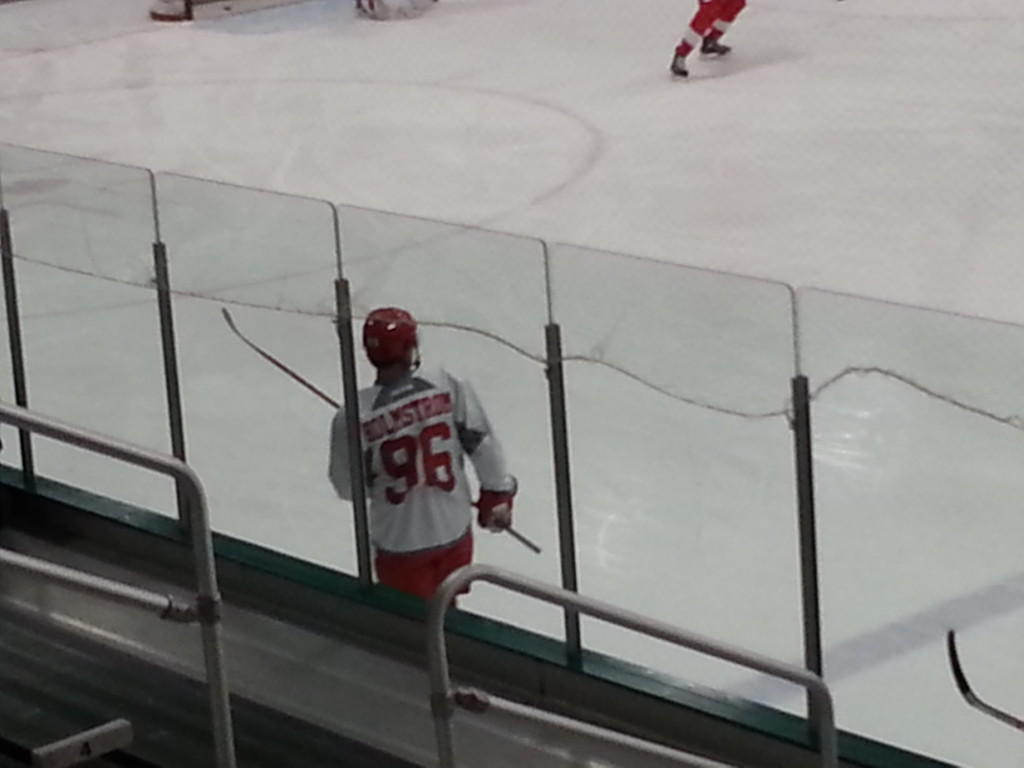 Marc McNulty, the 6-ft-6 defenseman, looks exactly like he did last year: way too tall and awkward. He's not an overly impressive skater, he doesn't pass very well, and he just looks out of place.
Julius Vahatalo demonstrated his knack of getting good position near the net. He wasn't afraid to get a bit physical either. He had one or two slight stumbles, but skated well otherwise.
Dylan Larkin is not a lazy skater by any stretch of the imagination. Out of all the players on the ice, he put the most effort into each drill. He's very good at covering his opponents. He'll lift sticks, prevent shots, and stays with his man. He battles hard every time.
Anthony Mantha is an entirely different player this summer. He plays a much more complete game and isn't as one-dimensional as he once was. This past season, he increased his assists total from 39 to 63, and it was noticeable here on Day 1. When I asked Anthony what he improved the most on since last year, he said "My D-zone. I played a lot of PK this season, a lot in the defensive zone."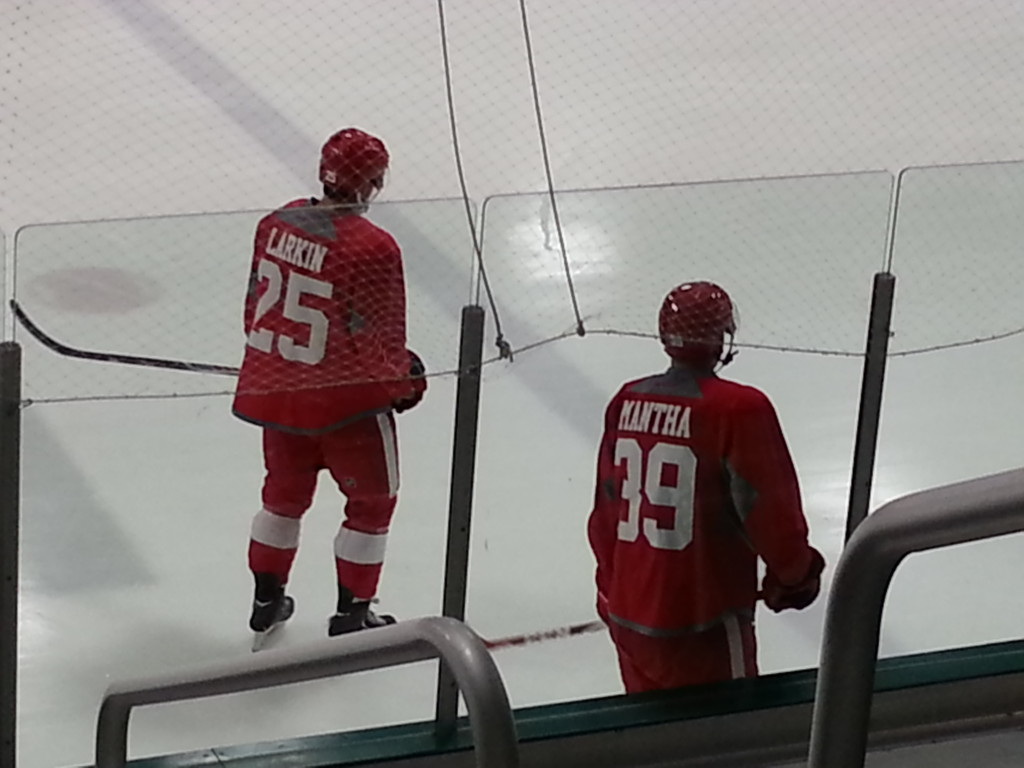 Here are my observations of Team Lidstrom (taken from my notes)
Team Lidstrom took to the ice at 11:00, so naturally I couldn't see all of their drills, since locker room availability for the first group lasted about twenty minutes.
On this team are Andreas Athanasiou, Tyler Bertuzzi, Zach Nastasiuk, Christoffer Ehn, David Nosek, Dominic Turgeon, David Pope, and Richard Nedomlel.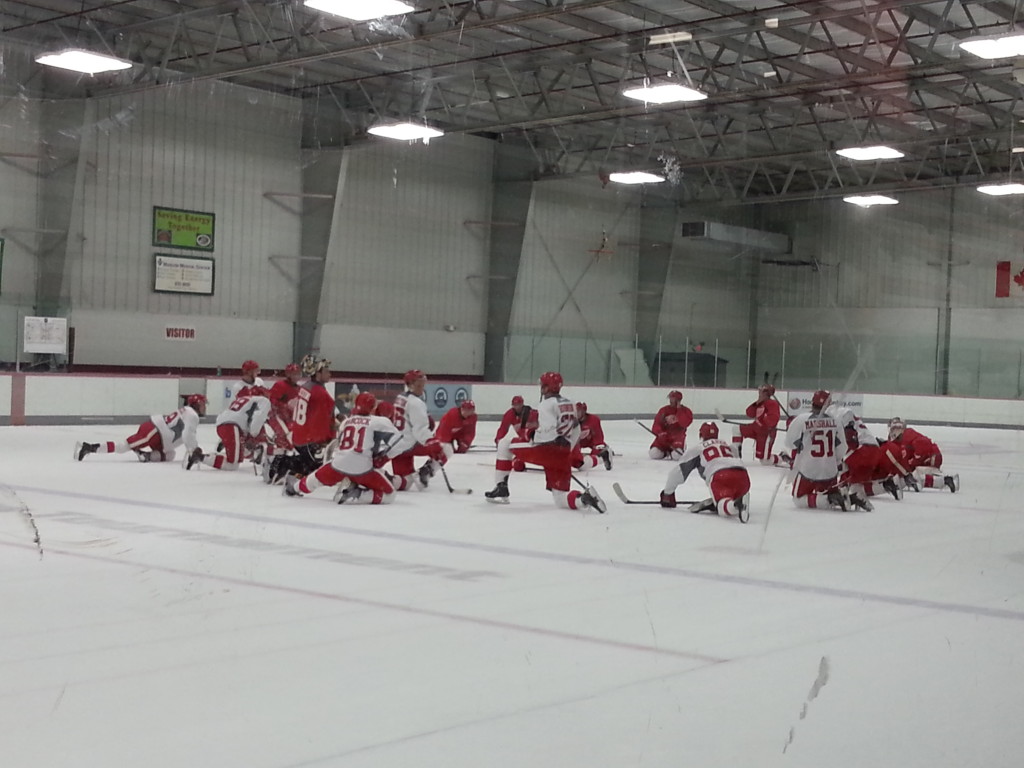 The player that really stood out in this group was Andreas Athanasiou, who's ready to take his game to the next level and he made that very clear, both on the ice and off the ice as well. "
David Nosek, a recent signing by Detroit, demonstrated good passing skills while conversely, Tyler Bertuzzi showed very poor passing abilities. The latter gave the puck away numerous times.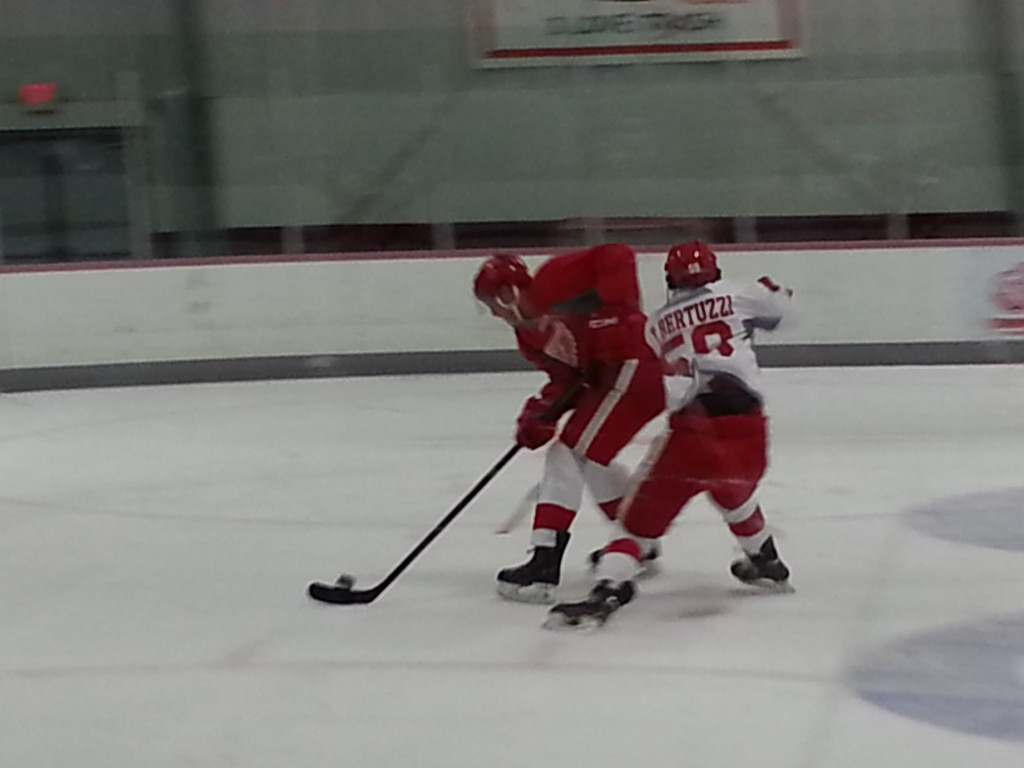 More on Team Lidstrom later.
Over the next few weeks, I will be posting individual interviews I've had with some of the top prospects taking part in this camp, so stay tuned. Also, feel free to contact me via twitter @yungspork if you have any questions regarding the camp or any of the players.