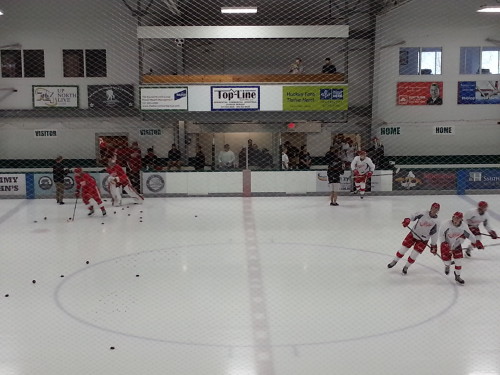 Saturday was Day 2 of the Detroit Red Wings prospect development camp. The schedule was not friendly to the media, and we had to choose between watching either Team Lidstrom or Team Yzerman for 45 minutes in the morning. Since I wasn't able to watch all of Team Lidstrom's drills on Friday morning, I focused on them.
On-Ice Drills (9:00 – 9:45 am)
Grand Rapids Griffins assistant coach Jim Paek led the drills for this team.
I really got to see what Andreas Athanasiou had to offer this time. His breakout speed is very similar to Darren Helm, but I don't like that comparison, since he seems to have many more facets to his game than Helm does.
During the training, while the defensemen and wingers worked on their own drills at opposite ends of the rink, the centers practiced the always-important faceoffs. Athanasiou excelled at this. In every matchup, he won nearly every faceoff. For the ones he didn't win, he found a way to steal the puck back immediately. His technique is very similar to that of Pavel Datsyuk. He's very aggressive in the faceoff circle and isn't content with losing a draw.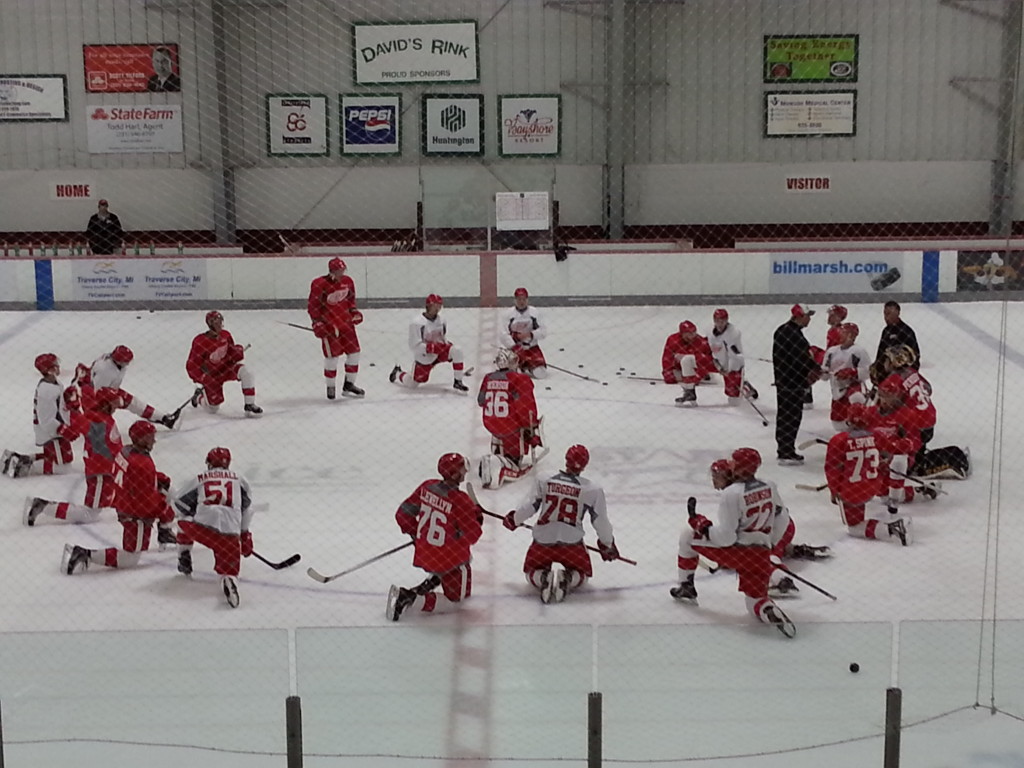 Christoffer Ehn had a particularly good morning as well. He demonstrated very good passing skills, and good puck work as well. He's a very good stickhandler and does well on breakaways. You can tell that he's Swedish by watching him finesse the puck.
Tomas Nosek looks like he's still adjusting to this new environment. He's a good passer, and can dazzle with the puck when he wants to. It's still difficult to get a good read on him.
Richard Nedomlel was solid as always, and he appears ready to make the AHL jump. A 4-time attendee of this camp, he's improved year after year. He will bring a style of physical play that Detroit/Grand Rapids haven't seen in a very long time. When he lines up an opponent, look out, because he hits hard.
Scrimmage (3:00 – 5:00 pm)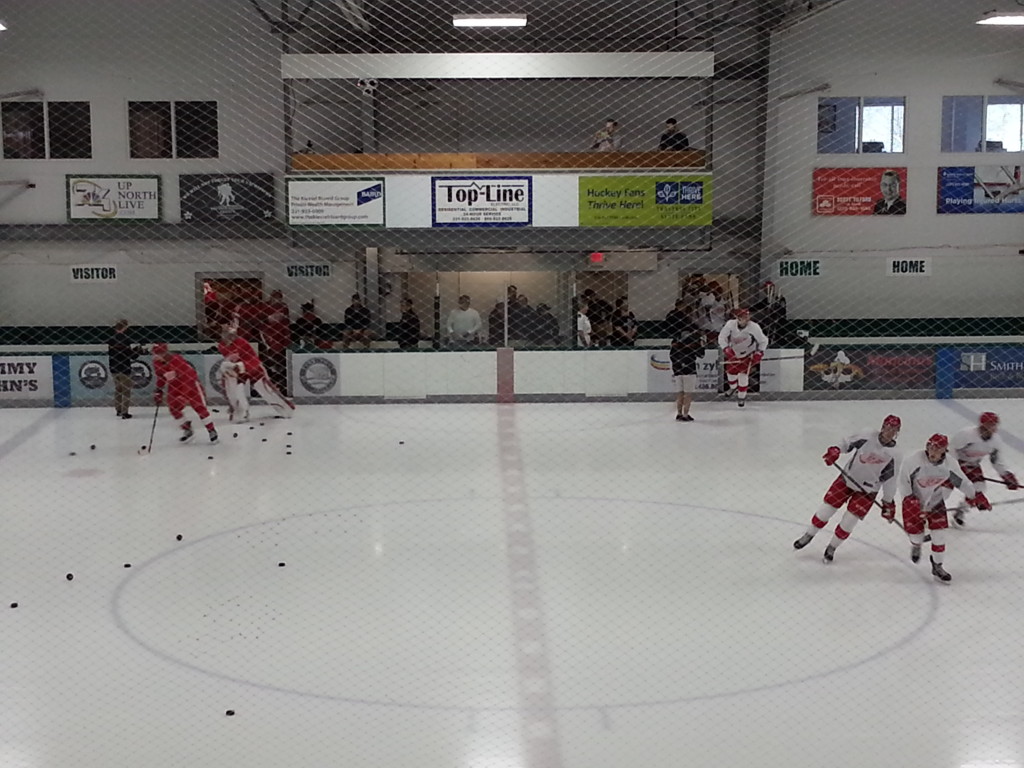 The scrimmage is the first chance to see these prospects in game-action, although it isn't a perfect indication of how these players actually play. Christoffer Ehn told me he didn't know who was on his line until right before the game, so it's very difficult to develop any chemistry between linemates in this short amount of time.
I know you're all interested in the line combinations, so here they are:
Team Lidstrom
Forward Lines
LW – Tomas Nosek C – Andreas Athanasiou RW – Zach Nastasiuk
LW – David Pope C – Dominic Turgeon RW – Tyler Bertuzzi
LW – Tyson Spink C – Tylor Spink RW – Darby Llewellyn
LW – Brandon Robinson C – Blake Clarke/Christoffer Ehn RW – Michael Babcock
Defense Pairings
Richard Nedomlel/Ben Marshall
Nick Zotl/Trevor Hamilton
Ryan Obuchowski/Czarnowczan/Schmidt
Goalies
Jared Coreau (first half)
Andrew D'Agostini (second half)
Team Yzerman
Forward Lines
LW – Anthony Mantha C – Dylan Larkin RW – Kyle Baun
LW – Dean Chelios C – Axel Holmstrom RW – Cole Bardreau/Haydene Hodgson
LW – Hampus Gustaffson C – Julius Vahatalo RW – Luke Sandler
LW – Mark Cooper C – Alex Globke RW – David Johnstone
Defense Pairings
Marc McNulty/Joe Hicketts
Kevin Clare/River Rymsha
Mike McKee/James De Haas
Goalies
Jake Paterson (first half)
Lucas Peressini (second half)
Summary
Team Yzerman took a 1-0 lead early on, as Globke scored the game's first goal, with McKee assisting.
Team Lidstrom would tie it up as Tomas Nosek found the back of the net. He went to the crease and was able to roof it past Jared Coreau.
Joe Hicketts, a camp invite, showcased his cannon from the blueline and gave his team a 2-1 lead. It would stay 2-1 for the remainder of the first half.
The Finnish winger Julius Vahatalo kicked off the scoring in the second half, as he scooped in a rebound following a Hampus Gustaffson (camp invite) shot.
Nosek was slashed later in the half, but after getting patched up, he stayed in the game.
Christoffer Ehn tried to save his team from defeat after he one-timed a shot past netminder Andrew D'Agostini.
It would end 3-1, with the shots being 23-12 in favor of the winning team.
Following the scrimmage, there was an abbreviated shootout competition. Only the forwards participated. The only player to score in the shootout was Athanasiou, as he showed fancy stick work and backhanded it through D'Agostini's five-hole. Nosek, Mantha, Holmstrom, Turgeon, Baun, Spink, Vahatalo, and Ehn were all stopped.
Follow me on Twitter @yungspork