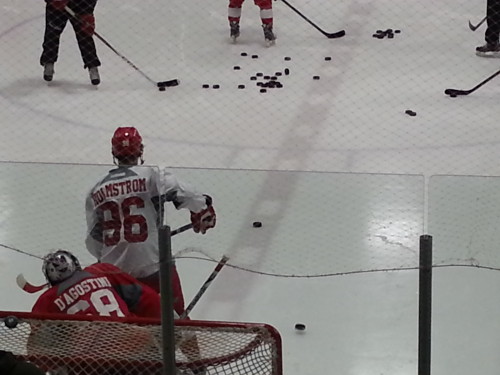 Sunday was Day 3 of the Detroit Red Wings prospect development camp, and my last day of covering the events in Traverse City. This was a jam-packed morning to say the least.
At 9:00 am, Team Yzerman began their 45-minute practice. At 10:00, Team Yzerman worked on their skills, while Team Lidstrom worked on skating drills. At 10:25 they did the reverse of that. The morning ended after Team Lidstrom's 45-minute practice.
Here are my observations.
Team Yzerman Practice
Keep Away
One of my favorite drills to observe is the keep-away drill. Two players enter the faceoff circle, with one trying to steal the puck away from the other. It shows how well each forward can maintain control of the puck and fend off their opponent.
The two best players in this particular drill were Dylan Larkin and Julius Vahatalo. Larkin was pursued by Anthony Mantha, who was unable to retrieve the puck from Larkin's possession on three tries. On the other end, Vahatalo was also very impressive. When he was the one without the puck, he stayed with his man the whole time, not allowing his opponent to fake him out. He also got pretty physical as well, throwing a few hard shoves in the corner. When it was his turn to play keep-away, he broke out the fancy stick work, even throwing in a between-the-legs move in the middle.
At the Other End of the Ice
While one end was taking part in the keep-away drill, the other side had players working on boards play. One of the coaches would throwing the puck to the boards, two players would battle for it, then pass the puck to the defenseman on the point. The defenseman would shoot, and the forward would try to either tip it in or score on the rebound.
The thing to watch for in this drill is the approach to the boards. Do players try to just play the puck, or do they play the body first?
Dylan Larkin got roughed up a little bit when it came to his turn, but his recovery was outstanding. Not many players can stand back up as quickly as he could. He is also a physical player, and he showed that on Sunday. In one drill, he was battling in front of the crease, and checked 6-ft-6 defenseman Marc McNulty right into goalie Jared Coreau. It didn't seem difficult for him either.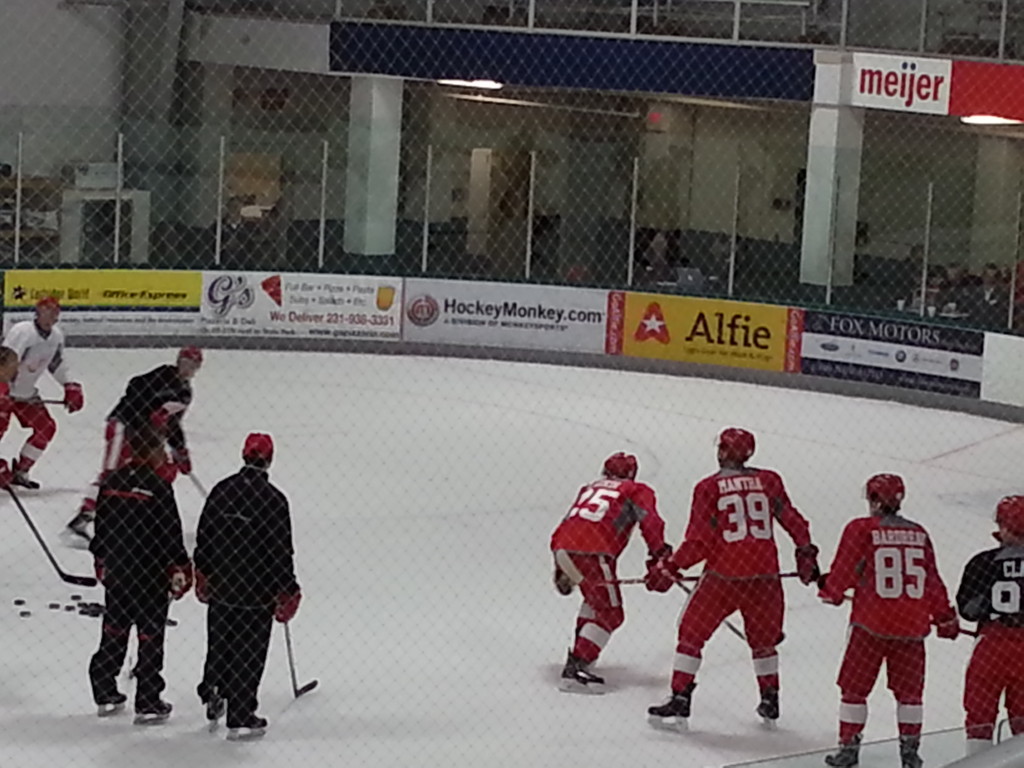 Anthony Mantha played the body every time, using his size to his advantage, and that was a welcomed sight to see.
Team Yzerman Skills
Axel Holmstrom, although still not related to Tomas (no matter how much you people want him to be), drew a few comparisons to the former Red Wing. I was anticipating the net-front drill where players try to deflect pucks past the goalie, to see how Axel would fare. And it turns out, he was actually one of the best players in the drill, in that he made contact with the puck more times than not (it didn't always find the back of the net). He was not too impressive with his stick skills or speed though. He was one of the last to finish his wind sprint.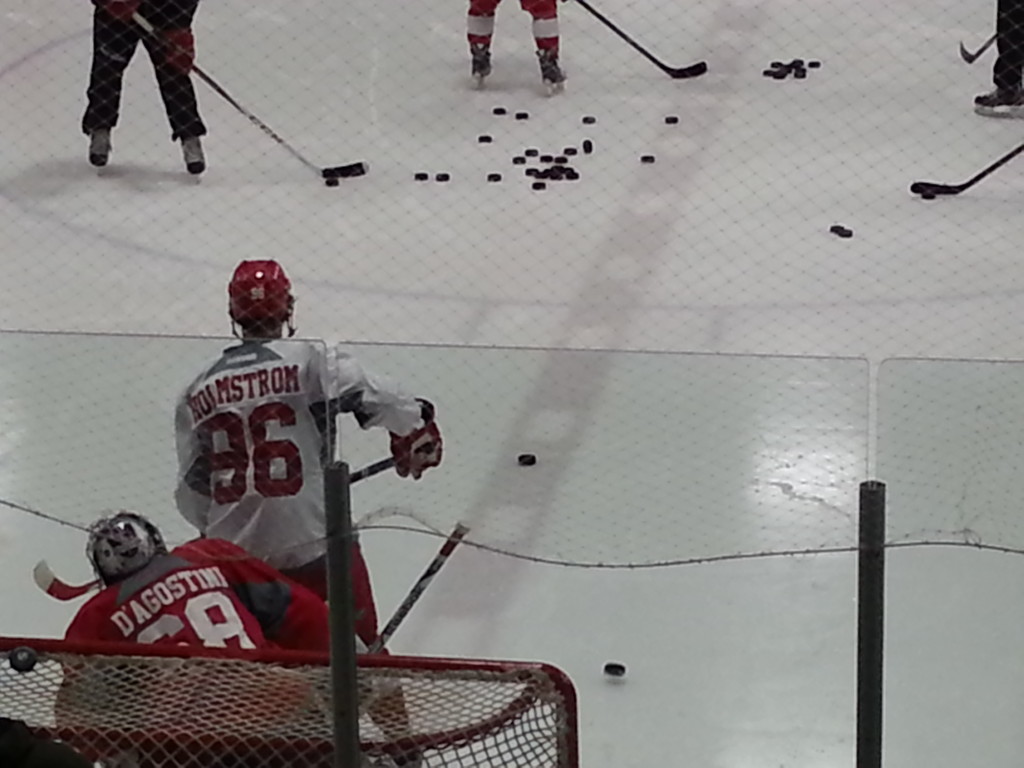 Vahatalo again impressed in the skill drills. Unlike former Finnish center Valtteri Filppula, Vahatalo is not afraid to get in the crease and work.
Camp invite Joe Hicketts has an outstanding shot. His point shots are hard, elevated, and accurate. He was easily the best defenseman on Team Yzerman that I've seen. He has a really good wrist shot also.
Mike McKee, playing as a defenseman instead of a left winger, was decent throughout the camp, although I never saw him have much lift to his point shots. However, he is very good at moving the puck on the blueline.
Team Lidstrom Skating
Leg-Hop
Former Red Wings defenseman Jiri Fischer was in charge of the skating drills for both teams. One of his drills involved players skating around a cone, then hopping over a stick on one foot.
Every skater took part in this drill. David Pope was the best of the group, not stumbling even once. Tyler Bertuzzi did very well consistently. Andreas Athanasiou recovered after one near-wipeout, but did very well the remainder of the drill. Tomas Nosek and Zach Nastasiuk got much better as the drill wore on.
This drill lasted about 15 minutes, so I split my time between this and Team Yzerman's skills.
Team Lidstrom Skills
In the net-front deflection drill, Pope was very good at deflecting pucks (shot by one person) into an empty net, but not as good at deflecting pucks (shot by two people) past a goalie.
Goalie Jake Paterson was seeing the puck very well in these drills, not letting many shots get deflected past him.
Nosek had very fast reactions, making contact numerous times, with most deflections caroming wide.
Later in the skill drills, Pope once again demonstrated his knack for sniping small openings in the net (top corners). Dominic Turgeon performed well along the boards, and was very good at passing the puck to a teammate while covered in the corner. He has a really long reach and he doesn't make rushed passes.
Near the end of this session, Griffins coach Jeff Blashill had the forwards take part in an impromptu short-range shootout. Paterson stopped almost every shot (except for one of the Spink brothers).
Team Lidstrom Practice
Andreas Athanasiou was all over the ice in the practice session. He even showed off his impressive vertical leap on skates when he jumped up to catch a puck out of the air.
Christoffer Ehn was very speedy and demonstrated his stick skills as well.
Bertuzzi seemed a bit tired during the practice, and therefore wasn't really noticeable.
Nastasiuk did what he does best, works in the crease. He is a big body that always works hard whenever he's on the ice.
That concludes my recaps of the development camp. However, stay tuned to HOHM for my upcoming series of interviews with the prospects (that will be posted continually in the upcoming days). I will also have my overall prospect analysis posted later this week as well.
Follow me on Twitter @yungspork
Love Reading About Hockey?

Subscribe to keep up-to-date with the latest and most interesting hockey news!
| | |
| --- | --- |
| | We hate spam just as much as you |