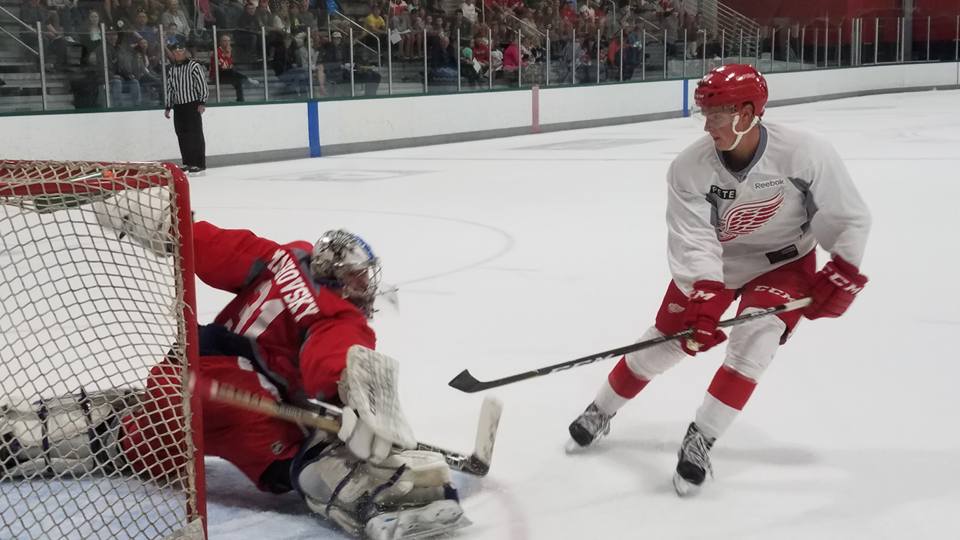 Day 3 of Detroit Red Wings Development Camp featured the lone scrimmage of the five-day camp.
"I thought it was good," said Red Wings coach Jeff Blashill. "I think it's a good chance for some of them for me to see them for the first time. I think some of the guys that have been around here a little bit, I get a chance to see where their progress is."
2017 first rounder Michael Rasmussen did not take part in the game (two 25 minute periods and two shootouts) due to a wrist issue, although his skating was showcased in the previous days' drills (spoiler alert: he's a good skater despite his size).
It was a low scoring game (3-1), both because of the stellar goaltending on both ends and because of very talented and balanced rosters.
The first goal of the game came from the stick of David Pope, the most senior player present at this camp (drafted and first attended in 2013). Newly drafted forward Jack Adams assisted on the play.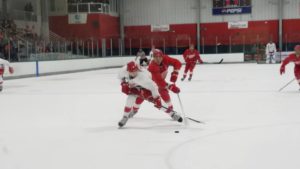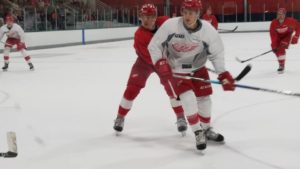 Also in the first half, Dominik Shine, signed by the Grand Rapids Griffins a few months ago, made it 2-0, with Pope assisting.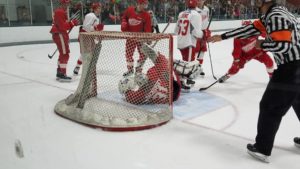 "I think the number one thing is going to be what type of inner drive mode these guys have," said Blashill. "That, to me, is what separates the guys that end up making it and which guys don't. Even yesterday, getting a chance to watch them go through a real, real hard day, and which guys kept working to get better and which guys worked to get through it."
Defenseman Cole Fraser was a clear standout throughout the game. He was physical, throwing his body around with frequency. He dove to the ice numerous times to break up 2-on-1s and to block shots. And he made smart plays with the puck.
Following the first 25 minutes, a shootout proceeded before the ice was resurfaced. Christoffer Ehn, Gustav Lindstrom, Graham Slaggert, and Shine all scored for Team Zetterberg. Goalie Matej Machovsky was unable to make most of the saves.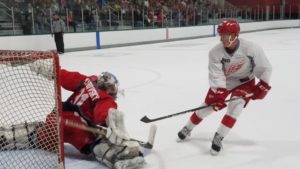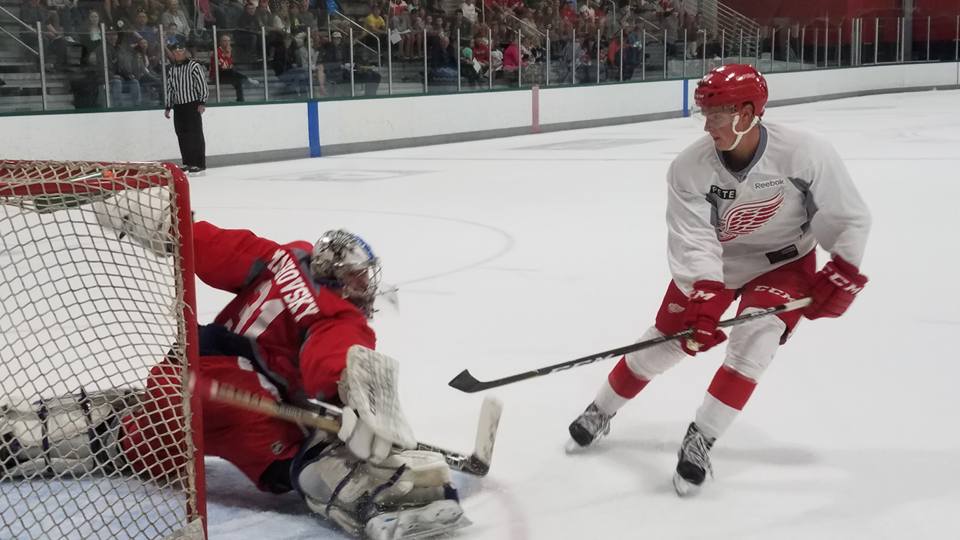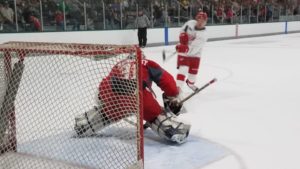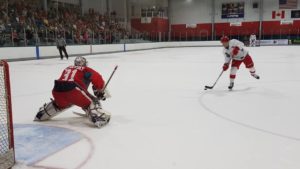 Tomas Dvorak scored for Team Kronwall with 4:20 left in the second half (wrist shot). Free agent forward Sean Josling assisted.
They continued to push, pulling goalie Filip Larsson with about 1:30 remaining, but free agent forward Oliver Castleman potted the empty net goal with time winding down.
In the second shootout, Zach Gallant (2017 pick), Alex Peters (free agent defenseman), Reilly Webb (2017 pick), and Pope all scored.
Gallant
Peters
Webb
Pope
Additional standout performances:
2017 drafted Keith Petruzelli, the tallest drafted goalie in franchise history at 6-6, was stellar all game long, while Chase Perry and Filip Larsson also impressed.
Filip Hronek showed good movement on the blueline and can really move the puck down the ice.
Newly signed Czech defenseman Libor Sulak seemed comfortable on the blueline.
Dylan Sadowy, who scored a hat trick last summer during a scrimmage, also excelled, though it did not show on the score sheet.
I kept mistaking Brady Gilmour (2017 pick) for a defenseman since he was always the first forward back on the backcheck. He also displayed a lot of speed.
There is only one scrimmage this camp instead of two, so it is more difficult to evaluate performances after only one game situation.
Follow me on Twitter @KevinSporkaHOHM