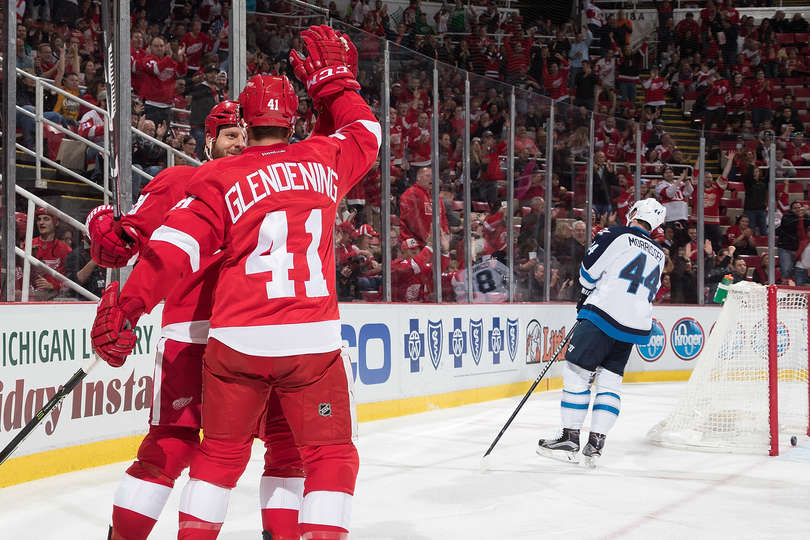 The Detroit Red Wings welcomed the Winnipeg Jets on Friday night as they attempted to end a three-game losing streak, although they did manage to earn a point in Wednesday's overtime loss in Philadelphia.
The Wings came into the night holding a 6-4-1 record, tied for third place with the Tampa Bay Lightning. The team honored the Howe family before the game, with Gordie's sons present at center ice to drop the ceremonial puck.
However, the losing streak would indeed continue as the Jets propelled to a win after scoring three consecutive third period goals to earn a 5-3 win.
Niklas Kronwall returned to action on Friday.
"I felt OK," he said. "I tried to keep it short, tried to keep it somewhat simple. A few turnovers I'd like to clean up obviously. But it was nice just to get back out on the ice again."
Detroit's Luke Glendening led the scoring after he deflected a Danny DeKeyser shot past Michigan native Connor Hellebuyck just past the three minute mark of the first period. Two minutes later, Hellebuyck would save a Darren Helm breakaway opportunity.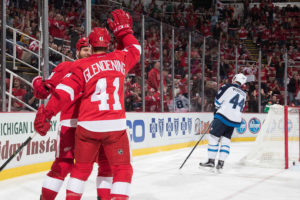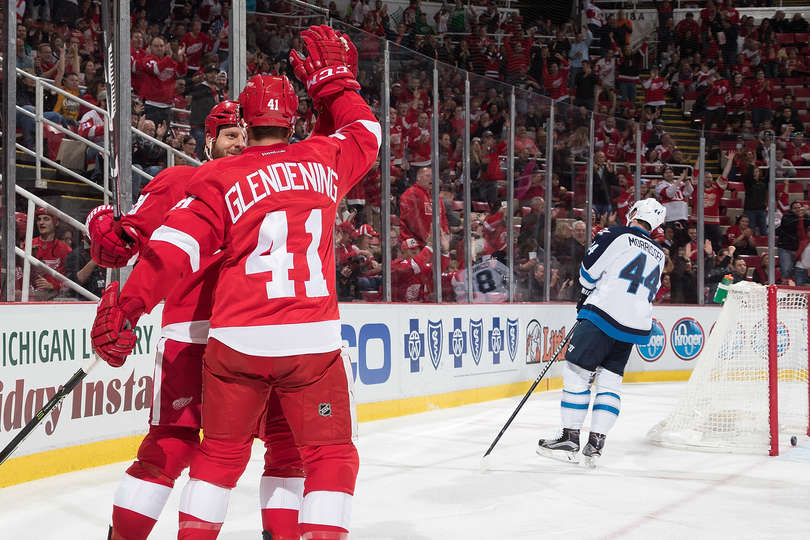 Late in the period, Patrick Laine took advantage of a unique scoring chance, as DeKeyser fell and Andreas Athanasiou tripped over him. This allowed the rookie to have open ice, of which he used to wrist a shot past goalie Petr Mrazek.
Starting in the second period and continuing into the third, there would be a series of unusual goals scored.
Near the midway point of the game, Red Wings captain Henrik Zetterberg batted in a rebound following a Tomas Tatar shot. The goal was waived off by the official, as it appeared Zetterberg's stick may have been above the crossbar. Upon further review, it was ruled a good goal.
The Jets had outscored their opponents 17-8 in third periods this season. They continued that trend on Friday. Mark Scheifele tied the game at two after a lengthy review. He tapped the puck past the goal line in a scramble. Mrazek was in the net, and only one camera angle showed the puck in the net.
Detroit forward Justin Abdelkader restored the lead with a top-shelf slap shot from the faceoff dot to the right of Hellebuyck, but fewer than two minutes later, Brandon Tanev would tie things again with his first NHL goal. Play would continue as the puck just managed to find the netting below the crossbar. It was reviewed, and then credited.
Tanev wasn't finished. He also scored the game-winner 6:20 after his first. Jets defenseman Dustin Byufglien found Tanev, who found himself on a breakaway. He went high-glove on Mrazek for the 4-3 lead.
Winnipeg added an empty-netter for good measure as Detroit dropped their fourth straight game.
"I thought Petr was fine," said coach Jeff Blashill. "We can't give up those…the Laine goal, we get a bad change and he walks in, and we give up an odd-numbered rush off of an o-zone play where we turn it over. Those are things we can't do. If you're giving up those chances, that's a lot to put on your goaltender."
Detroit hopes to rebound on Sunday night when they take on the Edmonton Oilers at 5:00 ET.
Follow me on Twitter @KevinSporkaHOHM