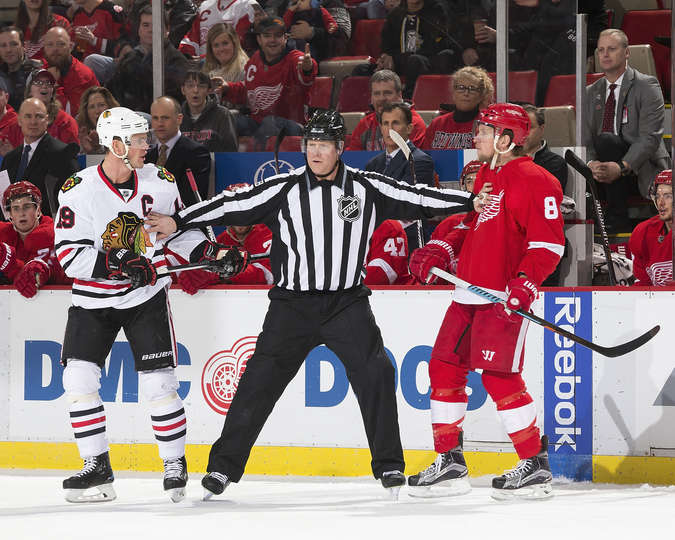 Pre-Game Notes
The NHL announced the preliminary rosters for this summer/fall's World Cup of Hockey (to begin September 17). A total of seven Red Wings will be participating in the best-on-best tournament: Pavel Datsyuk (Russia), Petr Mrazek (Czech Republic), Henrik Zetterberg and Niklas Kronwall (Sweden), Tomas Tatar (Team Europe), Dylan Larkin (Team North America), and Justin Abdelkader (USA).
Detroit had the opportunity to pass the Boston Bruins and come within one point of the Tampa Bay Lightning in the tight Atlantic Division race. They had won three straight coming into Wednesday night, where they faced their former Central Division rivals the Chicago Blackhawks. Similarly the Hawks are in a struggle for power in the Western Conference, as they are locked in a three-way tie for first place with 83 points.
Recap
The game began at a rapid pace as both teams had numerous scoring chances at both ends of the ice. The speed was that of 3-on-3 overtime but with ten players on the ice. However, it was Chicago who found the scoresheet first. Defenseman Brent Seabrook added his 13th goal (his previous career high was nine) of the season to give his team an early 1-0 lead only 2:23 into the game. Erik Gustafsson and Teuvo Teravainen assisted on the play.
Even though shots were nearly even at 9-8 (Chicago) in the first period and 16-13 in favor of Detroit in the second, it was the Blackhawks that pulled further ahead on the scoreboard. After a pair of negligent penalties by Wings captain Henrik Zetterberg and veteran defenseman Niklas Kronwall, the Hawks had a 5-on-3 for 1:13. Top rookie Artemi Panarin scored 25 seconds into the two-man advantage and Patrick Kane scored with nine seconds remaining in Kronwall's penalty.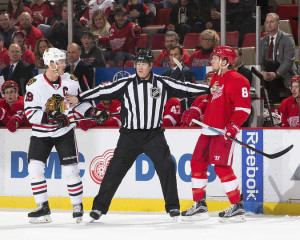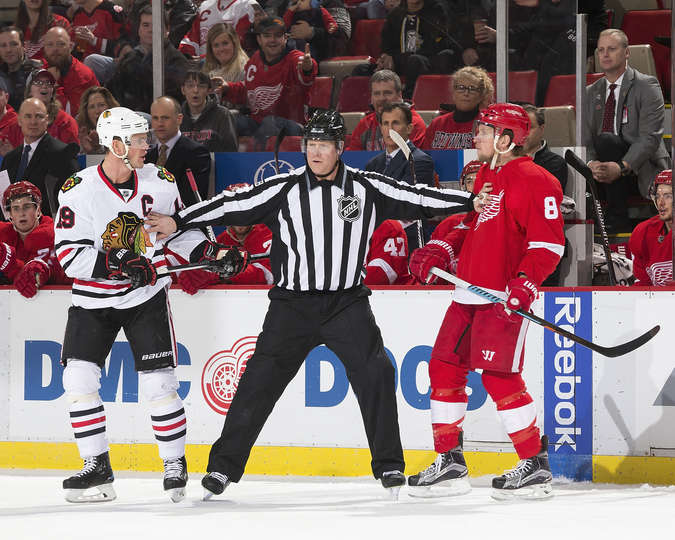 Detroit scored at the midway point of the third as veteran Brad Richards scored a power play goal while forward Luke Glendening screened Chicago goaltender Corey Crawford on the play. Any momentum this goal may have generated was lost when former Winnipeg Jets captain Andrew Ladd scored his 18th goal of the season. Duncan Keith took the initial shot, of which Ladd corralled the rebound and took a shot. Mrazek came up big with the first stop on Ladd but he would score on his second rebound with the Detroit netminder now out of position following the highlight reel save.
In the same minute, only 35 seconds later, Kane would find Panarin for the second time. The rookie one-timed a slap shot past Mrazek.
"The one thing I'd say first is the stretch he went through in January is not sustainable," said coach Jeff Blashill of Mrazek's play of late. "He was at .956 save percentage. You don't do that for a season, there's no way. To me, it's just the natural ebb and flow of the season, you're going to have some stretches like he had during January on the road there and you're going to have some stretches like recently."
Gustav Nyquist added a second goal for the Red Wings with 2:09 in the game, with Jonathan Ericsson and Riley Sheahan assiting.
Detroit dominated the faceoff circle, winning 34 draws to Chicago's 23, and the two teams were even in shots 33-33, but the latter played a more complete game.
"I thought for a lot of the game we were fine, we were getting chances," said Justin Abdelkader. "Crawford made some good saves for them, maybe some lucky ones he didn't see, but that's how it goes. They get a couple there and they got those two power-play goals. It's tough to come back against that team. A lot of positives but obviously I think we got away from our game a bit."
Post-Game Wrap-up
The loss holds Detroit at fourth place in the Atlantic with 75 points, one behind Boston, three behind Tampa Bay and five behind Florida. The Red Wings have been unbiased in terms of their record both at home (16-10-6) and on the road (16-10-5). Their goal differential now sits at -5, which is not indicative of their current playoff position. St. Louis is the second lowest at +5.
Petr Mrazek has a lackluster .892 save-percentage in his last five games, while he has given up 16 goals in that span. He has given up five goals three times since February 14 (six starts).
Chicago will play host to a rematch on Sunday as the Wings hope to earn two points against their rivals.
"We have to play smart the whole game there," said Mrazek. "Don't give them many chances and be good on the power play and the penalty kill."
On Tuesday, they will travel to Columbus to take on the last place Blue Jackets.
Follow me on Twitter @KevinSporkaHOHM
Love Reading About Hockey?

Subscribe to keep up-to-date with the latest and most interesting hockey news!
| | |
| --- | --- |
| | We hate spam just as much as you |