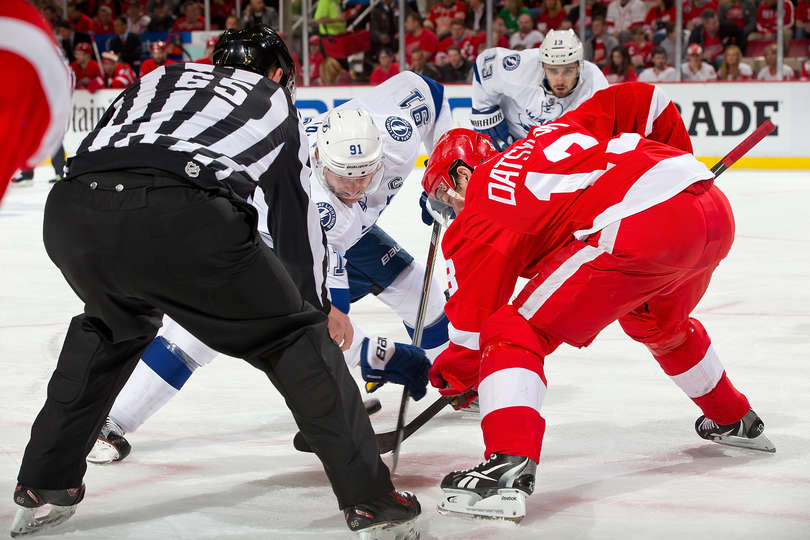 If Detroit hopes to win Game 7 tonight, they will need to do so without top defensemen Niklas Kronwall and Marek Zidlicky.
Kronwall was suspended one game for his hit on Tampa Bay forward Nikita Kucherov on Monday night. It was deemed to be charging and worthy of a one-game timeout. Kronwall was not penalized during the actual game.
"When I saw it, it was a clean, hard hit," said captain Henrik Zetterberg, "and he had good timing there, and I don't think their player saw it."
The veteran of 104 playoff games and 46 post-season points is the backbone of the Red Wings' blueline.
Additionally, the loss of Zidlicky, a veteran of 783 regular season and 44 playoff contests (with 24 coming in New Jersey's run to the Stanley Cup Finals in 2012) adds further uncertainty on Detroit's back-end. Acquired at this season's trade deadline, Zidlicky has been a force on the power play and his right-handed cannon will be noticeably missing.
The 38-year old blueliner suffered a concussion during Monday's Game 6 courtesy of a late elbow from Brendan Morrow.
(6:18)
This isn't the first time that Zidlicky fell victim to a dirty play by Morrow. In Game 2, Morrow shoved Zidlicky hard into the boards long after the puck had been moved.
Both veteran Jakub Kindl and rookie Alexey Marchenko will be in the lineup instead.
Landon Ferraro Ready for first NHL Game 7
Ferraro has had some experience playing in games like this, most notably in the Griffins' 2013 Calder Cup-winning run.
"We had a Game 5 [against the Houston Aeros, now the Iowa Wild] in the first round and then a Game 7 in the Conference Finals [against the Oklahoma City Barons, affiliate of the Edmonton Oilers]."
In the Game 5, he recorded two assists in a decisive 7-0 victory. Mrazek saved 24 of 24 shots in the shutout. Tatar scored two goals and one assist, Riley Sheahan scored a goal, and Luke Glendening added an assist as well.
In the Game 7, Nyquist (goal), Tatar (goal), Tomas Jurco (goal), Glendening (two assists), and Joakim Andersson (assist) all contributed to a 5-4 win that sent the Griffins into the Calder Cup Finals.
In total, Ferraro scored 16 points (five goals) in 24 post-season games in 2013.
"You've just got to treat it like every other game. You can't make it more than it is. You have to stick to your game plan and make sure you do everything right so you don't give them a chance."
"You just try to play your style. You don't try to do anything different. For us, we got to use our speed, we got to get pucks in, get in behind their defense and get into their end."
Red Wings Talk Game 7
Tomas Tatar: "We have a great team and great leadership, and obviously to play home in the Joe in front of our fans is amazing, but we are not afraid to play in their building either, so we are looking forward and we're ready."
Gustav Nyquist: "We're excited for the opportunity that we have here to go down there and win a game, to win the series. So, it's going to be a great game."
Kronwall: "The biggest thing is that we just keep coming. It doesn't matter what the score is or what the outcome might be. We got to come back here and play a good game here on Wednesday. It was pretty much the same way after the last game here at home. We went down there and played a really solid game, and that's what we got to do again."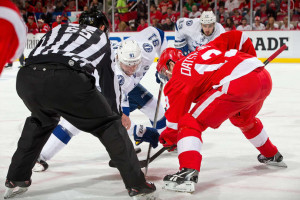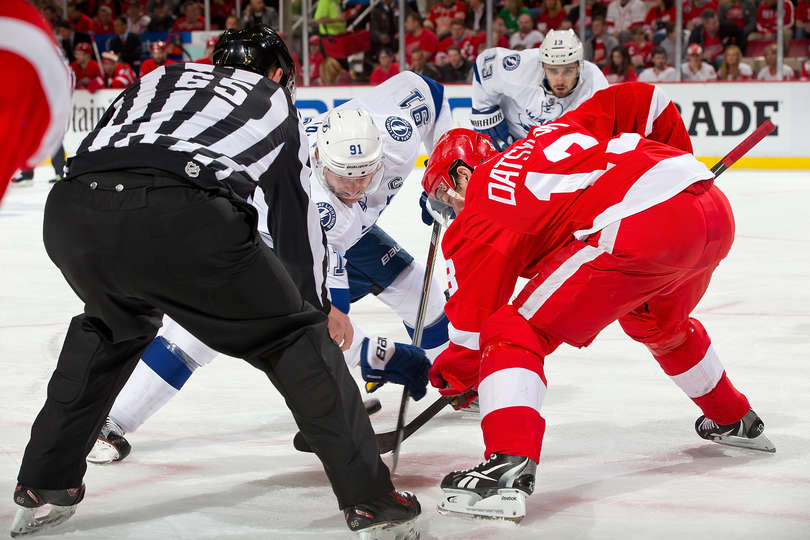 Mrazek Needs to Steal One More
Petr Mrazek has played outstanding in his first NHL post-season. He has already recorded two shutouts and kept his team in games that they had no business winning. He has also kept the close games close with some incredible saves, namely his paddle stop on Brian Boyle in Game 6.
Although the loss on Monday cannot be pinned solely on the young Czech netminder, he can be much better. The best facet in his game however, is his ability to bounce back immediately. The latter of the two shutouts came in Game 5 in Tampa.
"He's got to do his part," said coach Mike Babcock. "He's got to bounce back from tonight as well. He can be better than he was tonight and we expect him to be."

"He's playing unbelievable," said Landon Ferraro, also playing in his first NHL post-season. "He's given us a chance. We just need to do our part now."
Babcock knows that his team cannot match the Lightning's youthful speed.
"We're not that type of team anyway," he said. "We don't create separation like they do with speed, and so there's not a lot of space for 'Z.' He's been very good, very determined, playing hard, hasn't scored. But the good thing about him is he does lots of other things we don't need to worry about that."
Need to Keep Steven Stamkos off the Scoreboard
"Just giving them no time," said Ferraro when asked what the key was to shutting down the Lightning captain. "That's what we've been trying to do to everyone on their team, just be as close as you can to them. When our team's skating, we're fast, and we can play on top of them and not give them a lot of opportunities."
Thus far, Stamkos has been held to only three assists in the series, and Detroit will try to keep it that way.
Game 7 takes place tonight at 7:30 ET. You can catch the game on Fox Sports Detroit (Detroit local), Sun Sports (Tampa local), NBCSN (U.S. national), CBC (CAN national), and TVA2 (Quebec)
Follow me on Twitter @KevinSporkaHOHM