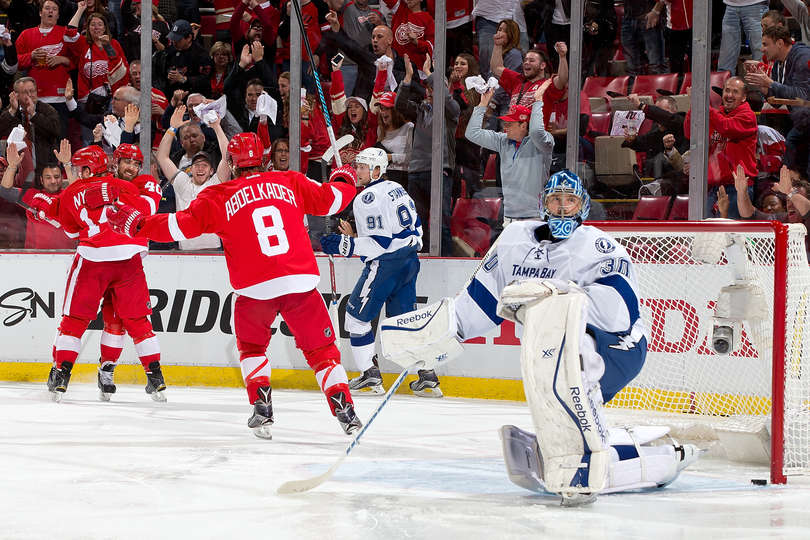 In a Game 4 matchup that saw four octopi tossed onto the ice at various times and arguably the best executed 'wave', the Red Wings failed to hold the crowd's enthusiasm, falling to the Tampa Bay Lightning in the game's final minutes.
The game began as it did in Game 3 with Detroit controlling the play with their puck-possession style, limiting the speed of the Bolts and preventing them from setting up in the offensive zone. The man-to-man coverage was solid again and it appeared that the team picked up right where they left off on Tuesday night.
After a scoreless first period with shots even at eight apiece, the Wings took control of the game in the second stanza. Gustav Nyquist scored his first goal of the playoffs early on after a determined forecheck by the Swedish forward and his linemates. As Nyquist pressured the Tampa defense, the puck was freed and fed to captain Henrik Zetterberg, who quickly dished a cross-crease pass to him to lightly redirect past goalie Ben Bishop.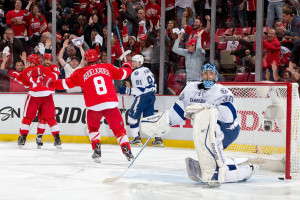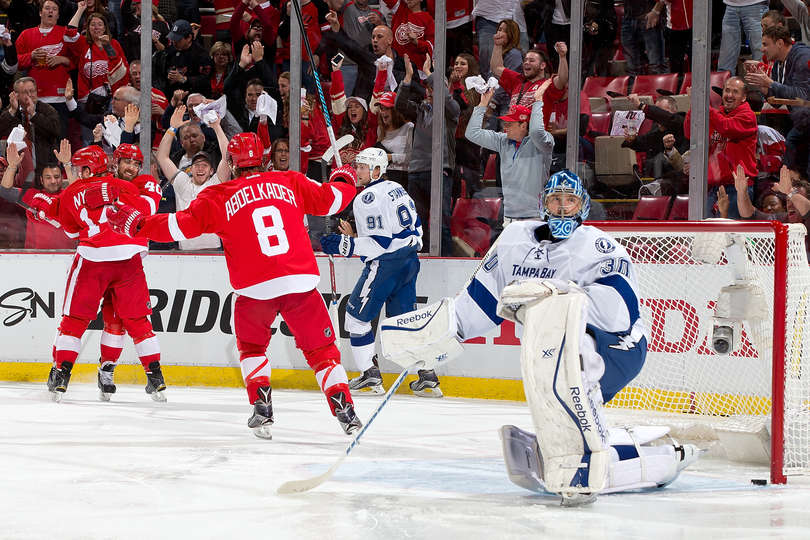 Joakim Andersson would add another goal nine minutes later on a high shot that Bishop tried to deflect away following a high ricochet. In doing so, he directed the puck into his own net.
Detroit was forced to kill off three penalties, including two to Zetterberg in the period, but would also have a pair of power plays, including a 39 second two-man advantage after Bishop was called for holding.
In the third period, the Wings succeeded in holding off the speed and skill of Tampa's second line of Tyler Johnson, Ondrej Palat and Nikita Kucherov until only 5:26 was left in regulation. Darren Helm failed to contain Johnson (it's not often you see someone out-skate Helm) who put the puck past Mrazek, breaking his shutout streak of nearly 120 minutes. Palat would score 1:14 later following a quick feed by Johnson and the game would go to overtime tied at two.
"They find a way on a few shifts here and there, they really get flying, and when we don't slow them down, they're very extremely talented players," said defenseman Niklas Kronwall of the line. "You give them a little too much room, they're going to make the plays."
Before the third period ended however, Detroit's Luke Glendening was injured in a scrum two minutes prior to Tampa's first goal, a significant blow to the team's depth. "I really thought we should have been going on the power play there," said coach Mike Babcock in his post-game press conference. Instead, the teams would each send a representative to the penalty box, with Landon Ferraro serving Glendening's roughing minor.
"He's a big part of our team," said linemate Drew Miller. "For him to go down at the end, it's tough. So, hopefully he comes back and is able to play next game."
In the extra period, it took only one shot for Johnson to win the game for Tampa Bay on his team's third consecutive goal, all of which he contributed to.
"I didn't know what [Mrazek] was supposed to do," said Babcock. "We made the mistakes ourselves. I thought he was fine tonight, wasn't tested a ton."
This ties the series at two games apiece heading back into Tampa Bay on Saturday (6:00 ET). The Lightning successfully reclaimed home ice after Detroit was able to withstand 40+ shots in Game 1 for the win.
"I thought we played good," said Babcock. "I thought we had them in big-time trouble. They got energy and we didn't (following Glendening's injury)."
Niklas Kronwall denied that the team played more passively in the third period instead of actively trying to increase the lead against the highest-scoring offensive team in the regular season.
"I didn't think we were overly passive. I think we did a fairly good job of just staying on the inside. Of course, the two goals that they scored, they found a way to get the job done. We've got to find a way to eliminate those plays."
When asked if he thought the two-goal lead was sufficient enough to secure a victory, he said:
"I don't know if you ever think about it to be honest with you. You just go out and focus on what you need to do out there, whatever time is left or however much you're up. We felt like we were in a good spot, but we didn't get the job done."
"I think the good thing is a lot of the young guys were in Grand Rapids when we played almost every game in the playoffs in the Calder Cup (the Griffins defeated the Lightning's AHL affiliate Syracuse Crunch for the championship)," said Glendening. "Obviously this is different, this is the Stanley Cup playoffs, but we have a lot to lean on."
Glendening is confident that the team's leadership will help them recover from the Game 4 collapse.
"The leadership in this room is unbelievable. It starts with 'Z' but down to 'Kronner' and 'Pav,' those guys lead the way every night on the ice and off the ice as well."
Follow me on Twitter @KevinSporkaHOHM
Love Reading About Hockey?

Subscribe to keep up-to-date with the latest and most interesting hockey news!
| | |
| --- | --- |
| | We hate spam just as much as you |