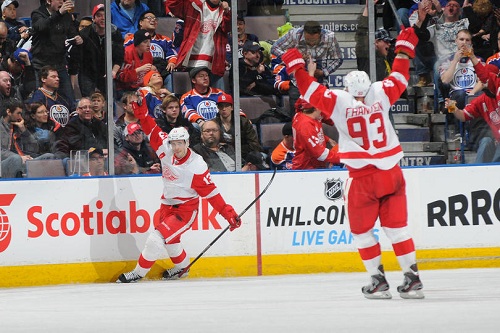 The Detroit Red Wings are now 28 games into the season, just a little past the halfway point in this season's shortened but condensed schedule. Per usual, the Wings have been saddled with injuries, and every single player with the exception of none, have had to step up their game twofold. Coach Mike Babcock's line shuffling has occurred more frequently than backups on all the major freeways leading to Joe Louis Arena. Some fans stand by their belief that Detroit has no chance this season to even make the playoffs, let alone have a deep playoff run.
Later in this multi-part article (Part 2 tomorrow), you will find my detailed analysis of Detroit's contract situations and possible trading scenarios. For now, here are my grades for each of the Red Wings. I have grouped the players together who have played on the respective lines/pairings the longest (or most recent). Grades are based on a simple A-F scale, which is pretty self-explanatory. I have also listed the stats for all of the players (as of Sunday, 3/17).
Stats: GP-G-A-PTS-+/-PIM-SOG-HIT-PPP
Forwards:
Line 1: LW – Valtteri Filppula C – Henrik Zetterberg RW – Damien Brunner
Henrik Zetterberg: A+ Zetterberg had a lot on his plate when this season began. He was tasked not only with successfully making the transaction to the captaincy and picking up where the great Nicklas Lidstrom left off, but in making Damien Brunner's transition from the much different European style to the tougher North American style of play.
Season Stats: 29-8-22-30 +1 – 14-94-14-13
Damien Brunner: A Brunner's transition, with some help from 'Z' has been very smooth. His first shift against the St. Louis Blues caught him off guard when David Backes started to hit everything that moved on the ice. After that game, he was prepared for more physical contact and really took off. He still leads the team with 10 goals and is 4th on the team in points, picking up where he left off in the Swiss league.
Season Stats: 29-10-10-20 -5 – 12-82-14-7
Valtteri Filppula: B- Filppula is in contract negotiations now, but is not playing like his contract depended on it. He is a great player one-on-one, but he has not found any chemistry with his linemates. 'Fil' only has 6 goals in 22 games…as a goal-scorer. The Red Wings need him to do much better than that, especially with his current place on the top line. He is still a good two-way forward, but he needs to prove his worth very soon if he wants to convince Detroit to sign him long-term.
Season Stats: 22-6-7-13 +1 – 2-41-8-1
Overall Line Chemistry: A
Zetterberg and Brunner's chemistry forges one of the NHL's best offensive duos. If Filppula is able to contribute more on a regular basis, this line has the potential to be the best in hockey.
Line 2: LW – Justin Abdelkader C – Pavel Datsyuk RW – Johan Franzen
Justin Abdelkader: C- Abdelkader is capable of three things: Grinding/hitting, fighting, and scoring the occasional goal. He is also capable of being a reliable penalty killer. His hitting has been really effective. Abdelkader currently leads the team with 65 hits, playing in all 28 games. However he's on a line with Pavel Datsyuk. I have to think anyone can score at least a few times with the world's best passer on your line. Datsyuk is known for his no-look tape-to-tape passes, and Abdelkader has failed to make an impact. It's not entirely his fault though. His role on the team should be as a 4th line grinder with Jordin Tootoo and Drew Miller.
Season Stats: 29-3-1-4 -1 – 19-52-66-0
Pavel Datsyuk: A+ What more can you say about this guy. With Cleary and Abdelkader on his wings, he has still managed to put up a point per game. He only has 9 goals (including an overtime winner Friday night), but his 21 assists give him 30 points. He has many "Datsyukian" dekes and goals so far, with his best one coming against the Nashville Predators last month when he skated right past every opposing player on the ice to score.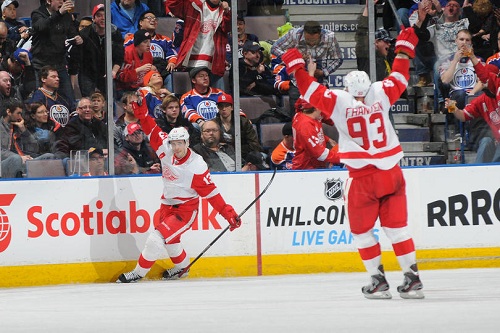 Season Stats: 28-9-21-30 +11 – 10-65-13-8
Johan Franzen: B- 'The Mule' is second on the team in penalty minutes with 31, a staggering number for a player who doesn't fight. He is usually known as a power forward, but this season he has barely had one hit per game. Franzen is signed through the year 2020, and his 5 goals in 22 games aren't helping anybody. His shooting percentage is 8%. He usually doesn't have any problem racking up the goals, except for this year. Detroit needs him to drastically step it up in the season's second half.
Season Stats: 22-5-9-14 +6 – 31-60-23-5
Overall Line Chemistry: C+
Line 3: LW – Gustav Nyquist C – Joakim Andersson RW – Daniel Cleary (has played most of the season with Abdelkader and Datsyuk)
Gustav Nyquist: N/A He is currently in his third stint with the Red Wings just this season. He leads the Grand Rapids Griffins in points, and the Red Wings hope he can carry some of the offensive load on the parent club. He only has one goal in 23 games for Detroit, and it came last season. I don't worry about his lack of production, because he's an elite player, and elite players will always find ways to score. Unfortunately Detroit's roster does not allow for Tomas Tatar and Nyquist to play together. It has to be one or the other. If those two were teammates, it would make for a very lethal offensive duo. Having only played 4 games so far, I don't have enough of a basis to grade his play just yet.
Season Stats: 4-0-1-1 -1 – 0-7-0-1
Joakim Andersson: B+ After being called up to Detroit from the Griffins early in the season, Andersson has played really well. His best game came against the Vancouver Canucks late last month when he scored two goals. He had good chemistry with Tatar and Jan Mursak (who was waived last month and is now playing for Grand Rapids) and again is paired with a Griffin, this time Nyquist. He had a really slow start, but proved that he deserves a spot on the team.
Season Stats: 19-3-4-7 +6 – 4-20-7-1
Daniel Cleary: D His most impressive yet disturbing stat this season is his 26 penalty minutes. That's almost third worst on the team. Many of his penalties have come at crucial moments in games, and the mediocre shorthanded units have been tested far too much. He hasn't had a fight, meaning he's had 13 minor penalties. Many times, even when attempting to receive easy passes, he gets turned around and lets the puck go behind him. His legs have really slowed this season, and he simply can't keep up with the young Abdelkader and Datsyuk.
Season Stats: 29-6-2-8 -3 – 26-58-30-2
Overall Line Chemistry: B-
Line 4: LW – Drew Miller C – Cory Emmerton RW – Jordin Tootoo
Drew Miller: B The Red Wings have heavily relied on Miller to lead the PK. He has done a decent job in clearing the puck and blocking shots when called upon. His skating has been good as well. Miller's best stat so far is his single minor penalty in 29 games. Detroit has lacked discipline all season long, but Drew has done his part by staying out of the box. He has 44 hits, which is third best on the team behind Abdelkader and Jordin Tootoo.
Season Stats: 29-2-3-5 -3 – 2-36-44-0
Cory Emmerton: A- Emmerton is probably the most underappreciated player on the entire team. His skating and work effort is noticeable night after night. He shares PK duties with Miller many a night, and those two have done a great job killing penalties. The reason the Wings are 21st in the NHL in penalty killing is not because of them.
Season Stats: 29-2-1-3 -1 – 4-37-18-0
Jordin Tootoo: A He has assumed the role the Red Wings have needed for so many years. Detroit has lacked an enforcer like him since the 90s. The player I could most closely compare him to would be Joey Kocur. Kocur was a guy that every team feared and that wasn't overly big in stature. Tootoo is only 5 foot 9. He will fight anyone regardless of size, and he has. He is tied for 3rd in the league in total fights fought with 7.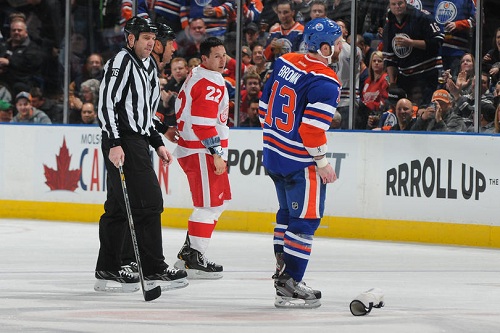 Season Stats: 28-2-2-4 +2 – 69-34-43-0
Overall Line Chemistry: A
Other Forwards: Jan Mursak, Tomas Tatar, Patrick Eaves, Mikael Samuelsson
Tomas Tatar: A- Tatar was playing very well on the third line. He didn't get nearly enough ice time to show the Red Wings his full skillset. He played an average of just 11 minutes per game. It was made clear by Mike Babcock that Tatar would not play with Datsyuk, so he was a third liner with third line numbers. He managed to score four goals and add three assists in 18 games.
Season Stats: 18-4-3-7 +2 – 4-32-9-1
Defensemen:
1st Pairing: LD – Niklas Kronwall RD – Jonathan Ericsson
Niklas Kronwall: A- With the loss of Lidstrom on the back end, Kronwall (Lidstrom's Swedish apprentice) was tasked with keeping the blueline strong. However with Brad Stuart returning home to San Jose, Detroit lost two of the top four defensemen. Kronwall hasn't picked up exactly where Lidstrom left off, but he's played pretty well (barring the occasional gaffe or giveaway). There has been so much shuffling of pairs that it's hard to sustain any long-term chemistry. There have also been numerous injuries (Smith, Colaiacovo, Quincey, Ericsson all injured at some point this season) that have hindered any progress that could be made.
Season Stats: 29-5-17-22 -7 – 30-47-24-11
Jonathan Ericsson: B- If I were grading based on the first three weeks of the season, Ericsson would have an F. However, he really improved fast. He's adjusting with playing on the first pairing and playing first pairing minutes. He's being relied on more now than ever before. My one qualm with 'Big E' is that he doesn't use his size to his advantage. A lot of speedy forwards get around him, especially behind and around the Red Wing net because he chooses not to hit them or knock them off the puck. He's starting to be more disciplined recently. In his last 6 games, he has just one minor penalty. In his previous 19 games, he had 16 penalty minutes. His giveaways have decreased as well. If Ericsson can keep up his improved play, it will really help Jimmy Howard out.
Season Stats: 26-2-8-10 +1 – 20-19-38-0
Pairing Chemistry: B+
2nd Pairing: LD – Kyle Quincey (IR) RD – Brendan Smith
Kyle Quincey: C Quincey gets my vote for most disappointing player on the team. He led the team in plus minus (somehow), but was a -4 in his last four games. His penalties have come at the worst points in the game, and have led to momentum shifts for the opposition. His speed is lackluster and there aren't many good aspects of his game. Quincey seems reluctant to get physical, which is a problem when his stick checks lead to tripping calls.
Season Stats: 26-1-1-2 +8 14-30-12-1
Brendan Smith: B+ Smith is a fast skater, and he can afford to pinch in the offensive zone because he's able to skate back quickly. When Ericsson and Quincey try to pinch, there is almost always an odd-man rush resulting. Smith's speed is a huge asset for the team. He is also a very physical player. Remembering that Derek MacKenzie of the Columbus Blue Jackets was the one that sprained his shoulder in Columbus February 2nd, Smith wasn't about to take any more from MacKenzie without giving some back. In only his second NHL fight, he held his own with the takedown.
Season Stats: 18-0-1-1 +4 – 15-24-10-0
Pairing Chemistry: C
3rd Pairing: LD – Jakub Kindl RD – Brian Lashoff
Jakub Kindl: C+ Lately Kindl has been manning the point on the powerplay (which doesn't say a lot about the team's depth), but has yet to register a powerplay point. He's starting to move the puck more and take more chances. He's still nowhere near being a consistent and reliable blueliner, but progress is progress.
Season Stats: 22-3-5-8 +14 – 16-40-29-0
Brian Lashoff: A Lashoff has been the most surprising performer for the Red Wings. He's the leader in ice time on both the powerplay and shorthanded units. He does a great job at moving the puck, and in his first full season in the NHL so far, has not made many costly mistakes. Lashoff has stepped up to the task of playing extra minutes each night with all the injuries Detroit has had. There's a reason that Holland quickly signed the young defender to a three-year extension.
Season Stats: 24-1-3-4 -5 – 10-21-34-0
Pairing Chemistry: B-
Other Defensemen: Ian White, Carlo Colaiacovo, Kent Huskins (C+)
Ian White: B+ White was scratched by Mike Babcock for most of the team's last 10 games. The reason was "the people playing in front of him" according to the coach. The team had a surplus of d-men with Colaiacovo (hopefully soon) and Smith (now) coming back. [Kent Huskins will likely be waived due to the surplus]. White wasn't happy about this at all. He exceled in his first season as a Red Wing last season on the top pairing with Lidstrom. This season saw him have a few unfortunate breaks (literally) involving his sticks. Two broken sticks resulted in goals against his team last month. However with Kyle Quincey's fractured cheekbone last Friday, White will likely be playing every night. There's also a good chance that White will be traded by the deadline.
Season Stats: 16-1-1-2 +2 – 4-16-8-0
Goaltenders:
Starter: Jimmy Howard: A Howard's stats don't tell the whole story. He mans the net on one of the NHL's weakest defensive teams, and has the 8th worst penalty killing unit in front of him. He has won games that the team probably didn't deserve to win. He has made key saves when his team needed them the most. Howard also hasn't given up more than two goals in a game since he allowed three goals against Vancouver February 24th in a win.
Season Stats: 24-12-7, 2 shutouts, 2.42 .917
Back-Up: Jonas Gustavsson: C+ 'The Monster' has had one quality game in 5 starts this season (one of those he replaced Howard 10 minutes in). He allowed 5 goals last week to the lowly Calgary Flames. He needs to put the first half of the season behind him and focus on the remaining games.
Season Stats: 3 starts, 1-2, 2.84 .878
Other Goalies: Petr Mrazek, Tom McCollum
Part 2 Tomorrow
Follow me on Twitter @yungspork