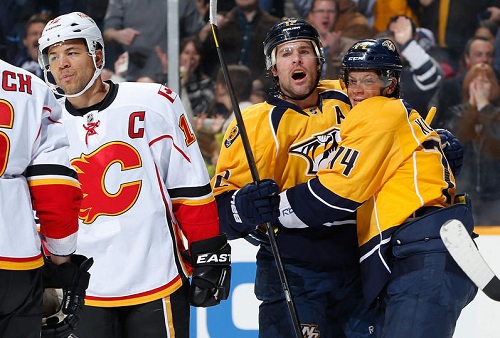 The trade deadline is fast approaching for all 30 teams, and this period before April 3rd is a time of observing and evaluating for general manager Ken Holland. He has made it very clear that he intends to wait until close to the deadline to announce any roster moves. Key forwards Darren Helm and Todd Bertuzzi remain on the sidelines, with the former inching ever so closer to a return. The latter however, may in fact be out for the season, and it has already put Detroit at a severe disadvantage. Bertuzzi's not the same type of player he once was. He doesn't hit as often. He doesn't score as often, but he's a guy you need to have on the ice every night.
Even with the addition of Jordin Tootoo last offseason, the Red Wings are grossly undersized. The finesse level is definitely there, in fact, there's a huge surplus of strictly finesse players on the roster. That poses a problem. Pavel Datsyuk is one of the only Red Wings who can consistently and successfully carry the puck down the length of the ice without having it intercepted. He's the only one who can penetrate directly through the center of the offensive zone and actually get a shot off. There are numerous other players on the team who think that everyone should use that strategy. The forecheck has consisted of that, and/or some unsuccessful form of dump-and-chase. The key to that second strategy: You need to come out WITH the puck, or else it looks more like a "dump the puck down the ice and start heading back to your own zone immediately after."
Trade Thoughts: There are a lot of potential moves for the Red Wings at the trade deadline. If and when the chance arises, they need to look towards acquiring a tough forward who can score and play aggressive. Of course the player I'm talking about is Jarome Iginla. He's in the last year of his contract. He's 35. He's never won the Stanley Cup, because the Calgary Flames never felt the need to go through an actual rebuild. His salary of $7 million is a lot for Detroit to carry, but that connects to this following thought. The Red Wings' cap space stands at $7,683,354 for this season. Obviously once the offseason starts, you don't have to re-sign him. You can also plan around a player like him.
There's been a lot of waiving around the league lately. Forward Daniel Cleary appears to be slowing down. The will to be a constant contributer is definitely there, but he's had a long history of injuries. Justin Abdelkader's lone goal this season was an empty netter, and he's played every single game so far. He hasn't played a big role on this team this season. Cleary makes $2.8 million and Abdelkader makes $1.8 million. Waiving/trading one (or both) of those players would clear up some cap space (no pun intended), and give the team some breathing room from a financial standpoint. If hockey was a game of chess, Detroit's payroll would be one move away from check-mate.
Drew Miller, Cory Emmerton, Abdelkader, and Darren Helm all play, in essence, the same exact role on the team. You have to think all four won't stick around for much longer. Helm could definitely be used for trade bait.
There are a few really solid defensemen that Detroit can pick up at the deadline. My top choice would be Jay Bouwmeester of the Flames. Hear me out on this one. Bouwmeester has played his entire 10 year career with the two teams who were (and still are) in the most need of a rebuild: Florida and Calgary. It's hard to judge one player on the less-than-impressive play of his teammates. Jay holds the infamous record for most consecutive regular season games without playing a playoff game. He has never had the chance to play in the NHL playofs in fact, which means the record is 744 games and counting. That all could change if he comes to Detroit. He is one point away from 300 for his career.
Bouwmeester is having a good season this year. He has 6 goals and 8 assists in 27 games. The Flames are second to last in the Western Conference in goals-for/goals-against differential at -13. Jay plays an average of 25 minutes a night and is only a -3. He can play in any situation and however long you need him to. His current contract is $6,680,000 and after this season has one year remaining on it. The Flames have $5,871,044 in cap space right now (more if they trade Bouwmeester). The Red Wings have $8,038,657 available (more if they trade Johan Franzen).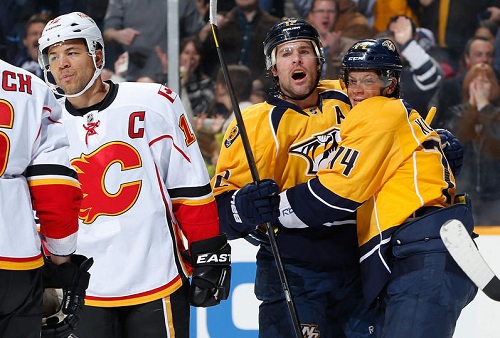 Calgary is in desperate need of offense, whereas Detroit is in desperate need of defense. "The Mule," as Franzen is known as, is capable of scoring 30+ goals in an 82 game season. Flames GM Jay Feaster is not known for keeping a lot of salary space. Sometimes all a player needs is a change of scenery.
I'll use Jiri Hudler as an example in this case, since he was signed by Calgary last offseason after playing with Detroit. He never scored more than 25 goals (last year). He had just 87 goals and 214 points in 409 career games. The Red Wings drafted him 58th overall in 2002. This season he already has 6 goals and 13 assists for 19 points in 24 games. He certainly didn't have an upgrade in linemates in his new home.
Bouwmeester was drafted 3rd overall in the same draft year as Hudler. He was a star offensive defenseman playing for the Medicine Hat Tigers of the Western Hockey League. Then Florida drafts him, and it never allowed Jay to reach his full potential. He's never had a proper defense pairing in either city. Franzen on the other hand is signed until 2020. It would not be wise to sit back and just let the Mule play into his 40s. Moving that contract would be a great step in the right direction. Preferably I'd like to get someone of value in return rather than the other option, an amnesty buyout.
Sooner or later, the Flames will start to move their veteran players, and Detroit should definitely be in the running for some of them.
Then there's always the former University of Michigan star Mike Cammalleri, who was infamously traded mid-game last season while playing for the Montreal Canadiens. He would be an option to play the point on the powerplay (a younger version of Mikael Samuelsson?). This season Cammalleri has 12 powerplay points. He also has 9 goals (22 points) in 24 games.
Enough About Calgary
Here are some other trading options.
Detroit will likely look for a rental player for the stretch run. I mentioned Iginla earlier. What about Jaromir Jagr? This scenario is a little less likely, but Dallas has struggled mightily this season (even though the standings say otherwise). Injuries have been a problem. Goaltendting has been shaky at best. I can't think of a lot of reasons why Jagr would want to stay stranded on a team that likely won't even make the playoffs this year.
Jagr carries with him a cap hit of $4.5 million (he will become a free agent this summer). He could easily become the Brett Hull or Luc Robitaille that Detroit needs for a possible playoff run. In saying this, don't assume I'm all for having numerous veterans on the roster. The Wings need to get younger and soon, but acquiring Jagr for a rental period could be very beneficial.
More Defense!
The area that Detroit needs the most help in is clearly on the back end. They lack a player who can consistently shoot through traffic from the point and hit the net. Besides Jay Bouwmeester, Lubomir Visnovsky of the New York Islanders also possesses that ability. He's in the final year of his contract (also a free agent option) and his salary is only $3,000,000, a very affordable number. It was clear that Visnovsky was not happy on the island. It is safe to assume that Visnovsky would welcome a trade to a contending team. The Isles need to focus on their youth, not veterans.
I don't think it needs to be mentioned any more, but Lidstrom is gone! Detroit lost a key powerplay leader, and Visnovsky would fill that role. Currently the Red Wings are having trouble getting point shots to the goalie. Lubomir is a great puck-moving defender that can lead the powerplay. He has the ability to shoot through traffic and generate offense in the process.
In the 2010-11 season, he had 68 points in 81 games (including 18 goals) with the Anaheim Ducks. That was good enough for second All-Star Team honors. Visnovsky really hasn't missed a beat, even at age 36. He also has never won the Stanley Cup.

Loading ...
Other Options
Mike Ribeiro – Center – Washington Capitals
Sergei Gonchar – Defenseman – Ottawa Senators
Ryan Whitney – Defenseman – Edmonton Oilers
Who Should Be on the Trading Block?
Johan Franzen
Valtteri Filppula
Kyle Quincey
Who would you like to see Detroit trade for at the deadline?
Follow me on Twitter @yungspork