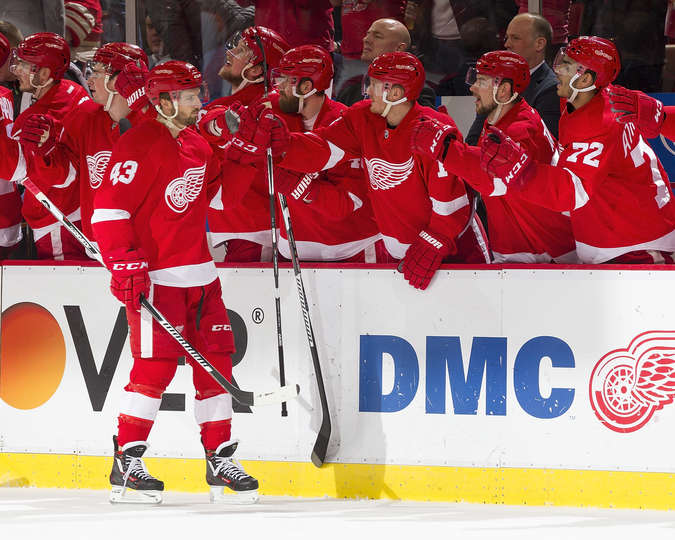 The Detroit Red Wings moved two points closer to securing their 25th consecutive playoff appearance Wednesday night. Detroit, along with the Boston Bruins and Philadelphia Flyers are locked in a tight chase with only a small handful of games remaining in the regular season. Only two spots are up for grabs, however.
The Wings entered the night tied at 91 points with the Bruins, with a game-in-hand, meaning they move into third place in the Atlantic Division with a win. And win they did. They have now won seven of their past ten games and are one win behind second place Tampa Bay.
Recap
The Flyers are one of the league's hardest and frequent hitters. They rank fifth in hits-per-game with 27.1. Detroit ranks 25th (20.2). However, the Wings matched them hit for hit, and more. The visitors had 23 hits, while Detroit had 29. Both Justin Abdelkader and Darren Helm finished with five each, while Pavel Datsyuk and Luke Glendening had four apiece.
In one of the Wings' most complete games of the season, the team was able to thwart their opponent by playing their game.
Tomas Jurco drew back into the lineup in place of rookie Anthony Mantha. Jurco has struggled to score this season, earning just four goals and six points in 43 points.
7:57 into the first period, Helm dumped the puck into the offensive zone following a center-ice faceoff. Veteran forward Brad Richards chased the puck and pressured rookie defenseman Shayne Gostisbehere into throwing the puck towards the net of Steve Mason. Helm was there to intercept and chip it over the shoulder of Mason.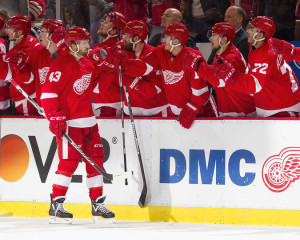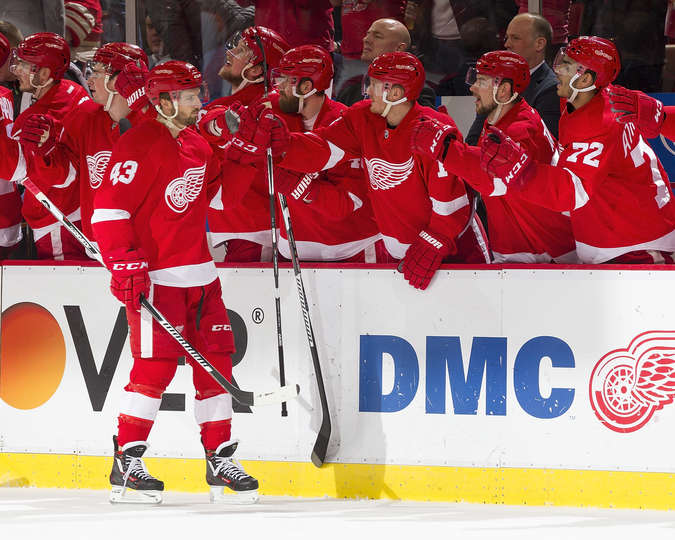 Early in the middle frame, rookie Andreas Athanasiou continued to excel at the NHL level with his specialty, the shorthanded breakaway. He used his explosive speed to take advantage of a Flyers turnover in the defensive zone, as Jakub Voracek was unable to handle a pass along the boards. Gostisbehere gave chase but could not match the young forward in agility.
"Yeah, you don't see [shorthanded opportunities] that often anymore so it was the right guy who got the puck, and it was a nice move," said captain Henrik Zetterberg.
Athanasiou had only 5:58 of ice time but made the most of his limited opportunity.
"I just have to keep moving on the bench," he said. "TV timeout go out for a little skate, but I just have to make sure I stick with the mental part of the game and when you get those little minutes you have to be ready when you get the call."
Just past the midway point of the second, Helm also found himself on a breakaway. He attempted a forehand-backhand deke but was unable to lift the puck over the pad of Mason. Glendening followed closely behind with a quick snap shot that was also stopped by Mason.
Defenseman Kyle Quincey added an empty-netter as the third period neared its conclusion. He fired the puck from behind Howard like a trick shot in pool and it hit the boards and redirected into the abandoned net.
"That was great," said Howard. "That was a 180-footer. It was great to see."
It marked Howard's first shutout since his first game of the season, October 9 against the Toronto Maple Leafs, in which he made 22 saves. In this effort he stopped 30 saves, of which none were easy.
Detroit's power play was held scoreless for the first time in nine games. It had its chances though as the special teams units had great form.
The Wings blocked a total of 21 shots to Philly's 10.
"I've got to give a lot of credit to the guys in front of me," said Howard. "Guys sacrificing their bodies the last three games. As a goalie when you see guys doing that it makes your job that much more enjoyable and you want to come up with big saves for the guys."
Detroit moves to 41-28-11 with two games remaining in the regular season.
Key Stats
The Flyers were 13-5-4 against Atlantic Division opponents prior to Wednesday.
Detroit is 7-3-0 in their last ten games.
A Look Ahead
Detroit – 2 Games Remaining
Thursday – vs. Boston (7:00 ET, NBCSN)
Saturday – @ New York Rangers (12:30 ET, NBC)
Boston – 2 Games Remaining
Thursday – vs. Detroit
Saturday – vs. Ottawa
Philadelphia – 3 Games Remaining
Thursday – vs. Toronto
Saturday – vs. Pittsburgh (3:00 ET, NBC)
Sunday – @ New York Islanders (7:00 ET, NBCSN)
Follow me on Twitter @KevinSporkaHOHM
Love Reading About Hockey?

Subscribe to keep up-to-date with the latest and most interesting hockey news!
| | |
| --- | --- |
| | We hate spam just as much as you |