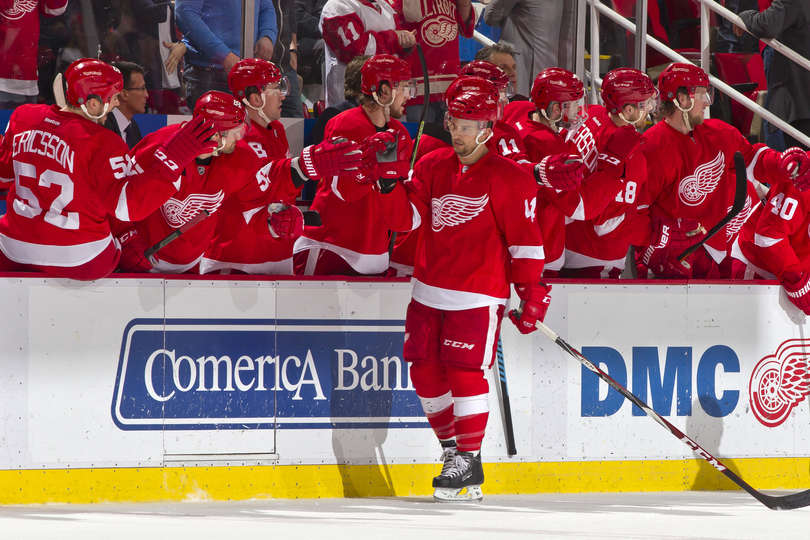 The Detroit Red Wings now find themselves in danger of missing the playoffs for the first time in 24 years following their 3-2 loss at the hands of the Boston Bruins Thursday night. The Bruins earned the two points up for grabs and move even with Detroit at 93 points.
Meanwhile, the Ottawa Senators also won last night in overtime, moving from 88 to 90 points. If the Red Wings cannot hold off the Bruins, then they will have to battle the Sens for the final wild card spot. If neither is accomplished, then their season will be over in mid-April.
That all seems pretty negative, however, there are some positives. Goalie Petr Mrazek has been stellar in net these last few games and seems to have more confidence than ever. He has shown great resilience following a four-goal drubbing against the New York Islanders on Sunday.
Also, some key players are returning to the lineup following injuries. Drew Miller, after enduring two horrific lacerations across his right eye, returned last night after the injury occurred on Tuesday donning a full face shield. Riley Sheahan also returned to action against the Bruins. Pavel Datsyuk may play Saturday, while Erik Cole and Tomas Jurco remain sidelined (although the latter hasn't contributed much in terms of offense this season).
Thursday's contest was one in which the Wings dominated most of the night. After recording a season-low 17 shots against the Senators on Tuesday, the team responded with 37 as they threw everything at goalie Tuukka Rask. For the most part, Rask was up to the task, seemingly unfazed by the nonstop barrage of shots he faced. In fact, his clutch performance earned him first star honors.
The first half of the game would remain scoreless until Detroit forward Luke Glendening scored his 12th goal of the season near the second period's midway mark. He was able to chip the puck past Rask on the backhand.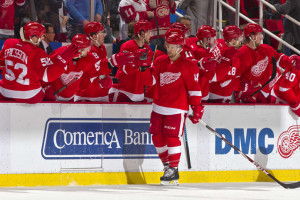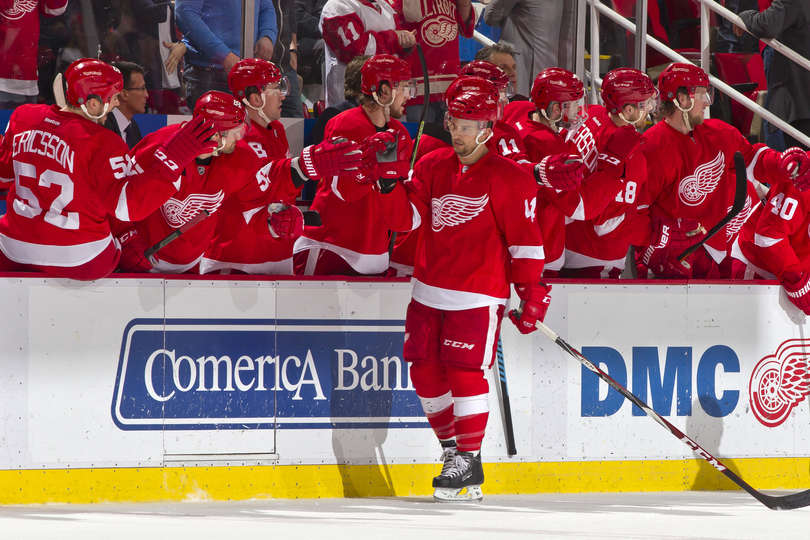 After two periods, the Wings led 26-15 in shots. The defense was tight and Mrazek made some very key stops when called upon.
"I thought we came out pretty good. I thought we had a good game all the way through really to be honest with you," said Niklas Kronwall. "We had a few mistakes that turned into scoring chances for them, but I think that's the way it went both ways. I thought all-in-all it was a good game for us, a lot of energy. I thought we did a lot of good things out there tonight."
Seeing as their attempted 1-0 victory did not go as planned the previous game, Stephen Weiss added a second goal on the power play with help from Sheahan just 2:52 into the final stanza.
Then things fell apart.
First, Boston's Carl Soderberg matched Weiss's power play marker with one of his own, with the primary assist going to Reilly Smith (brother of Detroit defenseman Brendan Smith). 2:14 later, Loui Eriksson tied things up, again after a great pass from Smith. Finally, defenseman Zach Trotman scored his first career NHL goal with 2:08 remaining.
To make matters worse, while Detroit was scrambling to re-tie the game with the extra attacker, they were caught with too many men on the ice, receiving an untimely penalty with 48 seconds left on the game clock. This would seal the loss for the Wings, their third straight. For Boston, the win was their fourth straight, as they have quickly joined the playoff race after being far behind not long ago.
"I think for me that's the best we've played in a while," said coach Mike Babcock. "I thought we skated good, I thought we forechecked good, I think we had the Bruins in lots of trouble. In the end they were able to weather the storm and get the win, but I like what we did."
After a dismal month of March that saw the team go 5-9-2, April didn't start strong either. Only five games remain on the schedule (four for Boston): Minnesota (away), Washington (home), Carolina (home), Montreal (away), and Carolina (away). Minnesota has been the best team in the league post-All-Star break by far, and stealing a win in their building against the red-hot Devan Dubnyk will be anything but easy. Washington has been hot as well, going 7-3-0 in their last ten games. Alex Ovechkin just recorded goals #51 and #52 yesterday as he further solidifies his Rocket Richard-winning season. On the other hand, Montreal has lost two in a row (5-3-2) and the Hurricanes have now lost three straight games.
They will have to win all three home games, which shouldn't be a problem since they have the second-fewest regulation losses at home in the league.
The Wings will face-off against the Wild this Saturday at 7:00 ET.
Follow me on Twitter @KevinSporkaHOHM