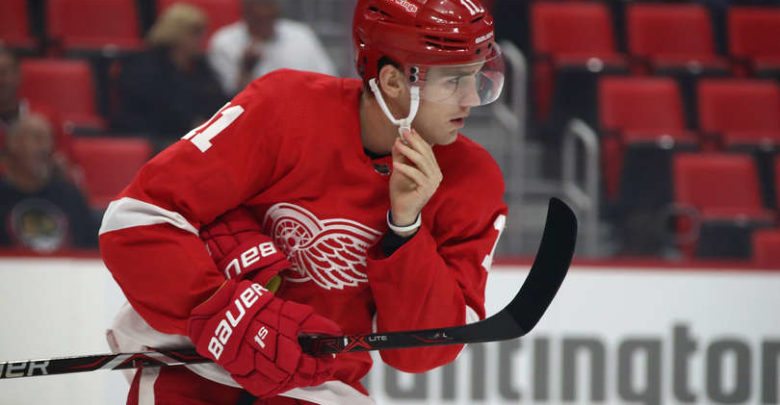 Two games into the Red Wings' pre-season and the young guns are already making their cases for earning a roster spot this year. Wednesday's roster included Michael Rasmussen, Dennis Cholowski, Joe Hicketts, Vili Saarijarvi, and Harri Sateri. Thursday featured Filip Zadina, Filip Hronek, Evgeny Svechnikov, Libor Sulak, Givani Smith, and Patrik Rybar, along with Hicketts again.
Filip Zadina didn't really impress or show much in his pre-season game, though he impressed in the tournament as well as training camp. Blashill agreed that there may have been some nerves for the first game. Zadina himself said as much in the first game of the tournament a couple weekends ago. There's no doubt he has elite talent, and it's just a matter of time before it shows. Blashill wants to try him on different lines throughout the pre-season.
Rasmussen made a strong case to make the opening night roster last season before being sent back to Tri-City. He had dominant showings in his exhibition matches then, and Wednesday showed his continued momentum from last season, the Prospect Tournament, and Training Camp. The big-bodied forward uses his size well and it leads to a reach advantage in puck control. He drives to the net hard and has a solid snap shot. His chances of making the team are extremely high. He has 1 goal.
Dennis Cholowski had a great first game. You would never know his youth and inexperience without having existing knowledge. He plays with confidence and has gotten even better since last year. He won't make the team this time due to a queue of blueliners before him and lack of roster spots, but he is very close to being ready for the jump. He has 2 assists.
Saarijarvi has shown great commitment to the game and playing in North America. His fast speed, vision, and puck-carrying abilities have been honed over the last few years. He is not afraid to get a little physical and aggressive to get the puck. Off-the-ice Vili is probably the nicest guy in the organization, but on-the-ice he is focused in game-mode every shift and never gives up on a play. Though he is a bit smaller in stature (an inch taller than Hicketts) he doesn't let that become a disadvantage for him. He is poised to have a great year in Grand Rapids.
Sateri of Finland and Rybar of Slovakia will likely be the new goalie tandem in GR. After letting long-time netminder Tom McCollum and Jared Coreau go, the organization decided to go a different direction in the crease. Both performed well in their 30 minutes of allotted time. This is a storyline to watch in the remaining six pre-season matches.
Filip Hronek should be a lock to make the opening night roster. He is dynamic whenever he is on the ice. He carries the puck the length of the ice often and his offensive tendencies differentiate him among the other defensive prospects. He is the most similar to a Bryan Rafalski type that Detroit has drafted. And for an offensively-starved team, this is what they need. He has 1 assist.
Svechnikov is ready to make the jump as well. He is nowhere near the goal-scorer that his younger brother Andrei is, but that just means his game is better in some other aspects. Like Rasmussen, Svechnikov shows Zetterberg-like puck control skills and great playmaking ability. He'll be a good NHL forward. "I thought he had a solid impact tonight," said Blashill on Thursday, while also noting the off-ice work he did during the summer with Andrei. He has 1 goal.
Libor Sulak at times was the best defenseman on the ice on Thursday. He's got a solid frame and controls the play on the blueline. He's got long legs and thus takes long strides and can cover a lot of ground. He was a great find in Europe and has adapted well to the smaller ice surface. Blashill called Sulak "dynamic" Thursday. "He's excellent at putting the other team on their heels." The coach wants to use his "forward-skating" ability throughout the pre-season. He said he also needs to work on his 1-on-1 situations. He has 2 assists.
Givani Smith should have a great first professional season. He brings a strong physical game and has very little competition for this role type in the organization. Additionally, he brings a pretty good all-around game and has skill. He demonstrated this with a great cross-crease pass that set up a goal by Svechnikov on Thursday.
Joe Hicketts will likely have to compete with Nick Jensen to get playing time and not be a healthy scratch. He looks to have the upper hand so far. He was the only player to have played in both pre-season games, and he was solid in each.
Detroit's pre-season continues tonight as the Wings host the Boston Bruins.
Follow me on Twitter @KevinSporkaHOHM