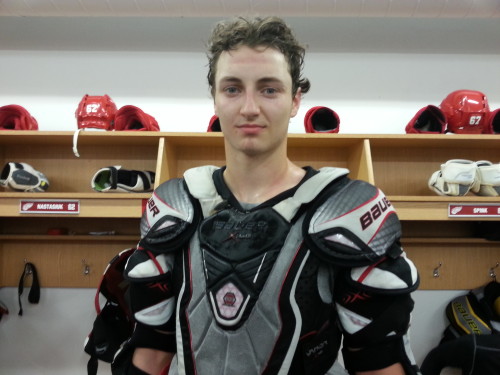 I had the chance to talk with 2014 draft pick David Pope at this summer's prospect development camp in Traverse City. This is the fourth article in this series.
This interview took place on July 5th (Day 2 of the camp)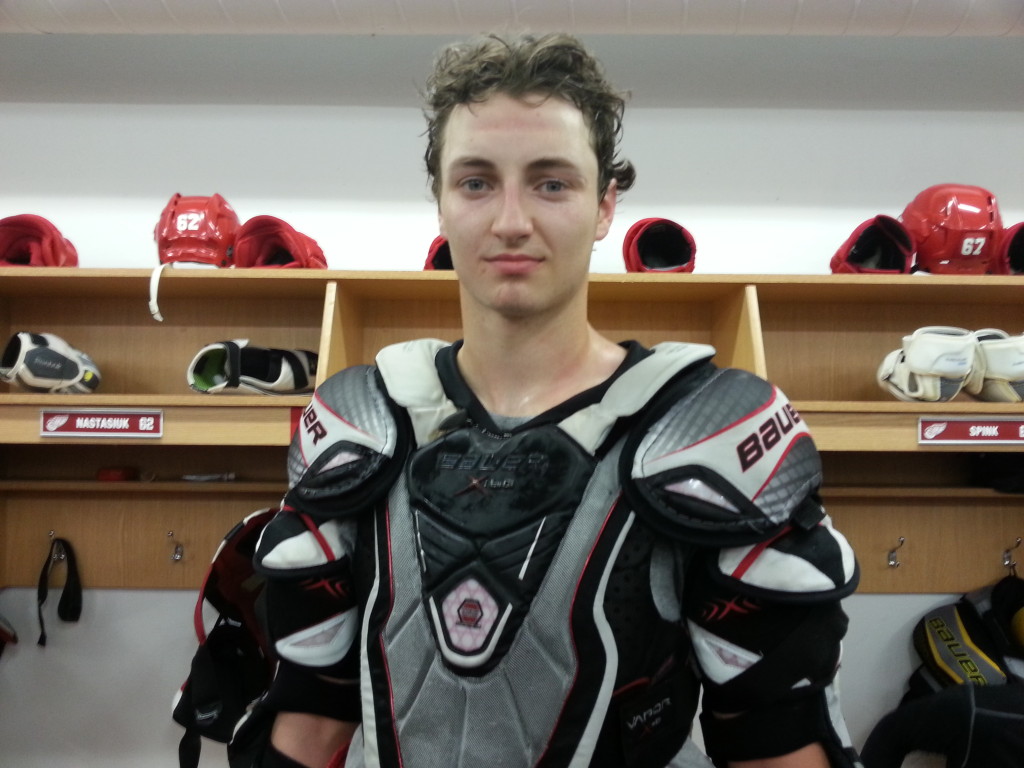 HOHM: "This is your second camp here. What part of your game do you think you've worked on or changed the most since last season?"
Pope: "I think my strength, I worked on quite a bit. I haven't necessarily put on that much more weight than last year, but I can definitely (unintelligible) and just get a little bit more match strength and maturity."
HOHM: "It seemed like yesterday (scrimmage) you were getting hit a lot. Is that something you're used to in the BCHL?"
Pope: "Yeah, I guess in the BCHL I was one of the more marked guys for my team. You definitely have to keep your head up out there. Being a bigger guy, you've got to
HOHM: "For the people who don't know a lot about the BCHL, can you talk about the style and pace of the league?"
Pope: "I think it's a pretty skilled league. [It's] definitely a hard forechecking league. A lot of defensemen don't have time to make plays. So, very aggressive, and very high skilled. A lot of kids get commitments out of the league, and I think it's a great route to go for development."
HOHM: "Can you describe your game/style of play?"
Pope: "I'm an offensive, puck-possession player. Rarely will I make a bad play when I have the puck. That's kind of my game. I like to shoot. Any time I'm around the net I like to get a shot off. If the shot's not there, I can easily find the open guy."
HOHM: "Is there an NHL player you would compare your game to?"
Pope: "I think James Neal, he's a Nashville Predator now. I think I play quite a bit like him. I kind of want to be able to play more of a Marian Hossa game where I'm just more dominant down low. So that's something I'm kind of striving towards."
HOHM: "What do you think you still need to work on the most this summer?"
Pope: "I think, probably my tight turns, and accelerating out of my turns, just to give myself a little bit more time and space to make plays when I have the puck. And then like I said, just being stronger to hold guys off, give myself some more time to find the open guy or shoot the puck."
HOHM: "During the skating and skills drills, which do you think was your best drill?"
Pope: "Probably the one around the net, the wraparounds, trying to get the puck up top. I have pretty good hands in tight, so that was something I was good at."
HOHM: "And which drill do you think needs the most work?"
Pope: "Probably screening the goalie, getting in front. A lot of times I'll find the goalie moves past me and I'm not in front of him. Definitely moving forward, especially in the Wings system, you need to be able to get in front of the goalie and take away their eyes, and scores goals that way."
HOHM: "You seem to have a pretty good wrist shot. Do you think that's your best asset?"
Pope: "Yeah, I think, quick release in tight or top of the circle. And one-timing the puck even, I think is one of my best strengths."
HOHM: "What are your goals for next season? What do you hope to accomplish?
Pope: "I just want to go in and compete hard and work for my ice, and whatever opportunity I'm given, I'll make the most of it."
Follow me on Twitter @yungspork
Love Reading About Hockey?

Subscribe to keep up-to-date with the latest and most interesting hockey news!
| | |
| --- | --- |
| | We hate spam just as much as you |