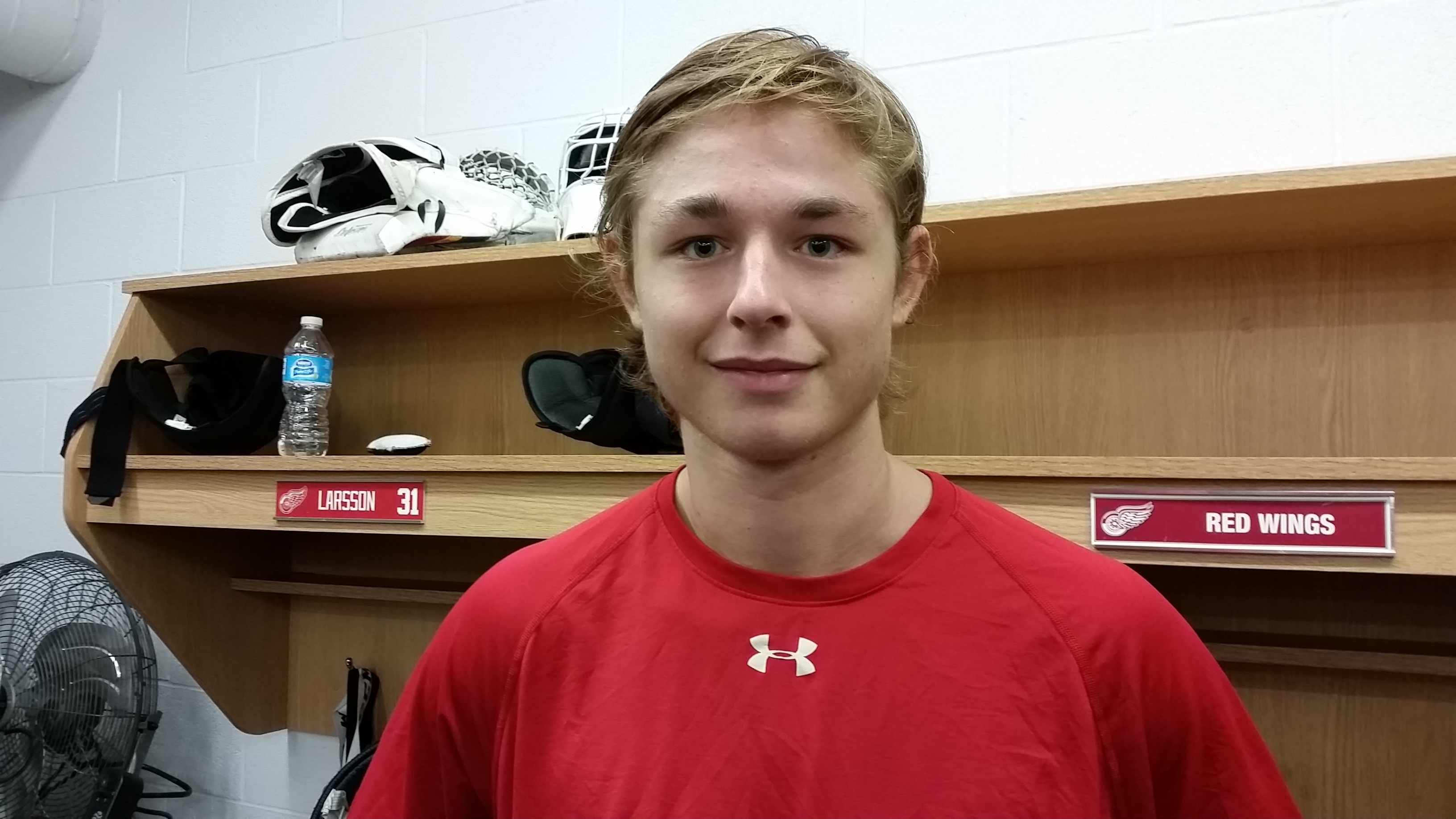 Talk about what it meant to be drafted by Detroit.
Obviously it's a huge honor. Detroit is a huge team back home in Sweden. Many Swedes come here in the last twenty years, so it's a huge honor to be drafted by the Red Wings.
Did you watch a lot of NHL hockey growing up?
Yeah, you know, in Sweden it's different times so it's hard to watch, but I tried to watch the highlights when I wake up in the morning.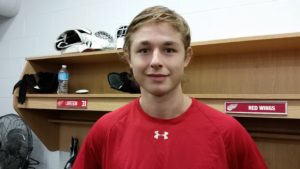 Did you have a favorite NHL player?
Yeah, Henrik Lundqvist from the New York Rangers.
What got you into playing hockey?
My brother started when he was like six years old, and then just my dad took me to the rink and I really liked it since then.
Is this your first time in North America?
No, I've been here before, at the under-18 tournament in May, in Grand Forks [North Dakota] I think. So, one time before.
How did you like the 3-on-3 [during the scrimmage]? Is that something you do in Sweden?
No, it was pretty new. It's a lot of chances, so it was really hard, but a lot of fun.
Is there a goalie that you compare your playing style to?
I like to watch Braden Holtby. I think we're kind of similar.
Describe your season last year.
I had a tough year. I started as a second goalie in Djurgardens J20 team. I got a lot of chances in [Team Sweden U18]. I think it went well at the end, but it was tough in my team, in Djurgardens. I'm looking forward to next year.
What is one of your offseason goals?
To be faster, I think. To come to this level I need to be faster.
What is it like being in Traverse City for this camp?
I haven't seen much, but overall I think it's a beautiful place. We're [staying] at the beach, so obviously it's very nice. It's not like in Sweden. I like it, very much.
Besides being drafted, what's been your favorite hockey memory?
To be in the under-18 tournament in Grand Forks when we took the silver, that was huge. But nothing compared to being drafted. It was such an honor.
What are your goals going into next season?
Just to play as much as I can on the U20 team and maybe get a chance on the A-team in Djurgardens and do a really good job.
Follow me on Twitter @KevinSporkaHOHM