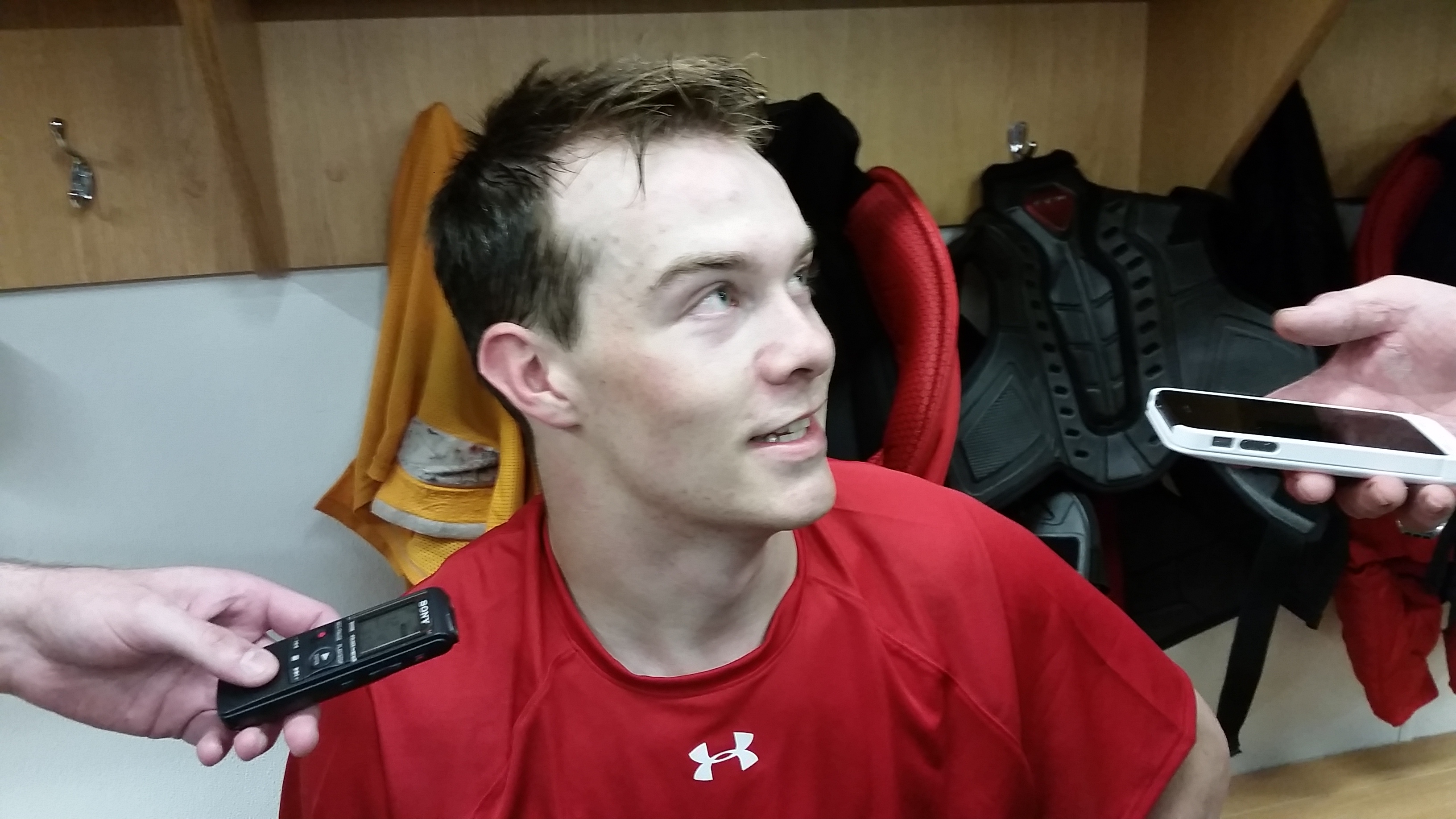 The Red Wings selected right-handed defenseman Jordan Sambrook in the 5th round of the 2016 NHL Draft (137th overall).
I spoke to Jordan during the team's annual Prospect Development Camp in Traverse City, MI.
Describe your thoughts about being drafted into this organization.
It was a huge honor. Obviously one of the most historic franchises, an Original Six team. There's nothing better than playing in Detroit. So it's definitely awesome.
What was it like seeing [Erie Otters] teammates Alex [DeBrincat] and Taylor [Raddysh] selected earlier and were you wondering when your name would be called?
Yeah exactly, I knew they were going to go high there, I was happy for them. I congratulated them when I saw them after. I was just looking forward to my name being called and it was an honor that I heard it.
Do you think playing on such a skilled team as Erie with all those players, obviously Dylan Strome too, helps to prepare you better for the next step?
Yeah I definitely think so. You know, Stromer, Dermott, Darren Raddysh, Cernak, all these guys taught me a lot of stuff this year. They definitely helped me out with my development and I definitely want to thank them for that. And I'm looking forward to hopefully playing with them next year if they're back on our team.
What made you want to get into hockey?
My parents watched it. Actually as a young kid I watched it and my dad got me into it right away. And I fell in love with it right away. It's definitely the game I love the most.
Who were some of your hockey inspirations?
Someone I looked up to was Mats Sundin. A good player obviously throughout his career. I definitely watched him a lot.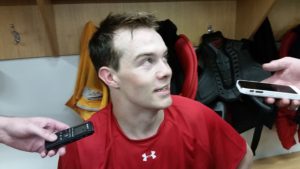 What are some of your strengths?
I'd say I'm a two-way defenseman. I like to drop into the rush, make plays offensively, and then my hockey IQ, just making smart plays throughout the ice.
Is there an NHL comparable player that you model your game after or that plays a similar style?
Yeah, I'd say Alex Pietrangelo. He gets up and down the ice well and plays well in both zones. So I definitely look up to him.
What do you think needs the most work in your game during the off-season?
I'd say my quick feet, getting stronger, getting faster. I know it's pretty cliché but that's definitely one of the things I have to work on, being a big guy and being not very strong. So definitely that.
Besides being drafted do you have a favorite hockey memory throughout your life?
I'd say probably two years ago winning the Telus Cup, the national midget championship. That was definitely one of the most exciting things, winning a national championship.
What are some of your goals going into next season?
I just want to improve on all parts of my game. Like I said, my quick feet, my strength, and I want to increase my points total and my plus-minus.
Sambrook will return to the Erie Otters next season for his second year in the Ontario Hockey League.
Follow me on Twitter @KevinSporkaHOHM