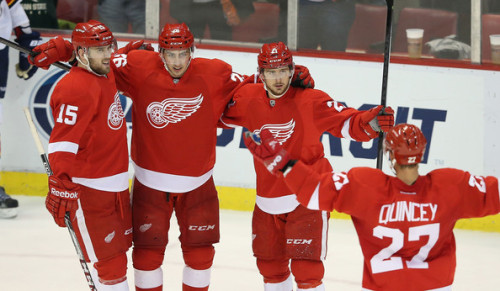 The Detroit Red Wings on Tuesday signed 22-year old center Riley Sheahan to a two-year, $1.9 million contract.
Sheahan, a 2010 first-round draft pick (21st overall), made the jump to the NHL last season as injuries started to sideline many key Red Wings.
He began last season by scoring 18 points in 31 games with the AHL Grand Rapids Griffins, then proceeded to score 24 more with the parent club, finding chemistry with former Griffins teammates Tomas Tatar and Tomas Jurco.
Detroit still has yet to sign other restricted free agents Danny DeKeyser, Tomas Tatar, Mitch Callahan, and Landon Ferraro. However, the team did make qualifying offers to Andrej Nestrasil, Adam Almquist, as well as the four other RFAs listed above.
Offensive defenseman Adam Almquist, who recently signed in the KHL, was also qualified, meaning the Red Wings still retain his rights if he decides to return to the NHL.
They did not choose to qualify Cory Emmerton (who signed with the Sochi Leopards of the KHL), Trevor Parkes, Willie Coetzee, Gleason Fournier, and Max Nicastro.
Stay tuned for more Red Wings free agent news.
Follow me on Twitter @yungspork