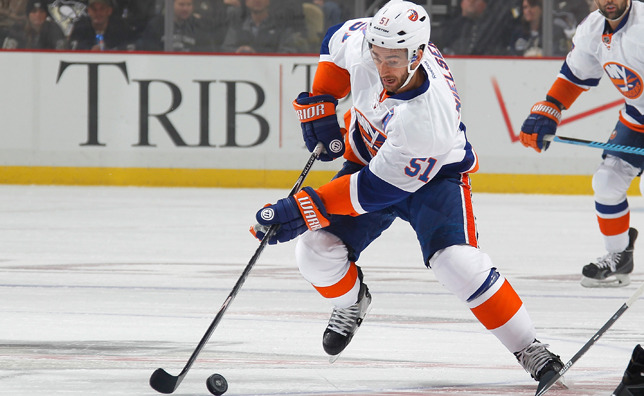 It didn't take long for the Detroit Red Wings to sign their player on Free Agent Friday.
Following the Steven Stamkos re-signing, the team had to shift their focus elsewhere with the cap space recovered in the Pavel Datsyuk contract trade.
There was no shortage of free agent targets, but few centers who could replace Datsyuk. Frans Nielsen is that center. He signed a deal which has the Danish pivot remaining a Red Wing for six years with an AAV of $5.25 million.
"When Detroit calls, it's something special there," Nielsen told TSN's James Duthie. "I think Detroit, especially with losing Datsyuk, it opened up a perfect spot for me where I can play with some really good players. With my age I wanted to go somewhere that I felt could get to the playoffs. I felt with the talented mix of young and old [players] I was really excited about that."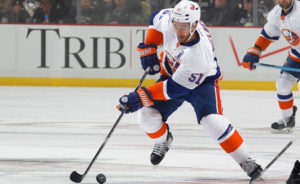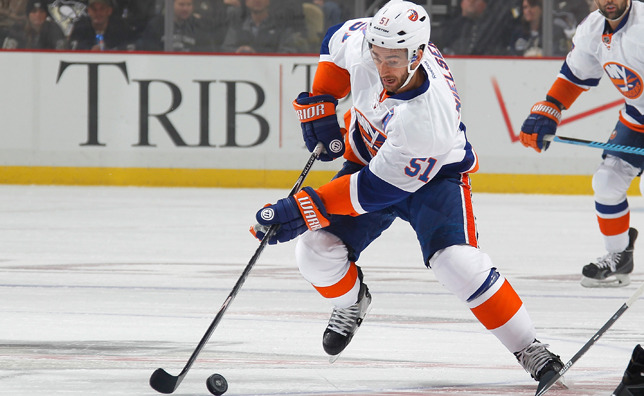 The career New York Islander has eclipsed the 40-point mark the last five full seasons (was on pace for 50-plus in the lockout year) and scored 38 points the year prior (2009-10). He is a playmaker that that won 50.13% of his faceoffs last season (586 wins; previous career-high 583 in 2009-10). In comparison, last season Brad Richards won 49.6%, Henrik Zetterberg 50.1, Luke Glendening 54.6, and Riley Sheahan 45.8. Datsyuk won 53.7%.
"It came down to [Detroit and New York Islanders]," he continued to Duthie. "I just had to make a decision at some point. I just felt like I wanted to try something new. A new environment, a new city. I just felt like I wanted to make a change. Tough decision. In the end I felt Detroit was the perfect spot for me. I'm really excited about the way they play the game. I just think it's a really good fit."
Nielsen scored 20 power play points last season, including a career-high seven goals. Additionally he also notched a pair of shorthanded goals. In 2010-11 he led the league with seven shorthanded goals. This means he can play in all situations on the ice.
He doesn't spend much time in the penalty box. In the past five seasons, he has accumulated six, twelve, eight, twelve, and twelve minutes respectively.
Another aspect of Detroit's game that has been missing is shootout results. Nielsen has scored on 42 of his 82 career attempts (51% success rate). The Islanders won 50% of their shootouts last season, while the Wings won only 28.6%. He was second league-wide in attempts with 10 and was third league-wide in shootout goals with four, behind only Bobby Ryan (6) and three players with five apiece).
Although Nielsen will be 38 when his contract expires, let's compare the deal to other free agent contracts signed today.
Milan Lucic signed for seven years ($6 million AAV) in Edmonton. Andrew Ladd signed for seven years ($5.5 million AAV) in New York (Islanders). David Backes received a five-year, $6 million AAV deal with Boston. Kyle Okposo signed a seven-year, $6 million AAV deal with Buffalo, while Loui Eriksson signed in Vancouver at a $6 million AAV for six years.
Lucic and Okposo will be 35, Eriksson 36, Ladd 37, and Backes 37 when their respective contracts expire. Nielsen will be 38, slightly older than the other free agents.
Nielsen's average annual value is $5.25 million, the lowest of the group, while the term length is right in the middle. If Detroit went for any of the other free agents, it would have cost even more. And it was clear that this group of players was going to get paid, whether it be by Detroit or another team.
Detroit will still try to trade for a defenseman this off-season, but for now the team can rest after successfully luring the player they wanted all along.