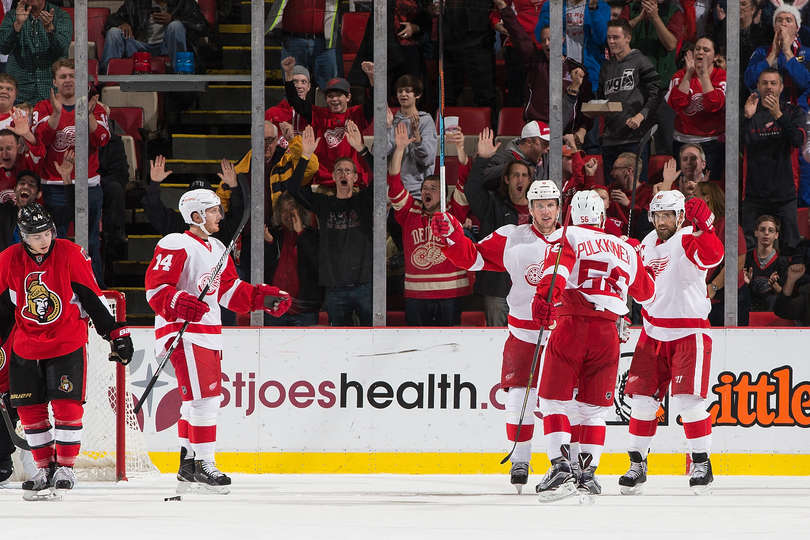 The Red Wings' struggles continued on Friday night, as they lost to the Ottawa Senators 3-1, their second straight game where they only managed to score a single goal.
Detroit had a great first period. They blocked Ottawa's passing lanes, completed tape-to-tape passes and seemed to have the team chemistry they needed to win. However, the momentum was abruptly ended when Kyle Turris scored with 1:14 left in the period.
Due to a lack of physicality and aggressiveness, Turris was able to walk right in and pull the puck past Howard. Skating through three Red Wings, none could halt his progress and the result was an easy goal.
Midway through the second period, Sens forward Matt Puempel, left unguarded, was able to one-time a snap shot past Howard.
When asked if his team needed to play a more physical game, Niklas Kronwall said "I don't think, I know, we have to be harder. That's something we have to work on as a group, get stronger."
"We talk about owning each crease, and we didn't own each crease tonight," said coach Jeff Blashill. "They scored two net-front goals and we couldn't get to the net, so not good enough there."
After an unsuccessful 5-on-3 early in the second (25 seconds), the Wings would have another, extended, two-man advantage late in the period, this one for 1:07. Henrik Zetterberg passed to Teemu Pulkkinen, who unleashed his trademark slap shot. The rebound was corralled by Zetterberg who quickly snapped it past Andrew Hammond.
"I think in the first 5-on-3, we probably had one decent chance," said Zetterberg. "Obviously on the second one we switched it up a little bit, got a little more looks."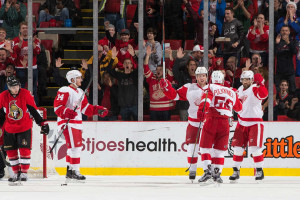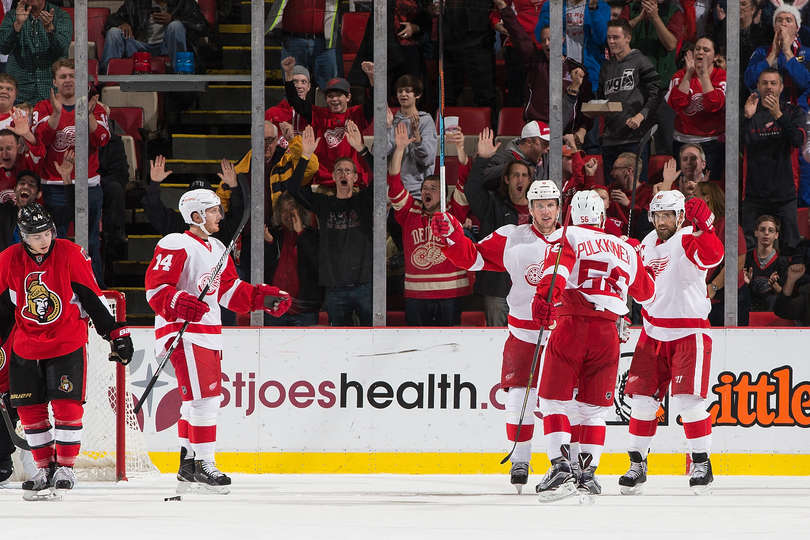 Bobby Ryan would add an empty-net goal for good measure with under a minute in the third period, and that would be the game.
Missed Opportunities
Detroit had 30 shots in the contest, but they had 28 shot attempts that were either blocked (13) or missed the net (15). The Senators on the other hand had 35 shots and only 14 blocked or missed shots.
Jakub Kindl attempted four shots, all of which were blocked.
"Yeah that's one area [which needs improvement]," said Kronwall. "There are a few areas that definitely we need to work on. There's no doubt about that. Thought the energy level tonight was pretty good. Power play needs to get better. We need to get one more there. All in all, again, we need to have less turnovers in our own zone."
Advanced stats supporters would see these numbers and applaud Detroit for earning a Corsi of 58, but if these shot attempts are not quality opportunities, then why bother? Shots that do not reach the goalie are not always negative though, because it shows that the team had possession of the puck often and had more opportunities to shoot. However, when actual shots and blocked/missed shots are nearly equal, then that is a problem.
"They do a good job fronting," said Blashill. "When they front, you got to do a good job of getting those rebounds off the fronts. We're different, we box out more, which means you clear out and try to give your goalie a chance to see the puck. They stand in front of their goalie and try to block shots. There's two ways to do it. In the end we didn't get enough shots through for sure."
The Red Wings have a scoring problem right now. They sit 20th in the NHL in goals per game, and middle of the pack in goals against (17th), power play (17%), and penalty kill (14%).
This may still be the result of the coaching transition or it may be the result of the injuries that have already begun.
Pavel Datsyuk, Johan Franzen, Brad Richards, Mike Green, and Kyle Quincey all sit on the sidelines currently.
Strength of Schedule
The month of November is a home-heavy month. Nine games will take place in the friendly confines of Joe Louis Arena, while four take place on the road. December also has nine home games and five away games.
Detroit needs to take advantage of its home games in order to survive in the strong Atlantic Division race. Ottawa, Boston and Florida have found their footing of late, which leaves Detroit, Buffalo and Toronto at the bottom. Only the latter two have a worse goal differential than the Wings through an average of ten games.
Back-to-Back
The latter half of the Halloween home-and-home will take place in Ottawa tonight, where Detroit will have a short turnaround period to fix their mistakes from Friday.
This time, the Sens will send Craig Anderson to the crease, while Detroit goes with Petr Mrazek. There doesn't appear to be a leader in the starting goalie race. Howard has two wins, a 2.21 goals-against average and a .928 save-percentage, while Mrazek has two wins, a 2.61 GAA and a .922 SP. Goaltending has been the least of Detroit's problems.